Opinion
Bike Thieves: Now Taking Donations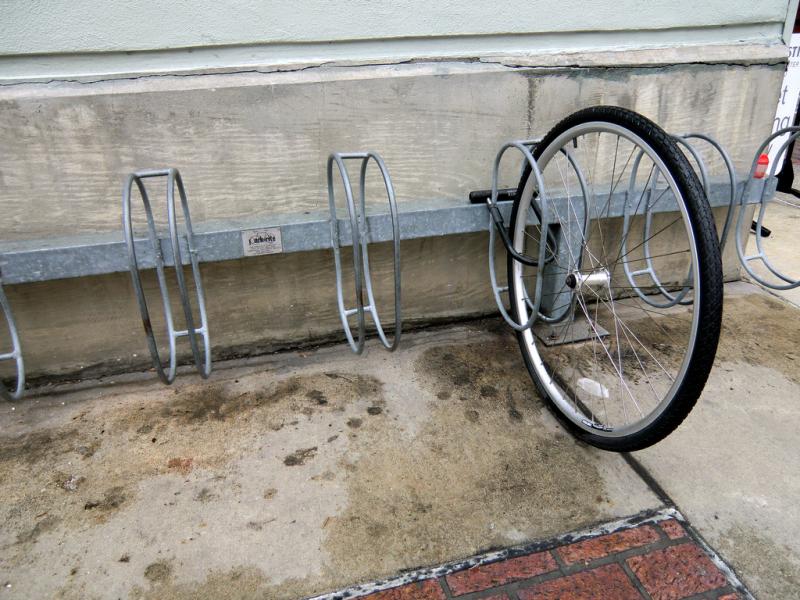 Just like my cars, I name my bikes and I had built a relationship with Aspen. Memories stuck to her like mud to her Bontrager tires: biking through the sea-packed sand of an Oregon beach, the scrape she got when I tried for the first and only time to bunny hop, the more than 200 miles put on her this summer commuting between Long Beach and Los Angeles.
Yet while I thought of these things each time I rode my bike, the truth is that I didn't truly appreciate her until she was gone. Aspen was stolen from her home while I was away for Thanksgiving. She had been locked to herself with a cable lock behind a secure metal side-yard gate of my housing complex. When I returned, she wasn't there.
As it turns out, my bike may have been stolen because of the season.
According to the most recent FBI data providing insight on month-to-month crime statistics, the months of October, November and December are when law enforcement agencies see peak numbers in theft nation-wide.
While the rise in cases of theft during these months is relatively small, it's still a rise, which therefore increases an individual's probability of being a victim of theft. As a result, all cyclists should be extra cautious with the storage of their bikes this month. But while you're at it, why not make caution a year-round practice?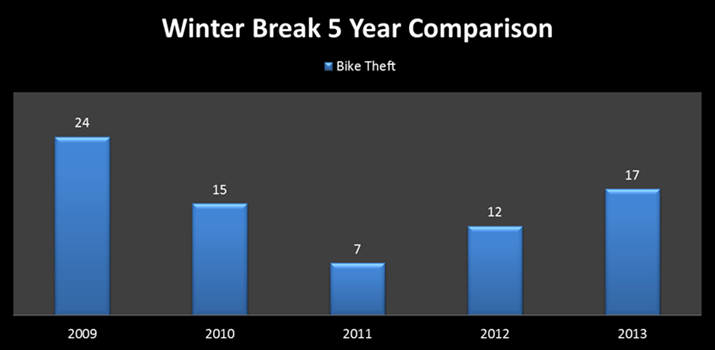 At USC, according to data from the department of public security (DPS), bicycle theft has been on a slight upward trend during the winter break since 2011. But as bike thefts are on the rise, the number of students registering their bikes with DPS has been on a steady decline from 3,682 in 2011, to 2,363 in 2014.
At USC, in order to help identify lost, stolen, recovered or impounded bikes, DPS requires that bikes be registered with them. It's an easy process and can even be done online with a quick stop in to the department to apply a sticker to the bike.
Assuming December thefts are at least on par with monthly bike thefts, if statistics stayed the same as 2013, this year about 200 bikes will have been reported stolen from USC by the beginning of spring semester. Of the thousands of registered bikes at USC, that's just over eight percent. And while the odds may appear to be in a student's favor, when you're the victim of bicycle theft, that eight percent no longer seems so small. It feels even larger when all hope of recovering your bike is removed. Speaking to DPS, I learned there is a less than five percent chance of ever seeing my beloved Aspen again.
Although much information on how to avoid bike theft is available on USC's website, I entered my college experience assuming I was invincible. Walking through campus, I observed hundreds of bikes free-standing and locked to themselves rather than locked to bike racks. Within the first few weeks of regularly biking on campus, I became accustomed to doing the same. The difference is that a large number of students locking bikes to themselves use the U-lock as opposed to a wire lock.
According to Deputy Chief David Carlisle, USC department of public safety, cable locks are inferior to U-lock or Kryptonite-brand locks because the materials are so easy to cut through. All it takes is a pair of bolt cutters.
But although U-lock and Kryptonite locks are more secure, Carlisle claims that even bikes locked with them have been stolen. He has seen cases of people coming to campus to steal bikes with massive cutting devices smuggled inside their coats.The general message seems to be that students can never be too careful.
For those who really love their bikes, going the extra mile to ensure their safety is highly recommended. Instead of riding up to the nearest piece of open side walk, pedal a few more rounds to find that rare open spot at one of the 4,500 bicycle parking spaces on campus. Clearly, free-standing bikes locked to themselves are far easier to pick up and carry off than those locked to racks.
Carlisle recommends that theft-conscious cyclists use the new-model of bike racks by Zamperini track and field. These racks make it easier to properly lock the frame to the rack, which is imperative to minimizing the chances of theft. Ever seen the bike graveyards on campus, where nothing more than single wheels remain locked to a bike rack? That's what USC is trying to avoid with the introduction and increase of these new racks on campus. One more time for emphasis--lock the frame!
While the plan is to eventually replace old racks with the new model, in the interim, DPS encourages using two U-locks simultaneously: one attached to the rear wheel, bike frame and bike rack; and a second locking the front tire to the bike frame. Those looking to be extra safety-savvy can purchase a space reduction device to insert in the space between U-locks. By reducing space, thieves may not have enough room to insert tools and pry locks open.
Though these are all helpful tips for temporary on-campus storage of bikes while classes are in session, what can cyclists do to keep their bikes safest when away for long periods of time, like the holidays?
"Although it may contribute to the clutter, if garages aren't available, keeping bikes in rooms or apartments is the best way to keep bikes safe," says Carlisle, clarifying this applies to students both in on and off-campus housing.
Fortunately, I was able to replace my missing bike with a new one due to the kindness of a generous family member. When I pick up my new baby, I can guarantee I'll be taking all precautions in order to ensure this one is not stolen. Including hauling her up the three flights of stairs to my USC-owned studio. She'll probably live in my bath tub.
For those not in USC-owned housing and with the ability to mount decorations on the wall, consider giving yourself the gift of bicycle security and displaying your bikes for the works of art they are. Not only will your babies be safer, but your walls will look sharp with a decorative storage mount.
Seasonal increase in theft aside, the reality is that bikes are stolen. Period. Being stolen from does not entail just irritation or inconvenience. In having an item stolen, there is a sense of violation and insecurity. I used to think if bike theft touched one of every thousand or so students, it certainly would not be me. But spreading beyond bike theft, and into theft in general, no one is invincible, and everyone is a fair target.
As an individual, take responsibility and absolute ownership of your possessions by protecting them from theft and storing them with the utmost of caution and care. Not just during time spent out of town, but every day.
Contact Contributor Marisa Zocco here; follow her on Twitter here.