Film and TV
'American Horror Story: Freak Show' Season 4, Episode 9: 'Tupperware Party Massacre'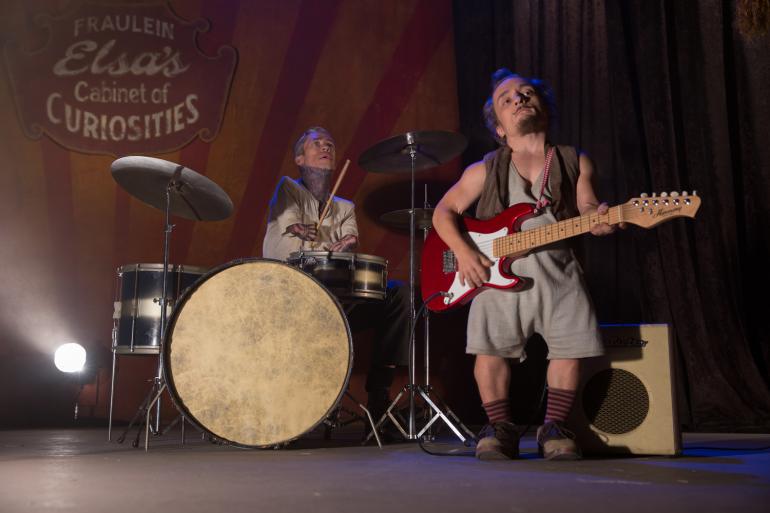 Ryan Murphy apparently likes to break his own records – somehow the body count for this episode of "AHS: Freak Show" was even higher than in last week's. They're squeezing a whole lot of action into these last few episodes, but nobody's really complaining. Here's what went on:
Elsa (Jessica Lange) and Stanley (Denis O'Hare) track down Bette and Dot (Sarah Paulson) and convince them that their fabled surgeon is coming to separate them. In reality, Stanley's just going to euthanize them so he can pickle them at the American Morbidity Musem, but Bette and Dot are over the moon. Well, at least Dot is. Bette sees her life with Dot as a blessing, a way of "really loving another person, to love them as you really love yourself." But she knows she couldn't survive without her other half, so she nobly agrees to give her life to her sister so that Dot can live a normal, happy life.
Meanwhile, recently deceased Ethel (Kathy Bates) is haunting everybody. Dell (Michael Chiklis) is getting really frustrated with his sexual orientation, so he decides to hang himself. Dead Ethel eggs him on, which makes sense, I guess, considering their history. He asks her how she and the other freaks manage it, because he too considers himself a freak. On the inside. It's hard to be an oppressed minority, AHS says. Themes, metaphors! Desiree (Angela Bassett) cuts him down just in time – we haven't seen the last of this strongman.
Ethel also haunts Jimmy (Evan Peters), because Jimmy's in a bit of a rough patch. He's coping with the death of his mother with lots of alcohol and a little TLC from new girl Ima (Chrissy Metz), and none of it his pretty. On top of that, Dandy (Finn Wittrock) promises to destroy everything that Jimmy has ever loved, which will totally ruin your day. When Jimmy pays a visit to his favorite Tupperware ladies (you know, the ones from the first episode who made good use of his root veggie hands?), ghost Ethel appears and tells him to get it together. He returns to the fairgrounds and stumbles into yet another fiasco, this one in the form of lovesick double-headed lady. Dot tells him she's loved him since the moment she saw him, and the creepiest threesome ever almost ensues (Evan Peters' characters always gets the threesomes, I swear). But Jimmy says no, he's in love with someone else. And then the cops show up and arrest Jimmy for murder. Whose murder? I'm getting to that.
Dandy goes to see fortune-teller Maggie Esmerelda (Emma Roberts) and says he's had some "misadventures with the fairer sex." I guess that's one way of putting it. And it doesn't look like he's going to stop misadventuring any time soon – when an Avon lady comes to the door, Dandy kills her and literally sews her head to his mother's dead body. Who needs those ungrateful Tattler sisters now?
But he's not finished. Shortly after Jimmy leaves, Dandy dispatches every single one of the Tupperware ladies, leaving them all floating face-down in a pool of blood. No, literally, a swimming pool now slowly filling with their blood.
Speaking of blood where water should be, Dandy goes home and gets ready to take another of his famous blood baths. Who happens to crash the party but pesky Regina (Gabourey Sidibe), still looking for mama Dora. Finally, Dandy breaks the news and casually asks Regina to take a bath with him. He's irked when she refuses but it's okay, because Dandy considers himself a "god who was chosen to walk among men." He's also "the law," apparently.
Regina leaves and eventually returns with a policeman. Dandy isn't fazed–he explains his family's immense fortune and says nothing can stop him now. Then he offers the policeman a million dollars to work for him, and the guy swings around and shoots Regina in the head. Now that's what I call police brutality!
So there you have it. Dandy murders all those Tupperware gals, and it looks like Jimmy's about to go down for the crime. Where's Meep when you need him?
Reach Staff Reporter Jules Zucker here. Follow her on Twitter here.