USC Sports
Why Sark Should Stay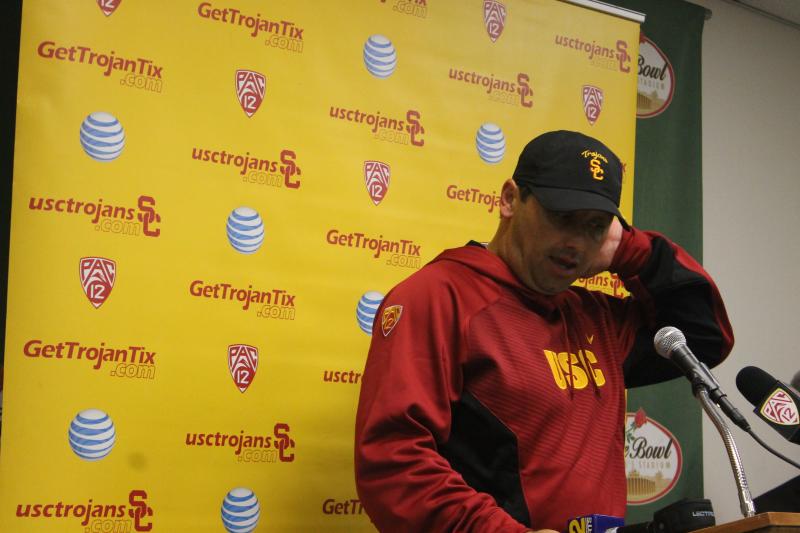 For the third straight year, the UCLA Bruins beat the USC Trojans and, for the second straight year, it wasn't really close. UCLA won 38-20, with only a late touchdown by Javorius Allen keeping the score from being even more lopsided.
Interspersed throughout the crowds of USC fans were calls to fire Steve Sarkisian after the first year of his 5-year, $35 million contract.
The frustration is understandable, as the Trojans have underwhelmed in recent years, including this season under the man nicknamed "Seven-Win Sark", partially due to NCAA sanctions. USC sits at 7-4, and 5-3 in the Pac-12. Their slim chances at a playoff spot have been dashed, and the loss to the Bruins eliminated them from a spot in the Pac-12 Championship game against Oregon. Besides the UCLA game, the Trojans have lost by a combined 12 points in the conference, due to a poorly defended last-second Hail Mary, a last-minute touchdown drive, and some atrocious run defense.
During my four years as an undergrad, the Trojans are 34-16 overall, 24-12 in the Pac-12, 1-3 against the Bruins and 1-2 against the Fighting Irish entering Saturday's game. The team has been through three head coaches and has dealt with numerous off-the-field issues. USC fans expect a lot from the football team, considering the history of the program, and winning 68% of their games over the last 4 years is unlikely to please any fans in cardinal and gold.
However, we shouldn't call for Sarkisian's job yet, regardless of what happens in the Notre Dame game.
Obviously, USC has dealt with the NCAA sanctions, which have left the Trojans with little depth and forced the coaches to implement a more conservative system to lessen the risk of critical injuries. Next year will be the first year with the regular amount of scholarships, meaning Sark will be able to recruit the maximum amount of players in the 2015 recruiting class, as well as start implementing a more aggressive gameplan.
When athletic director Pat Haden hired Sarkisian from Washington, he sought to return to the days of Pete Carroll, minus the impending sanctions, when USC was a championship contender year after year. While hanging onto the past is never a good thing, it's considered fair to give a new head coach three years before passing judgment, giving them the chance to recruit their players, construct a team to fit their preferred style of play, and translate that into results on the field.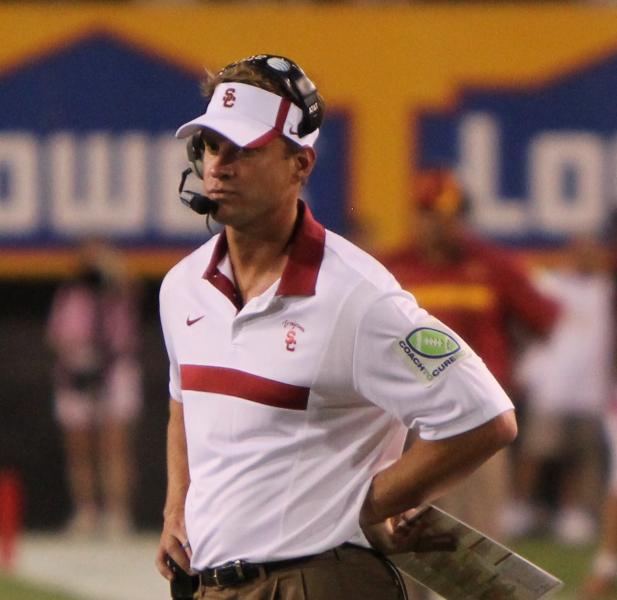 SEE ALSO: Is Sark The Latest Failure Of Pete Caroll's Coachign Tree?
Also, a USC coach struggling in his first season isn't foreign, especially since the start of the millennium. In 2010, Lane Kiffin's first season as head coach, USC went 8-5. Pete Carroll, in his first season in 2001, went 6-6, including a 10-6 loss to Utah in the Las Vegas Bowl.
At 7-4, Sark is already guaranteed a better record than Carroll had in his first season, and wins against Notre Dame and in whatever bowl game in which the Trojans end up would give him the best record for a USC head coach in their first season this century.
How did those teams bounce back? Kiffin led the Trojans to a 10-2 record in 2011, including a 50-0 win over UCLA, a 31-17 win at Notre Dame and a 38-35 upset win over #4 Oregon. Carroll would go 91-13 in his next eight seasons (77-13, if you include wins vacated by the NCAA), including back-to-back national championships in 2003 and 2004, a 4-1 record in Rose Bowl games and at least a share of first place in the Pac-10 for seven years straight from 2002-08.
The return to the standard scholarship amount should speed up this process, as USC currently holds the 13th-ranked recruiting class (best in the Pac-12), and is in the mix for many of the top high-school prospects.
In addition, while USC is likely to lose possible first-round picks Leonard Williams and Nelson Agholor, they'll be in good hands with true freshmen Juju Smith and Adoree' Jackson, along with sophomore Su'a Cravens. There's a chance quarterback Cody Kessler will return for his final year of eligibility, and the Trojans are likely to avoid Oregon's Marcus Mariota and UCLA's Brett Hundley next season.
However, there will be a lot of pressure for Sark to lead the team to another bounce-back season. A lot of people were underwhelmed by Haden's hiring of Sarkisian, mainly because it seemed like the team was stuck in a rut, choosing to hold on to what worked a decade ago rather than evolve with the game. The calls for Kiffin were delayed until after his second season, only picking up after a disappointing third season, and culminating in his firing at LAX after a loss to Arizona State.
Sarkisian should get a chance to replicate the magic that Haden is still trying to cling onto. However, if things haven't improved in the next two or three seasons, head coach won't be the only position USC will be looking to fill.
Reach Staff Reporter Andrew Schultz here or follow him on Twitter.