Arts+Culture
Buy One, Give One Companies And All Their Controversy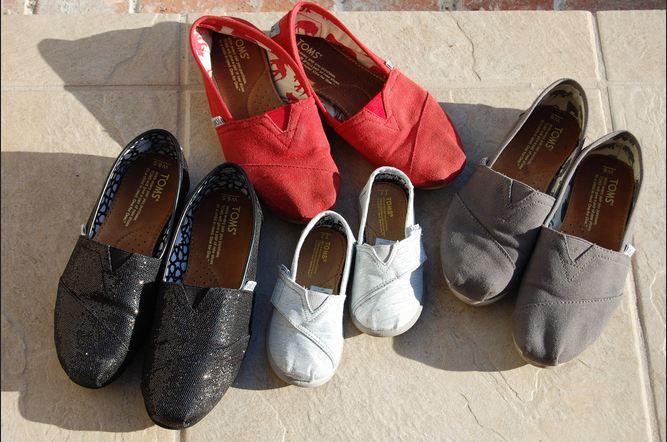 Today's competitive marketplace has retailers using any and all tactics to lure buyers in. While TOMS's idea to link capitalism with charity may have seemed revolutionary in 2006, by now it's a common corporate strategy.
In a study conducted by Cone Communications, 89 percent of consumers responded that they were 'very' or 'somewhat' likely to shop brands that were charitable in some way, assuming there was no significant change in price and quality. As consumers change their spending habits, companies are forced to adapt to keep their products marketable.
The evolving demands of the marketplace have caused many companies to change their mission statements and rethink their philanthropic contributions. Existing companies such as Wal-Mart and Macy's joined the humanitarian movement by volunteering in local communities and donating funds annually in the hundreds of millions. More commonly, though, new businesses are springing up daily with a deep-rooted plan to save the world.
The premise of the motivation for consumers is simple: in the process of buying a pair of shoes or, say, a designer bracelet, customers also receive the satisfaction of giving back without actually having to do anything.
"It's more exciting for the customer to feel like the purchase that they're making is doing something in the world that they can visibly see happen," says Beth Doane, the founder of Raintees.
SEE ALSO: Freedom and Fashion: Combining Fashion and Social Justice
This model of "buy one give one," or B1G1, is ubiquitous in Western countries where guilt-ridden people yearn to comfortably contribute to the efforts to help the developing world. The most well known example of such a model is TOMS, a company that has given out over 35 million pairs of shoes to date, yet critics continue to argue that the company is doing more harm than good.
"Those 'helped' by Toms are, in the long-term, no more able to afford shoes or address the real social, economic, and health issues that they face than they were before," argued Cheryl Davenport on Co.EXIST. "Once their free shoes wear out in a couple years, the children Toms 'helped' will be just as susceptible to the health and economic perils associated with bare feet as they were before."
Davenport's laments are echoed by economic professors and social entrepreneurs across the country. "There is definitely a need for footwear in underserved markets," said Valeria Budinich, vice president of Ashoka, in an article in the The Fixes. "But those markets need new technology, production processes and distribution chains that [are specifically designed for] rural areas. Models like TOMS have many great features but aren't designed to come up with that level of transformation."
In September 2013, a few years after the bulk of the TOMS criticism amassed, the company announced its five-year commitment to "produce millions of TOMS Giving Shoes and to help establish and support the growth of a responsible and sustainable shoe industry in Haiti." In 2014, TOMS opened its first manufacturing facility in Haiti and estimates that it will create 100 jobs for Haitians. By the end of 2015, TOMS founder Blake Mycoskie said that he hopes to produce a minimum of one-third of all "giving shoes" in places where the shoes are given.
With an open mind, TOMS was able to listen to its critics and improve its impact on developing countries. Beyond its famous shoe line, the business also sells coffee and with every bag purchased provides a week of clean water to a person in need. But they haven't stopped there. When you buy a pair of TOMS eyewear, TOMS provides sight-saving surgery, prescription glasses or medical treatment to a visually impaired person in need; It's all part of their "One for One" model, where every product purchased is a product or service given to someone in need.
Other B1G1 companies have found more economically sound and impactful methods of donation. Eyewear brand Warby Parker, for instance, acknowledges the woes of giving away products and instead covers the cost of sourcing and producing eyewear, which its nonprofit partners then sell in developing countries. For every watch bought from WeWOOD, a tree is planted to "help restore Mother Nature." These B1G1s have found a way to benefit from the Western market without compromising the limited success of the developing world's economies.
"It's a sticky fact of life that kind-hearted gestures can have unintended consequences," says Parker. "Donating is often a temporary solution, not a lasting one. It can contribute to a culture of dependency. It is rarely sustainable."
Fashion designer and social entrepreneur Beth Doane's company, Raintees, provides jobs, education, reforestation and even food. Not only does the company plant a tree for every product sold, but it also works with tree-planting partners who pay local workers to assist in plotting. By providing jobs to local communities in developing countries, Raintees has given hope and prosperity to individuals who previously faced adversity.
"We had a woman in Madagascar who was an indentured servant to another person and because of the tree-planting program, she was able to buy herself out of slavery," said Doane.
For Doane, the decision to use the B1G1 model rather than donating money was a painless decision, since both her company and her customers are able to see and track the tangible benefits of what they're giving back.
"When we can show people the trees that they're planting, that they can even plant a forest and visit that forest, and see the people whose lives they're changing, it's more exciting for the customer. It's stories like [the woman in Madagascar] that make what we do so important and so real to people."
Raintees also stimulates jobs by manufacturing its products overseas. All of the company's shirts are made of organic cotton grown in Peru; to keep production close to where the cotton is grown, Doane made the decision to team up with a factory in Peru and stimulate jobs there. What's more, all of Raintees' factory employees are paid 25 percent above the average factory worker wage.
Companies like Raintees and Warby Parker employ the ideal type of B1G1 by giving back to needy communities without becoming detrimental to their economies. By providing the means to thrive and grow, these businesses are employing the successful B1G1 models that other companies should strive to take after, ones that aim for long-term growth and not short-term, instant gratification.
Contact Staff Reporter Morgan Greenwald here.