Theater and Dance
Penises, Gunshots, And Madness Galore: 'What The Butler Saw' At The Mark Taper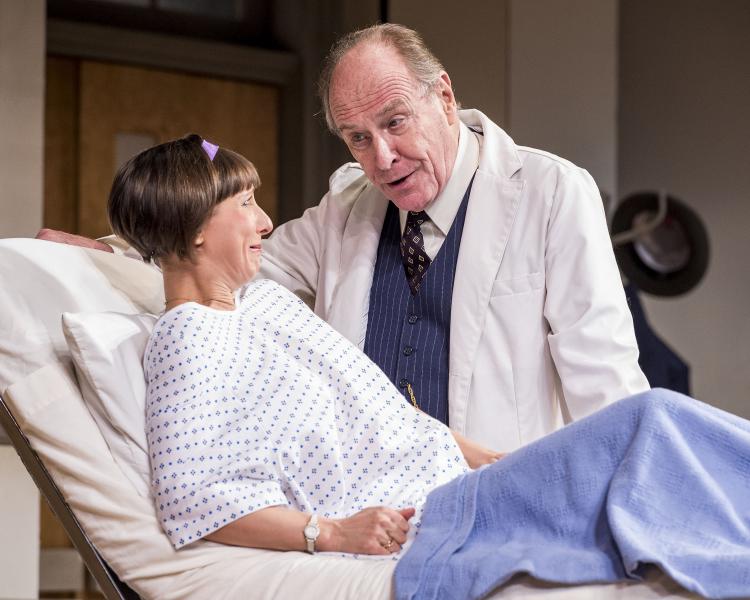 Don't bring kids to this one. The Mark Taper Forum's raucous production of Joe Orton's "What the Butler Saw" delivers everything that you would expect of a classic, low-brow British farce done at an esteemed Los Angeles theatre... and so much more.
"What The Butler Saw," directed by John Tillinger, is exactly the kind of story that Michael Frayn or Alan Ayckbourn would devise, and exactly the same premise: Everything starts out lovely, then quickly goes to nonsensical shit. We begin with an astute psychiatrist, Dr. Prentice (veritable frontman Charles Shaughnessy) devilishly attempting to seduce his debutante secretary-to-be, Geraldine Barclay (Sarah Manton), under the pretense of assessing her bodily capability to type fast and perform other secretarial duties. Enter his harpy of a wife (a terrific Frances Barber, carrying all the gravitas owed to her stellar resume), shrewdly bickering and slinging gleefully British innuendos towards her husband — who has hid his poor clientele, now naked, behind an upstage curtain.
Mrs. Prentice, it is revealed, is being harangued and blackmailed by one Nicholas Beckett (Angus McEwan), a hotel steward with whom she had a brief but passionate —though of questionable consent— tryst in a linen cupboard. In their desired suppression of each of these secrets, the Prentices encounter the droll musings and laborious explanations of more-esteemed psychiatrist Dr. Rance (unforgettable Paxton Whitehead) and dodge the authoritarian persistence of Sergeant Match (hilariously bumbling Rod McLachlan), while Nicholas and Geraldine constantly don, switch, or shed clothing in a frenzied attempt to make things right again. When all finally convene in the same locale, and all murkiness is cleared up, the audience is treated to the traditional "What the absolute fuck?" ending that is synonymous with 1960s British farces. It is absurd, shocking, and— especially in the second act — grotesque... but completely engrossing and delightfully immoral.
Itis easy to see why this play was so decried upon its premiere. Its blatant mockery of the lack of morality within the realm of psychiatric practice and its complete disregard for tact — especially prevalent in McEwan's courageous nude scene and Dr. Rance's scathing one-liners about the Catholic church and female entitlement — elevate the play to an almost zoological portrayal of post-World War II England, brought to the forefront by the ending image of Sergeant Match brandishing the severed penis of a Winston Churchill statue that has been pulled out of a dead woman. This, combined with the numerous references to necrophilia and nymphomania along with the increasingly severe alcohol abuse and gun violence, gloomily satirizes the politics of the era and could easily have been interpreted as a cry on Orton's part for change in the governmental realm of the time.
SEE ALSO: La Jolla's 'The Hunchback Of Notre Dame' Is A Musical Theater Blessing
Despite its tomfoolery and silliness, it is ripe with social commentary that sparks profuse debate and consideration in its audience as to who the culprit is and who should be exonerated for their mishaps. Is it Dr. Prentice, the male psychiatrist who began all of the shenanigans by hitting on his powerless female secretary? Is it Dr. Rance, who feeds the characters with incessant psychiatric analysis despite claiming multiple times that explanation is not within the boundaries of his job? Or is it Mrs. Prentice, the drunken housewife who gets fed up when nobody listens to her or answers her questions and takes matters into her own hands through whipping out a pistol and going berserk? The farce is exaggerated, but truthful to life and circumstance. Check.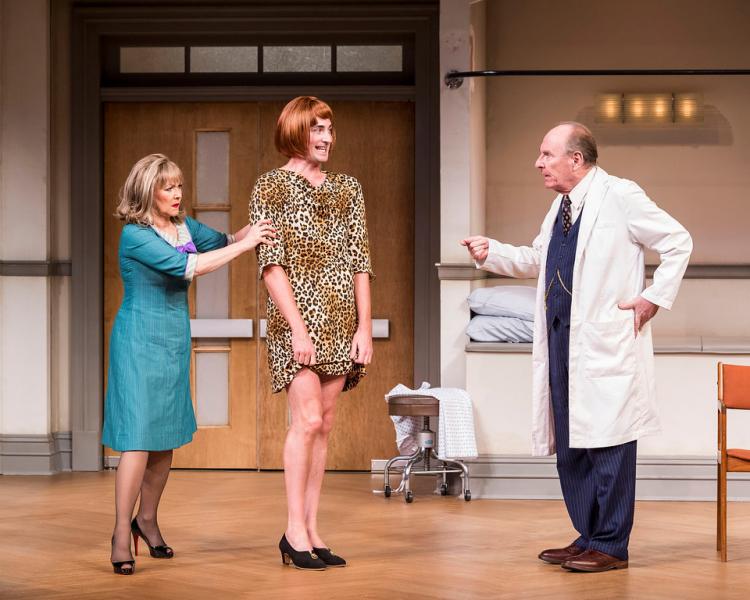 All of this is not to mention the extraordinary sense of theatricality that the Forum provides. It is a simple set (designed by James Noone) — a nice, comfortable clinic with a bed for patients and a patio on stage left — but the enormity of the space amplifies the energy of the piece and, in effect, raises the stakes. For a farce to be pulled off correctly, every single move, action, and word needs to occur within the context of a life-or-death choice, and the classical training of the actors aids in doing just this. Not one weak link is exposed throughout the entire two-hour run; the listening is sharp and responsive; and the timing is 100 percent pitch-perfect, especially from Whitehead, whose bass-baritone pontificating keeps the audience in perpetual stitches throughout.
Most importantly, however, they help to stay true to the text of the play while expertly insinuating hints of modern relevance within the political annals of the text. Who can trust doctors? What conditions are over-medicated? When will women have more of a say in regards to their own body? What determines gender? All of these questions are clearly posed, and John Tillinger's sharp direction forces us to provide the answer.
As my first experience with Center Theatre Group, I left the theatre wanting to go back and watch it again. It is undoubtedly different every night, but also undoubtedly the same amount of crazy, chaotic fun. You never know where this show will take you, but you'll be glad that you're along for the journey.
"What the Butler Saw" runs through December 21 at the Mark Taper Forum in Center Theater Group's Music Center (135 N Grand Ave, Los Angeles, CA 90012). For more information visit CenterTheatreGroup.org
Reach Staff Writer Ryan Brophy here
For more Theater & Dance coverage click here