Columnists
Voices Of Skid Row: Monica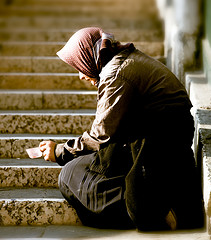 Sonder: Voices Of Skid Row is a project aimed at giving a voice to the humans of Skid Row. Sonder is the realization that each random passerby is living a life as vivid and complex as your own. If you are reading this, I hope the collection of stories will inspire you to love the marginalized and use your skills and resources to make a positive difference in the lives of the less privileged.
READ MORE: Sonder: Voices Of Skid Row
Monica was sitting down on the street, hunched over beside a wall, when I first saw her. She was in the disabled line for a food distribution service organized by Monday Night Mission and there was something about her that piqued my interest. Perhaps it was the way she sang Jesus Loves Me in a whisper while waiting for her sandwich and bottle of water. Perhaps it was also the gentle and unassuming air she had while she ate.
"Can someone please pray for me?" she asked. She looked fatigued and despondent, like someone in desperate need of another to share their burdens with. I decided to sit down next to Monica and she immediately began to tell her story.
"Do you believe in Jesus?" she asked me. "Do you know what Jesus has done for you? I know Jesus loves me."
Christianity's presence is felt all over Skid Row. Churches and faith-based groups come in flocks to feed the homeless, distributing sandwiches, water and other supplies to alleviate their supposed hunger. However, it is almost impossible to go hungry in Skid Row and many advocates suggest that food handouts can often do more harm than good. Feeding homeless people in the streets creates a mentality of dependency, unnecessary waste and conflict over supplies. The emotional support and spiritual guidance offered by such groups are often more valuable than tangible food items. People like Monica don't need food so much as someone to listen and be there for them.
For Monica, her faith in Jesus Christ and his promise of eternal life is the only thread of hope she clings to amidst the darkness and loneliness of Skid Row. Monica has been a diabetic for 30 years and is required to take insulin injections every day. However, her other medicines are causing her pain to the point where she cannot function normally.
"The medicine makes me shit myself," Monica told me. "I'm always getting diarrhea and my stomach hurts all the time. I can't get anything done. It's ruining my body."
In Skid Row, diabetes and other long-term illnesses are immensely debilitative. According to the 2013 Downtown Women's Needs Assessment developed by the Downtown Women's Action Coalition, 50 percent of women 51 and older rated their physical health as fair or poor. Many women struggle with diseases like diabetes, obesity, hypertension and other age-related illnesses. Furthermore, they don't always receive the proper healthcare, with the survey showing 44.8 percent seeing medical services as a desperate need.
The lack of medical services and the draining effects of long term illness prevent people like Monica from escaping the poverty cycle. Because Monica is in constant pain, she cannot summon the strength and energy to find a job or a home. Neither is she able to find a community of people who can support her. In other words, it is too difficult for her to escape her homelessness.
Chronic illness, however, is not the only hardship Monica faces.
"My sister's husband tried to rape me," she tells me as her eyes well up with tears. She says she is also regularly abused at the homeless shelter that she stays in.
Sexual assault is an unfortunately common experience for women in Skid Row. According to the Women's Needs Assessment, more than two thirds of women have experienced child abuse, domestic violence or sexual assault. Furthermore, many women find themselves in Skid Row because they are fleeing from previous abuse. In order to survive in the hostile environment, women may perform sexual favors in exchange for food, housing, protection, cash or other needs.
Women who have suffered physical trauma often have profound feelings of isolation and distrust. The continued assault that they experience on Skid Row intensifies the pain suffered in the past. On the streets, they are often labeled as sexually promiscuous or called degrading names on a daily basis. This leaves them psychologically vulnerable to anything that will relieve their pain, including drugs and alcohol.
Monica could not bring herself to fully describe her abusive past. Neither did I press her to continue. As I prepared to depart from Skid Row, she asked in a desperate, yet soft voice, "Can you pray for me?"
I did my best to muster up a prayer, but I knew that I didn't understand her struggle and I didn't understand her pain. When I returned to the comfort and warmth of my apartment, something Monica said began to ring in my head. Perhaps it was because her words reflected her aching loneliness. Or perhaps it was because I know people fortunate enough to have homes who call people like Monica the same stinging insults.
"The people around here call me stupid. They call me dumb. They call me crazy. None of these homeless people treat me right and I'm down here all by myself."
Read more Sonder: Voices Of Skid Row.
Like Sonder: Voices Of Skid Row here. Contact Columnist Jason Cheng here; and follow him on Twitter here.