Books
Visual Poetry Collection 'Kern' Meshes Literature And Art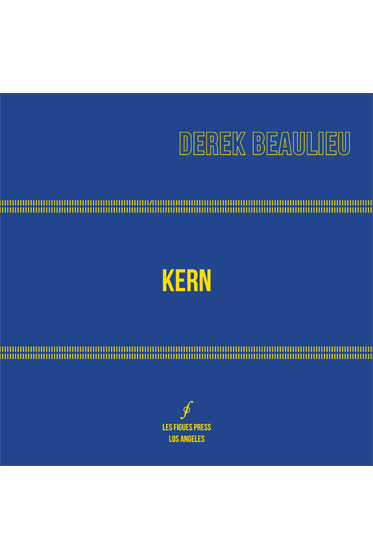 With Instagram, Snapchat, Vine and other photo/video sharing services dominating our social interactions, we are an increasingly image-driven society. So it makes sense that visual poetry, first formally seen in the world of art and poetry in the early 20th century but appearing as far back as Ancient China and Greece, is experiencing a resurgence.
Visual poetry is, as its name implies, conveyed not only through the words themselves, but also through the way in which the words appear on the page. In some cases, such as Derek Beaulieu's recently published "Kern," words are omitted entirely in favor of creatively arranged letters and lines, in what is known as concrete poetry.
"Concrete poems should be as easily understood as airport and traffic signs," Beaulieu writes. "Airport signage is designed for instant and momentary recognition and comprehension as ultimate goals; viewers need not read, they only need momentarily stare and receive."
SEE ALSO: Street Poets: A Transformative Approach To Healing L.A.'s Youth
Conceptualized as a collection of fictional logos, some of the "Kern"'s poems vaguely resemble shapes and words, making their interpretations perhaps a bit less obtuse, but for the most part, the poems are somehow both tightly designed and utterly abstract.
Beaulieu, a poet, editor, publisher and teacher at the Alberta College of Art + Design, has created a book, printed entirely in black-and-white, which still manages to be immensely visually engaging. Rather than relying on words and color, as traditional poetry or artwork typically would, "Kern" relies on variations in font face, weight and size to create unique messages and movements with letters, and occasionally numbers. The pieces have no titles, but are arranged in a sequence that begins with the most sparse, minimalistic poetry, gradually developing into pieces which entirely overtake the book's final pages.
Also distinctive about "Kern" is that it was printed without the use of computers, but rather using dry transfer lettering, which dictates that letters cannot be moved from paper or canvas once they've been placed. Beaulieu writes that this makes the transfer process "unforgiving," thus demanding an even greater attention to detail:
"The resultant poems, if executed with the same care given to projects by the best graphic designers, are logos and slogans for 'pataphysically' impossible businesses," writes Beaulieu, who likens concrete poetry to symbols and logos such as the Nike swoosh, which is "panlinguistic" in its ability to be both a visual marker and conveyor of information.
READ MORE: Video Game Poetry: Exploring How We Learn About Sex By Gaming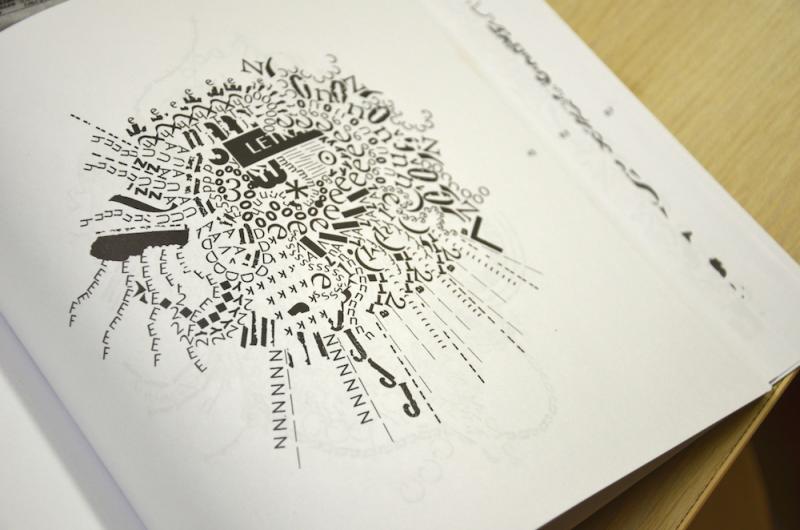 Visual poetry is, aesthetically, more art than literature, and could impart onto readers the effect either of looking at a painting or reading a poem. In its ancient state, visual poetry was used by Greek, Persian and Renaissance poets, particularly to convey poems of a religious nature, referred to as altar or pattern poetry. 20th century poets such as Guillaume Apollinaire, Francois Rabelais and E.E. Cummings have offered a reworking of the medium.
Cummings relied on charcoal, watercolor and other non-traditional tools to create his visual poetry. His experimentations began as early as 1920, with the poem "O sweet spontaneous earth" which was a pattern, or shape, poem. In "The Dictionary of Literary Biography," author Jenny Penberthy writes that Cummings "established the poem as a visual object ...he revealed, by his x-ray probings, the faceted possibilities of the single word; and like such prose writers as Vladimir Nabokov and Tom Stoppard, he promoted sheer playfulness with language."
Indeed, visual poetry can convey a sense of playfullness, or, alternatively, seriousness, for example visual "altar" poetry made to look like praying hands (such as Dylan Thomas's "Vision and Prayer.") The Academy of American poets took note of concrete poetry in 2004, deciding that "in essence, works of concrete poetry are as much pieces of visual art made with words as they are poems. Were one to hear a piece of concrete poetry read aloud, a substantial amount of its effect would be lost."
A decade later, current visual poetry is unabashedly modern, existing somewhere between contemporary art and the sparse nature of millennial poetry, it leaves itself open to many different interpretations and is likely to be divisive in its impact upon viewers. The format exists largely underground, a sort of niche sub-genre of poetry, but carries and undercurrent of avant garde experimentalism distinctive of visual poetry pioneers like Cummings, who aimed to shock, surprise and subvert more traditional forms of poetry. Though the form has yet to set the literary world on fire, with online articles instructing "How To Write A Concrete Poem," and Emmett Williams' "An Anthology of Concrete Poetry" republished earlier this year, it seems safe to say that many people are beginning to see the value in visual poetry.
Kern is published by Les Figues Press, and is set for national release Dec. 16.
Reach Staff Reporter Olivia Niland here. Follow Olivia Niland on Twitter @olivianiland.