Music
Vance Joy At The Fonda Theatre: Show Review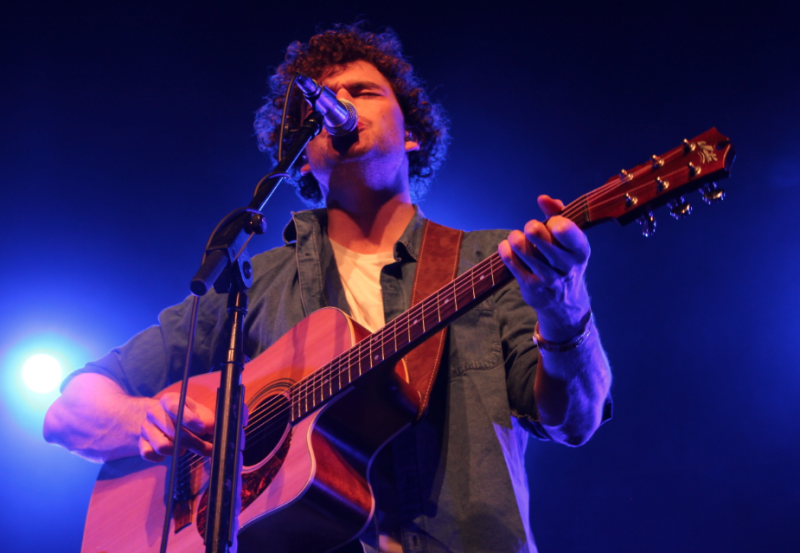 He may be afraid of dentists and the dark, but Vance Joy definitely knows how to put on a stellar performance.
On Friday night, the Australian singer graced Los Angeles with his presence, playing to a sold-out crowd at the Fonda Theatre.
Seattle native Jaymes Young opened for Joy. With a soulful voice and edgy, alternative music, Young was the perfect primer for the crowd. He recently put out an EP "Habits of My Heart" this year and sang many of those songs during his set. The highlight of the evening for Young was the performance of his song, "I'll Be Good." With an endearing opening and tragic lyrics, there was soul felt in the music and it helped to focus the crowd's attention on the beautiful marriage of his vocals and the words.
After a rather short set by Young, the audience awaited the headlining act. The most surprising part of the night was probably the fact that many members of the crowd looked better suited for a One Direction concert than singer-songwriter Vance Joy. There was an array of fan girls, screaming at any flutter of the curtain. Even amidst the "smell" of concerts' past, the evidently younger fans juxtaposed the "chill" Hollywood observers.
READ MORE: 'Dream Your Life Away' By Vance Joy: Album Review
Finally, Joy appeared and began the show with "Emmylou," a song off his EP, "God Only Loves You When You're Dancing." A classic by Joy, the fans that have followed him for a while definitely enjoyed singing along to this darling jam.
Next up was "Red Eye," one of the best songs off his debut album, "Dream Your Life Away." The tender, yet sad, tune was met with screams from the young ladies in the front row. Though only the beginning of the show, the effect of Joy's music with the female demographic was evident.
"Play With Fire" is by far one of the best songs to experience in concert—period. A catchy tune, "Play With Fire" is ultimately a fun song to dance along to, especially with friends or a significant other. Though this track is only on Joy's EP, it is a must listen for any fan, new or old.
Similarly, "Snaggletooth" was another song performed that essentially rounded out Joy's first EP. The eccentric track about loving a girl's "snaggletooth" and "pigeon toes" was well received by the crowd as it was rather simply played by Joy.
Another song that is not to be missed at a Vance Joy concert is "From Afar." Perhaps because the song is so sentimental, yet painstakingly innocent, it strikes a certain chord in the hearts of many fans. Just think about the lyrics: "I've been living on the crumbs of your love, but I'm starving now." How could you not feel for those words? What's even better is that this song is even more stripped down in concert than the recorded version, with just Joy's voice and a guitar.
Of course, the best part of the night for the crowd was when the opening chords for "Riptide" were played. Though many listeners are used to dancing to this track amidst traffic in their car, "Riptide" is the perfect blend of quirky lyrics and charming admiration. Whereas the songs immediately before this were slower, the hit track seemed to wake the audience up. If only Michelle Pfeiffer was in the crowd.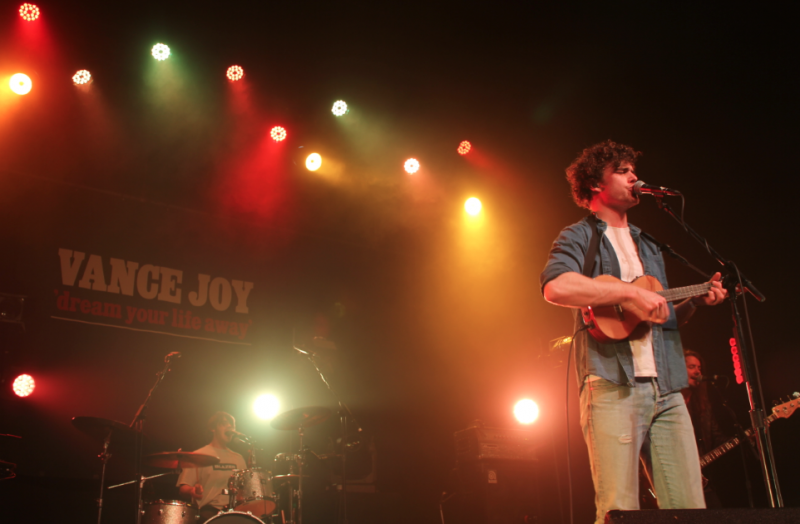 Joy's show ended with recent hit "Mess Is Mine." The sacrificial lyrics and upbeat guitar (again) had everyone on their feet, dancing and singing along to a heartfelt song.
Other tracks played throughout the set included "Wasted Time," "Best That I Can," "My Kind of Man" and "Winds of Change."
The last time I saw Joy was at San Francisco's Outside Lands this past summer.
READ MORE: Outside Lands 2014: Complete Recap
Wow, what a difference just a few months can make.
It is obvious that Joy is much more comfortable on stage, interacting with the crowd and making the experience more intimate than the average concert. Whereas his set at the festival was perfect, this performance seemed to go above and beyond due to Joy's easygoing attitude, effortless melodies and jokes here and there.
Another delightful aspect about seeing Joy in concert is that it is a pure experience. That is, pure in the sense that he doesn't need any flashy lights or an array of background singers for you to feel the music. All he uses is his natural vocals, a guitar and/or ukulele and his band joining him form time to time. To me, that is a true musician.
The Australian singer may be young, but already has a dedicated fan base. Embarking as the opening act for Taylor Swift's "1989" tour next year, Joy has his whole career ahead of him and there is only promise on the horizon for what's to come.
There's one thing that's evident—Joy knows how to put on an enchanting show.
Reach Music Editor Jillian Morabito here.