USC Sports
UCLA Executes Stubborn USC In Crosstown Clash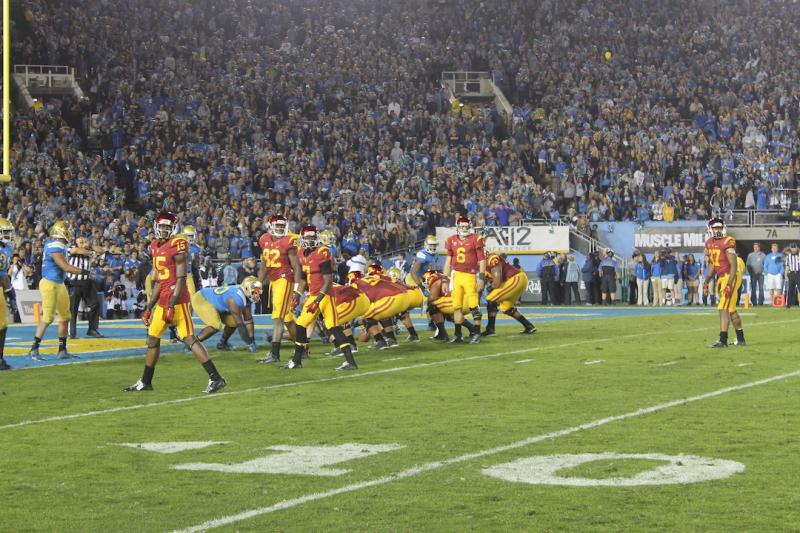 The heated crosstown rivalry between USC and UCLA cooled considerably Saturday night, and it wasn't because of the unseasonably cool temperatures in Pasadena.
It was because, for the first time in three years, it looked like one team didn't even belong on the same field as the other. A great rivalry is, of course, a give-and-take between cultures, a clash of jerseys, alumni and students. But for the most part on this evening in the Rose Bowl, one team was doing all the taking.
The USC Trojans, a few plays from winning the Pac-12 South - as many critics have noted - were exposed by their crosstown rivals, UCLA, in a lopsided 38-20 loss in front of 82,431 Angelenos.
The offense that had hummed in the air and on the ground against lesser foes in Washington State, Colorado and California was stuffed early and often by the UCLA defense, amassing just 276 yards of offense and averaging a measly 1.9 yards per rush, the team's worst since Boston College Trojan-horsed USC's defensive line in September (0.7 YPC).
Nelson Agholor (three catches, 24 yards) and Buck Allen (102 total yards), the Trojan workhorses this season, both had subpar outings, which proved trouble for Cody Kessler, who was sacked six times on the evening.
Head coach Steve Sarkisian said after the game, "Sometimes when you throw the ball so much to one guy, you fall into a trap."
"When that first progression is taken away," Kessler agreed, "it's hard to find that second and third progression, especially with that front line."
Kessler finished throwing 22-for-34 for 214 yards - his third-lowest total all year - with a touchdown and an interception a piece, and was easily outmatched by his counterpart, Brett Hundley.
SEE ALSO: Is Sark The Latest Failure Of Pete Caroll's Coaching Tree?
Though Justin Wilcox's front seven stopped Hundley from scrambling and running back tandem Myles Jack and Paul Perkins from motoring early on, the Trojan secondary was once again its Achilles' heel, and the future NFL gunslinger found lots of holes.
With Josh Shaw reinstated, the USC defensive backs showed little to no improvement following their poor second half performance against Cal, succumbing to Hundley's 326 yards and three touchdowns through the air.
Leon McQuay III had a particularly bad game, slipping in zone coverage on both UCLA touchdowns in the first quarter. (His open-field tackle attempt on Thomas Duarte's 52-yard scamper was particularly laughable.)
But he wasn't alone. The lovable freshman Adore'e Jackson had his first truly poor game at cornerback and was being targeted ad nauseum on multiple drives in the third quarter.
Gerald Bowman pointed out after the game that the gameplan to stop Hundley's scrambles may have backfired.
"I definitely had a different role this game, " he offered. "I was mostly in a dime position, playing closer to the line of scrimmage. We tried to make sure we could contain Hundley.
"But we couldn't finish, and we didn't execute."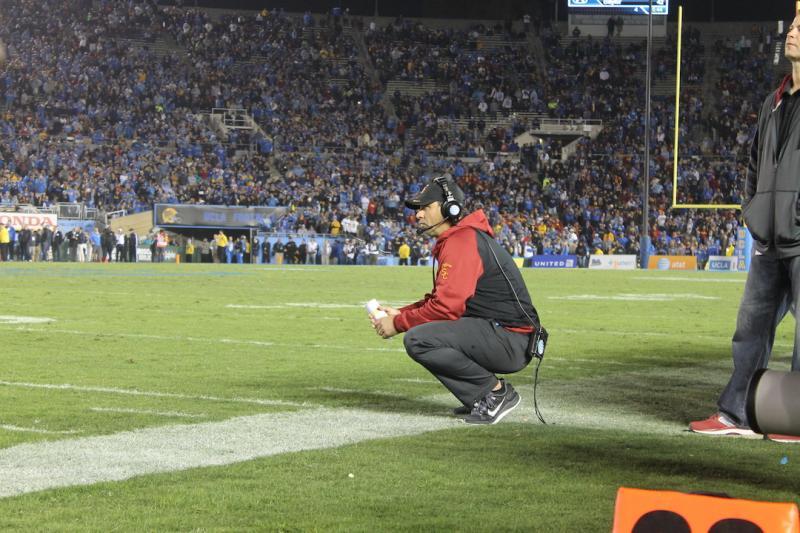 "Execute" was such a buzz word in postgame interviews - nearly every players offered the team's failing to execute as the only excuse for the defeat - that one could completely lose the meaning in the word.
When asked why the Trojans weren't the better team tonight, Cody Kessler claimed, "We didn't execute."
When asked why the team didn't execute, he claimed, "[UCLA] had a really good gameplan.
"The coaches make the calls. The players can only do so much."
Well…which excuse is it?!
USC surely didn't play well enough to win, but it wasn't because the Trojans did not "execute" per se, but because the team couldn't rally after losing momentum. Sound familiar?
During an unfortunate series of events, USC lost all of its momentum after it gained an early lead from a Hundley pick-six - brilliantly jumped by New Jersey native Anthony Sarao. After stopping the Bruins on their next drive, usually sire-handed and Biletnikoff finalist Nelson Agholor fumbled a punt deep in USC territory, giving UCLA prime real estate for a momentum-swinging touchdown.
Some may blame fortune and "bounces" for the way games of this magnitude play out, but that's lazy.
It's the responsibility of the team and the coaching staff to fight back against bad breaks, and adapt to unfortunate situations in-game.
Head coach Steve Sarkisian, for some reason, felt otherwise. When asked about why the Trojans, down 14-7 at the end of the first quarter, chose to go for it on fourth down deep in Bruin territory instead of taking the points, the skipper said, "We've been aggressive all year…We're not gonna change that now."
Well, why not?
The main gripe against USC all year has been the inability to close out games when ahead and adapting to changes in the second half.
Unfortunately for the Trojans, their lead diminished too early Saturday night, leaving Sark and Wilcox to spend the entire game compensating for lost momentum.
It's clear now that USC can't help but play into its own narrative, again and again repeating the same mistakes and failing to finish or adapt when necessary. It was folly for anyone in the greater Los Angeles area to assume Saturday would prove otherwise.
Hundley claimed after the game that the Bruins "run LA," and it's hard to argue with him. History doesn't count for anything in this attention-lagging, Twitter-fied sports economy in Los Angeles, and of late, only one team, that of blue and gold, can stake claim to intracity dominance. And such Bruin dominance will prove costly for the Trojans as they creep towards the finish line, with their heads sunk.
A night like this, when a failure to "execute" in all phases of the game is clear and emphasized, may leave certain individuals in South Central on the chopping block, and at risk of a different kind of execution.
Reach Sports Director Jeremy Bergman here. Follow him on Twitter @JABergman.