California
UC Schools' Move To Increase Tuition Fees Revives Student Debt Debate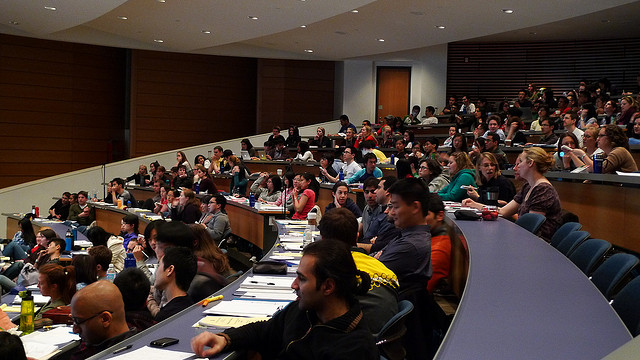 Today the University of California's regents committee approved
an increase in tuition
by up to 28 percent, sending the debate about school fees and student debt crashing back into the headlines.
A quote attributed to Benjamin Franklin, the famous 18th century politician, author and kite enthusiast, states that "the only thing more expensive than education is ignorance."
But many college students in 21st century America (and their parents!) are feeling the pinch—more than ever before, in fact.
Analysis carried out by Edvisors and referenced in the Wall Street Journal found that the graduating class of 2014 is the most indebted in history.
READ MORE: Republicans Block Student Loan Bill
Much of the discourse revolves around four-year undergraduate degrees, but graduate students are not exempt from the calculations.
"About 15 percent of graduate and professional school students graduate with six‐figure student loan debt, compared with only 0.3% of undergraduate students," says Mark Kantrowitz, a publisher at Edvisors.
Film maker Andrew Rossi directed and produced Ivory Tower, a documentary film that revolves around the central question - is college really worth the cost? Leading up to the film's screening on CNN, Rossi participated in a Reddit AMA, in which he wrote that "the cost of college has increased by 1120 percent since 1978, multiples more than the cost of healthcare, food or housing."
That statistic should bring pause to all observers but as with any complex issue, opinions will not all land in one camp. A study by the Brookings Institution found that "typical borrowers are no worse off now than they were a generation ago."
READ MORE: Graduate Student Debt: The Missing Piece
USC students can breathe a little easier knowing that the Golden State has the second lowest level of debt in the country, behind New Mexico.
Amidst the figures, percentages and conflicting conclusions, the already grim prospect of student debt can seem even more scary. But it's not all bad.
According to the Federal Reserve Bank of New York, going to college is still worth it. Those who hold bachelors degrees earn $1.2 million more between the ages of 22 and 64 than high school graduates.
Ivory Tower airs on CNN at 9pm E.T. on Thursday November 20.
Contact Staff Reporter Vanessa Okoth-Obbo here and follow her on Twitter here.