USC Sports
Women of Troy Suffer Two Losses In One Week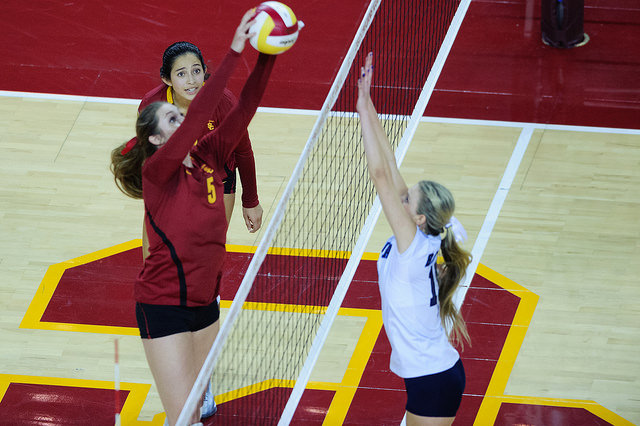 The Women of Troy returned home to play their last two of four matches in eight days. The first two were a loss to Utah (15-11, 5-10 Pac-12) and a win against Colorado (16-11, 8-7 Pac-12), both in 3 sets.
On Wednesday, USC hosted Stanford (26-0, 16-0 Pac-12) and fell 25-21, 25-23, 25-23. Even though they lost in straight sets, the Women of Troy battled tough, 29 tie scores overall, against the undefeated Cardinal.
Junior outside hitter Samantha Bricio led the Women of Troy with 12 kills, nine digs, and an ace. Bricio was strong at the net, but not as consistent or powerful as her usual self.
"She gave us her best effort tonight," head coach Mick Haley said. "But she just ran out of gas."
Sophomore outside hitter Ebony Nwanebu had 11 kills, 10 digs, three blocks, and an ace. Sophomore outside hitter Elise Ruddins had 10 kills, five digs, two blocks, and an ace.
While the Women of Troy's offense was neither as accurate nor as effective as usual, they were still able to stay in stride with the Cardinal.
For the defense, sophomore libero Taylor Whittingham played strong with 20 digs and an ace.
After the game, Haley attributed fatigue to their level of play, but didn't let it be an excuse.
"There was spurts of really good play, but we couldn't sustain" Haley said. "We just didn't have enough in the tank."
Ruddins shared about her thoughts moving into their next game. She believes her team will find success if they don't worry about mistakes and focus on swinging hard at the ball.
"From the beginning of the game we need to start fighting," Ruddins said. "And continue through the rest of the match."
Against California (9-16, 1-14 Pac-12), the Women of Troy came out to a much stronger start, as Ruddins previously spoke about. That aggressive start paid off as USC beat Cal 25-21 in the first set, but California came out on top after five tough sets. USC won sets 1 and 3, 25-21 and 25-23, but Cal took sets 2, 4, and 5, 25-23, 25-15, 15-13.
This was Cal's first Pac-12 victory.
Playing in front of 2,082 fans, the Galen Center was filled with high-energy and intensity the entire match.
This was the 7th time that USC has played to 5 sets with Cal in 9 meetings at the Galen Center, this is the first time the Bears have been victorious.
It was Senior Night for the Women of Troy and everyone was more than excited to honor outside hitter Emily Young, middle blocker Hannah Schraer, and setter Hayley Crone. All three were met with booming applause as their families walked them onto the court.
As usual, Bricio dominated with 23 kills, 11 digs, and two blocks. Bricio also made history tonight with three aces and is now the Pac-12 career service aces with 200 aces. The previous record was 198 aces, held by Daiva Tomkus of UCLA, who played from 1986-1989. Bricio also recorded her 35thcareer double-double.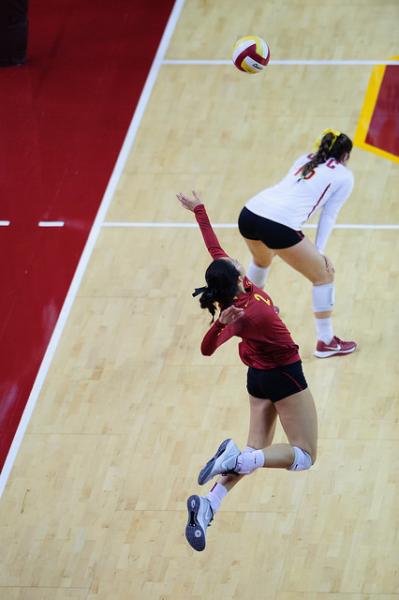 Nwanebu was dominant at the net as well with 19 kills. She also tallied up six digs, three aces, and two blocks.
In the second set, Cal was behind for almost the entire set, but after tying it up at 19, the Bears took the set.
The third set was almost déjà vu of the second set, but this time Cal lead up until USC tied the game at 20 all. USC closed out the set with huge kills from Nwanebu and Ruddins.
Even though Cal beat USC by 10 in the fourth set, the crowd was incredibly loud and supportive for the Women of Troy.
In the fifth set, the Women of Troy looked strong with a 10-6 lead. Just like that their lead was gone and the score was 12 a piece. Two quick kills by Cal put them at match point.
After a timeout, Nwanebu kept USC alive with a clutch kill, but Cal came back with a kill to take the set and the match 15-13.
Reflecting on the last set, Haley spoke that the fact that they "didn't terminate" at the 10-6 lead "is what really cost [them] the match."
Also, Haley spoke about the last couple matches and the upcoming week.
By Monday, he expects to be ready to fire his team up, but right now he feels "tired and disappointed," and he expects that his girls feel the same, "probably even a little angry."
He understands that the girls need to take the weekend to regroup themselves individually, and then they can regroup as a team at Monday's practice.
"Quite honestly, we're all pretty worn out right now," Haley said. "But, we're not finished with this season yet."
The Women of Troy face the Beavers at Oregon State (17-9, 7-8 Pac-12) on Friday the 21st at 5:30 pm.
Reach Staff Reporter Jodee Sullivan here and on Twitter here.