Los Angeles
Truck Drivers On Strike Again At Port Of L.A.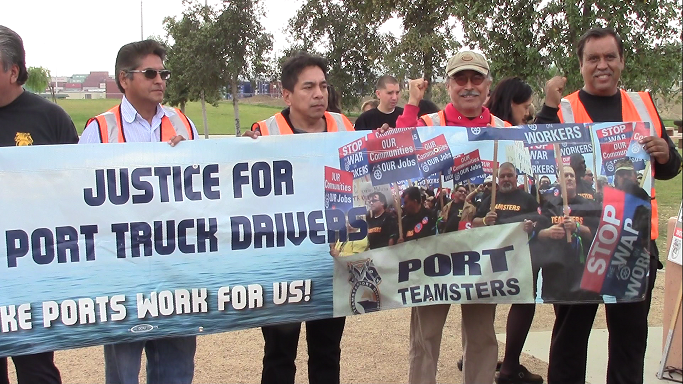 Truck drivers who protested at the Ports of Los Angeles and Long Beach today gave plenty of reasons for why they're on strike. Income equality, fair wages, justice.
But many are striking for a reason much closer to home - family.
"[All the poor truck drivers] just want to provide for our families, but the companies don't do that," said Alex Paz, a former port truck driver and member of the Teamsters Union. "All they want is to have their cake and eat it, too."
Following a similar walkout in July, truck drivers employed by Total Transportation Services Inc. (TTSI) and Pacific 9 Transportation (Pac 9) have resumed striking at the Ports of Los Angeles and Long Beach in protest of what they claim are "severe and continuing labor law violations."
Drivers, accusing TTSI and Pac 9 of wage theft, say that their improper classification as contract workers leave them with lower wages and less protections than if they were regular company employees.
"The port companies have been taking advantage of the truck drivers," said Paz, who was fired by TTSI earlier this year. "[Drivers] are fed up with the abuse, they're fed up with the injustice, and they're tired of the disrespect [the port companies] are giving us."
The July protest ended after L.A. Mayor Garcetti brokered a "cooling-off period," which included a provision for the trucking companies to allow workers to return without retaliation. According to labor organizers, Thursday morning's protest occurred, after drivers for TTSI and Pac 9 alleged such retaliation from their employers. The Teamsters Union is backing this action.
Drivers also set up picket lines at company yards at Compton and Carson in preparation for company trucks entering those locations. But the yards turned away trucks from TTSI and Pac 9 that day, so no picket lines actually went up.
The trucking companies issued no comment regarding Thursday's protests.
Mayor Garcetti said Thursday afternoon that the Teamsters and TTSI have agreed to meet in at his office "to find a way to get its operation back to work." He urged Pac 9 to come to the table as well.
Until a solution is reached, however, the workers have no plans of stopping.
"We're tired of it, that's why we're out here striking," Paz said. "But they haven't gotten the message yet."
Reach Staff Reporter Sophia Li here and follow her on Twitter here. Reach Staff Reporter Ashley Yang here and follow her on Twitter here.