National
Supreme Court Likely To Decide Fate Of Same-Sex Marriage Bans
A federal appeals court on Thursday upheld same-sex marriage bans in Michigan, Tennessee, Ohio and Kentucky, reversing the decision of a federal district court.
The 6th Circuit U.S. Court of Appeals ruled 2-1 in favor of the bans, invalidating the marriages of same-sex couples in those four states.
Today's ruling makes the 6th circuit the first appeals court to uphold a marriage ban. Six appeals courts have legalized gay marriage. Same-sex marriage is currently legal in 32 states and the District of Columbia.
Dana Nessel, lead attorney for two Michigan plaintiffs who are fighting the state's same-sex marriage ban, vowed to take the case to the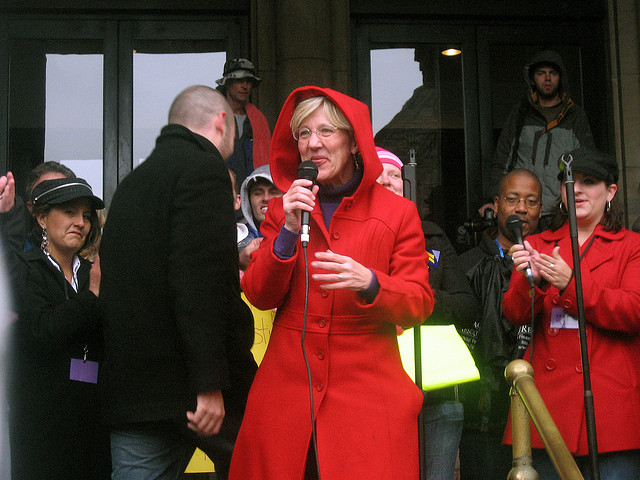 Supreme Court.
"We're looking forward to this issue being resolved once and for all," she told The Detroit Free Press.
Sixth Circuit Judge Jeffery Sutton, a George W. Bush Appointee, wrote for the majority opinion:
"For better, for worse, or for more of the same, marriage has long been a social institution defined by relationships between men and women," he wrote. "So widely shared, the tradition has until recently had been adopted by all governments and major religions of the world."
Judge Martha Daughtrey was the lone dissenting vote in Thursday's ruling. She wrote that the central question was "whether a state's constitutional prohibition of same-sex marriage violates equal protection under the Fourteenth Amendment."
Daughtrey's words echoed those of other appellate court judges, who've agreed that couples' Fourteenth Amendment rights trump state objections.
Gay marriage advocates in the four affected states scrambled to adjust to Thursday's news. Michigan high school teacher Amy McLoughlin says she married her long-term partner last March. She was despondent after the ruling.
"I think it reinforces that we're second-class citizens," she said.
McLoughlin, who is originally from Ohio, said she and her partner have been together for 7 years. She hoped that the court ruled to uphold the bans not out of malice, but in order to force the Supreme Court to take action.
"You want to believe in that, but then there's this very human part of me that just wants to marry the person that I love," she said.
If the 6th Circuit decided not to uphold the bans, the Supreme Court could have held off on ruling on the issue until one of several other appellate courts ruled in favor of banning gay marriage. This might have taken years, leading to a drawn out legal process that delayed a national consensus.
Constant legal battles and are taking a toll on McLoughlin. She said that she and her partner face daily burdens as a same-sex couple.
"We can't travel without paperwork saying who I want to see me in the hospital," she said. "We can't just leave and go somewhere."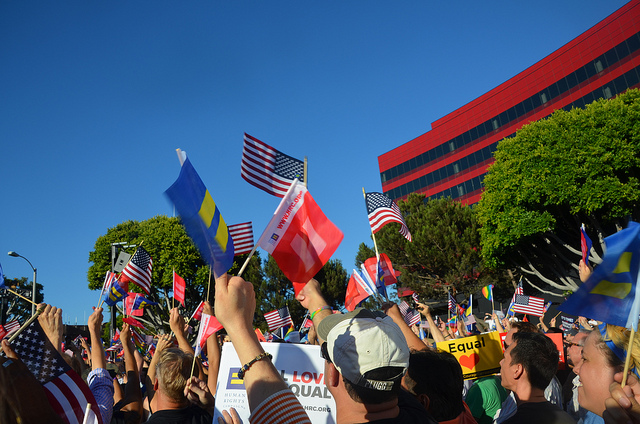 The state also prohibits them from sharing insurance, which McLoughlin says is costly. She said that if the court takes too long to make her marriage legal, she'll seriously consider moving.
Ciarra Davis is president of PRIDE, the gay-straight alliance on the campus of Capital University in Columbus, Ohio. She said the ruling fortified her.
"The ruling kind of knocks the wind out of you. At the same time, it's motivation to keep working harder," she said.
Davis said that while arguments by gay-rights proponents could take years to play out in court, she has no doubt that same-sex marriage will be legalized.
"I know it's coming," she said.
The 19-year-old said that marriage isn't on her mind right now, but that she'd like to get married, and she'd like it to happen in Ohio.
The Louisiana-based 5th Circuit Court of Appeals is scheduled to hear oral arguments on gay marriage bans early next year. The court said that Thursday's 6th Circuit ruling wouldn't affect its decision.
The 5th Circuit is more conservative than most other courts, however, and some have predicted that they will also uphold same-sex marriage bans. A federal judge in Louisiana over the summer upheld that state's gay marriage ban.
The Supreme Court is expected to hear same-sex marriage cases during the current session, setting the stage for a nationwide decision.
The court previously refused to take on gay marriage, citing agreement among appeals courts that same-sex marriage bans are unconstitutional. Some legal experts took their inaction as tacit acknowledgement that these unions are legal.
Supreme Court Justice Ruth Bader Ginsburg said in September "there would be some urgency" if the 6th Circuit decided to uphold bans.
The Supreme Court is widely expected to overturn these bans, making gay marriage legal in all 50 states.
The ACLU of Tennessee also thinks the court will rule in its favor.
"The Supreme Court has made clear in Windsor that same-sex couples and their families are entitled to the same dignity and protections as anyone else," they said in a Thursday press release.
"Today is just one step on the road back to the Supreme Court and a decision that will bring the freedom to marry to all fifty states."
United States v Windsor effectively struck down the Defense of Marriage Act, which banned federal benefits for gay and lesbian couples.
Some supporters of same-sex marriage bans, however, expressed confidence that the Supreme Court would uphold those bans. Brian Brown, president of the National Organization for Marriage, told USA today "We think that the constitutionality of states' amendments on marriage will there be upheld."
"There are people's real every day lives at stake," said Logan Casey, board member at the Jim Toy Community Center, an Ann-Arbor based resource center for the LGBTQ community. "Every day longer that this takes is a another day that people and their families have to deal with these inequities."
The plaintiffs in the 6th Circuit Court decision have the option of asking for the full court to review their case, but are choosing instead to press on to the Supreme Court. Thursday's 2-1 decision was made by a small panel of the court's judges.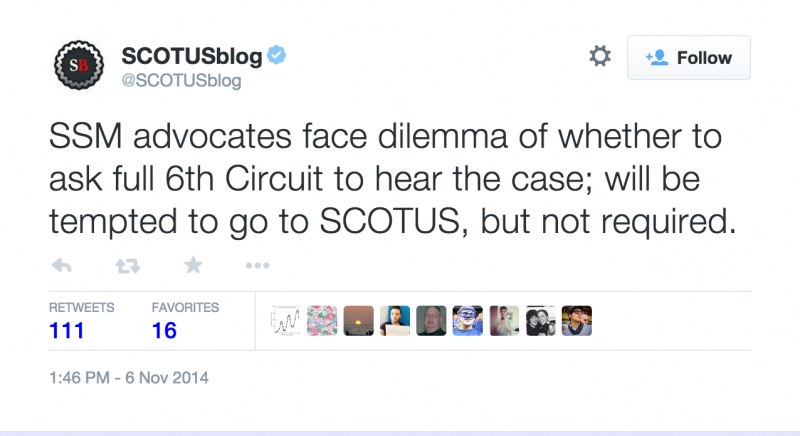 Casey said that the rest of the 6th circuit is "just as conservative as the panel," and that there's little chance a full court would rule differently.
A Supreme Court ruling could come as soon as June 2015, Casey said.
If the court decides not to hear these cases, advocates would have to rely on uneven appellate court rulings and ballot initiatives, which can take years.
California's Proposition 8, which prevented the state from recognizing same-sex marriages, was ruled unconstitutional in 2010. The court decision didn't go into effect for three years due to a lengthy appeals process.
Gay marriage activists could also press state legislatures to vote on same-sex marriage. Illinois legalized gay marriage last year after a close vote in the House.
These state-by-state, court-by-court approaches would still likely prevent same-sex couples in conservative states from getting married. Texas, for example, is unlikely to vote to legalize any time soon.
Shannon Fauver of Fauver Law Office in Louisville, KY is an attorney for the six couples affected by the 6th Circuit Court ruling. She said should the Supreme Court reject her cases, the couples could try to overturn constitutional amendments in each state, but that that would create "legal chaos." Four of the couples she represents were married, while two want to marry soon.
Fauver is confident that chaos won't be necessary. She says a decision will come down by mid-2016 at the latest.
"It's the right thing to do," she said.
Lorenzo Kern, a young gay activist in Ohio, said he wants same-sex marriage proponents to focus on the positive aspects of the ruling. He said the U.S. is a country deeply rooted in tradition, and the fact that the Supreme Court could make gay marriage legal throughout the country is something to celebrate.
If the court doesn't make marriage legal in Ohio, Kern has a backup plan.
"I kind of want to do the whole Vegas thing," he said. "I want my ring to be a ring pop. Specifically jewel flavored."
Contact Staff Reporter Jonathan Tolliver here and follow him on Twitter here.