USC Sports
SarkQuest I: Why Steve Sarkisian Needs To Beat UCLA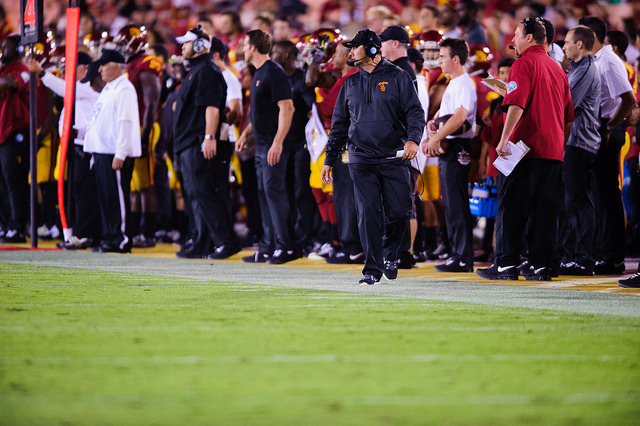 Flashback with me to a certain day nearly one year ago, as Athletic Director Pat Haden introduced the latest head coach in USC football history, Steve Sarkisian.
The move was sold under a prodigal son mantra; one where Coach Steve Sarkisian made his return to Southern California to coach the team he had loved and grew up with. The team he had helped coach under Pete Carroll and the team that had helped him become the man in Washington.
Sarkisian's stint away from the Coliseum and his success at that position was touted as the stepping stone that led to his return and the seal of deservedness as the only guy who was "offered the job."
In hiring Sarkisian, the school was not only bringing back one of their own, but also bringing back someone who understood what it was like to fight on and bleed cardinal and gold. Someone who understood the implications and expectations of strutting the sidelines of the Coliseum as a USC football head coach.
"We're here to win championships," Sarkisian declared at the press conference. "I wouldn't have taken this job just to come home … Rebuilding is not a word around here."
The exuberant confidence by which Sarkisian spoke breathed life, excitement and hope into Trojan fans everywhere.
Fast forward to the present and snap back into reality to acknowledge that the feasibility of an instantaneous championship was all but a pipe dream given this team's experience and depth. Tack on a new offensive system and a sensible, conservative fan could have tagged this as a "rebuilding year".
But no, that word doesn't exist at USC. Sarkisian said it himself. USC plays for championships. This year, however, the road to a successful season, let alone a championship, has been a tumultuous one.
Close losses, epic meltdowns and heart-attack finishes have all contributed to the harsh reality we all acknowledged, knew or simply chose to ignore: The championships he so eloquently spoke of may have to wait another year or more.
Yet there is this one game this weekend that doesn't exactly mean "championship", but certainly screams "championship-caliber" hype as it does every single year.
The College Football Playoff and the National Championship are not in play any longer, and the Pac-12 championship is an obstacle-filled task, but the all-important crosstown matchup between the Bruins and the Trojans looms.
READ MORE: USC Hopes To Regain Dominance in UCLA Rivalry
Haden surely brought Sark here to win championships. Sarkisian claimed he was here to win championships.
The 2014 Battle for L.A. is almost always the biggest game of the year for the Trojans. This year, it is also Sarkisian's "championship".
--
For Sarkisian, this year never inherited an unproportional amount of pressure. In his first year wearing the head coach headset, he was obviously not on the hot seat, nor was he expected to win a national championship regardless of his comments and claims.
But Sark sold hope to the fan base and the school, and it seemed as if the glory days were once again ahead. Ten games later, a 7-3 record is not disappointing by any means, but much like college football playoff committee values the way in which teams win or lose games, the way in which this USC team has arrived at that record is, in fact, disappointing.
The frenzy of the Stanford win was quickly subdued by the Boston College defeat in which the Eagles literally ran over the Trojans. The trouncing of Oregon St. at home was forgotten in light of the Hail Mary letdown against Arizona State. The balancing victories over Arizona and Colorado helped patch up the wounds of the Sun Devil dagger, but a trip to Utah garnered yet another late collapse to the Utes where the end result was almost—dare I say—expected.
Change one of those disappointing losses to a win and USC is in that championship Sarkisian referred to in his inaugural conference.
One year, or ten games rather, is a small sample size, yet this small sample size has been an incredibly telling one with one recurring theme: The inability to close out games. Sarkisian has said multiple times that this team is a "few plays away'' from being 7-1, but the reality is they are also a few plays away from being 5-5.
If there is another thing besides championships by which USC measures its success, it is the UCLA game in the final weeks of each season. Coaches' records against the Bruins are as important as their overall wins and losses. Sarkisian, who only lost once to the crosstown rivals in his tenure as a USC assistant coach, knows that.
READ MORE: Buck Allen vs. Paul Perkins. Who's The Better Running Back?
In a season of such variant and scattered results, it is not far-fetched to say the result of this game will define this season and its success. Ahead of the rivalry matchup, there's very little gain out of looking back and asking what if, but the result of this game could at least put some of those discussions to rest.
The result of this game will not only define this season, but it will set the table for next year. Sarkisian's second year as head coach will be a more accurate assessment of his abilities, as he ushers in a new recruiting class and builds up coherence and continuity with returning players.
If USC beats UCLA this Saturday, then that arguably renders this season a success, while simultaneously providing a bright outlook toward 2015. If USC loses, it becomes another disappointing loss amongst a field of them, and the talk heading into next year's campaign turns from what this team can do to what this team better do.
For Sark, winning and losing Saturday's matchup goes beyond the record. A win essentially redeems his first season. A loss condemns it and heightens the pressure that will follow him until next year. For a guy who already put enough of that pressure on himself by talking of championships and never rebuilding, Sark does not need to put more of that pressure on himself.
After two straight years of losing to UCLA, the USC faithful wants this win. Sarkisian needs it.
Reach Staff Reporter Paolo Uggetti here or follow him on Twitter.