Entertainment News
Raising Royalty: What It Means To Be A Televised Child Pageant Queen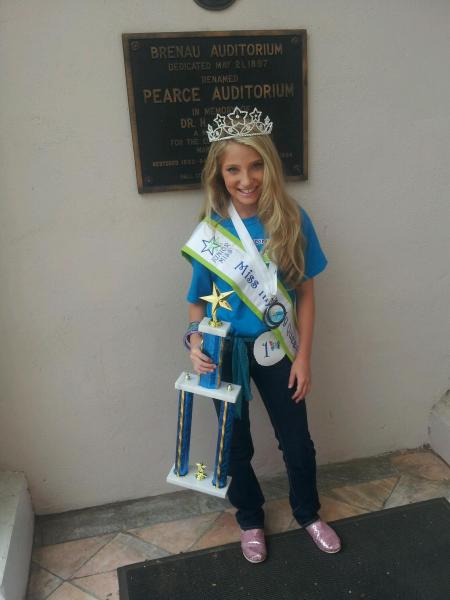 It's the annual Queen of Hearts Beauty Pageant in Statesboro, Georgia and 3-year-old Paisley's mom, Wendy Dickey, has the perfect costume for her. Little Paisley walks on stage wearing a blue miniskirt, a white tank top, high black boots, and a blonde wig.
Paisley is doing a "Pretty Woman" routine, a number based on an R-rated flick about prostitution. As she struts her stuff on stage, the judges and audience go crazy. Pretty Woman Paisley wins Grand Supreme, beating out other children who dressed in more modest outfits, such as a Shirley Temple costume. The little girl, who is dressed as a prostitute, has won the pageant.
And it all aired on the TLC television series "Toddlers & Tiaras."
Incidents like this raise questions about the exploitation of children through reality shows, especially those that involve beauty pageants.
"I do believe that glitz pageants can provide an opportunity for the child to be sexualized," said nutritional scientist Dr. Martina Cartwright.
The issue has been given fresh emphasis time and time again, most recently with news of the investigation of June Shannon, the mother of the infamous entertainer Alana 'Honey Boo Boo' Thompson. Shannon is being investigated by child protective services for allegedly dating Mark Anthony McDaniel, a registered sex offender who was recently released from a 10-year prison sentence for aggravated child molestation.
While Shannon denies the allegations, TLC has cancelled her family's show "Here Comes Honey Boo Boo" in light of the incident. The series averaged 2.4 million viewers an episode in its first season, according to ABC News, making it a reality television hit.
The series also drew TLC accusations of child exploitation. "Supporting the health and welfare of these remarkable children is our only priority," the network said in response.
Shannon is not the only reality star in trouble right now. "Dance Moms," a show known for its crazy moms and an even crazier dance teacher, has been making headlines. Fox News reported that Paige Hyland, a former child on the show, claimed her dance instructor Abby Lee Miller "intentionally engaged in conduct that caused Plaintiff Paige Hyland to reasonably believe that she was about to be touched or harmed in an offensive manner." Hyland alleges she suffered emotional abuse, and developed panic attacks and anxiety from the actions of her reality star dance instructor Miller.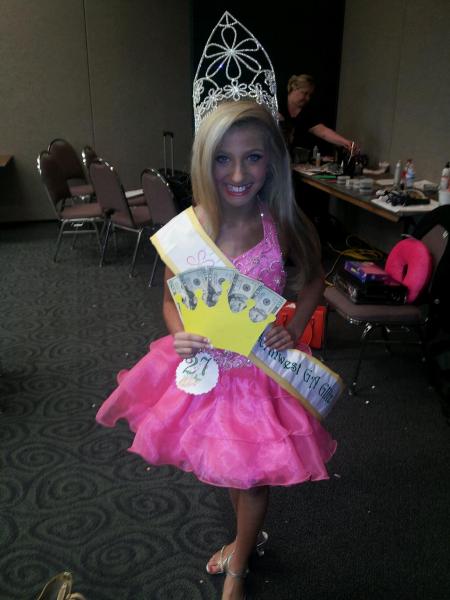 Should Children Be on Reality Shows?
Whether or not it is ethical for children to be on reality shows has been contested for years, and the debate has inadvertently fed the ratings. Over the years, we have seen a trend in reality shows. "Kim of Queens" on Lifetime, a pageant coaching show, is in its second season while, prior to its cancellation, "Here Comes Honey Boo Boo" set record highs in network ratings.
Although no longer on the air, "Toddlers & Tiaras" was what first gave us a glimpse into this niche world of the antics behind beauty pageants, such as the scene described above.
"We were doing a celebrity pageant and chose Julia Roberts because I'm a huge fan of hers and she is from Georgia also," Wendy Dickey, mother of Paisley Dickey, now six, told Fox News. "I was trying to be funny."
And it worked, if the audience and judges' laughter was any indication. Nobody came up to Wendy that day at the pageant criticizing her for dressing her child in that outfit, and her daughter did indeed win the crown.
It was only later, it seemed, that the criticism came flying out of the woodwork, with Wendy even apparently receiving death threats.
A Coming-of-Age Experience
But what is it like for a child and her mother who compete weekly in these pageants, for the world to see them deal with not only the pressure of being in a competition but also a newfound sense of fame and a reality show that revolves around their lives?
"It kind of feels like you're flying," said Debbie Williams Tyra, star of the television show "Kim of Queens" and mother of 13 year-old Stark. "I get nervous because I am so protective, but Hannah is so reserved and so nice to the fans."
Stark competed in her first beauty pageant at only eight years old and has since then competed in multiple pageants. According to her mother, Stark was very shy and her teacher suggested putting her in a pageant so that she would talk more. However, Stark understood the concept of pageantry.
"You can be pretty on stage and look much older and act older than you are in real life, but off stage you're just the same person," said Stark.
This concept may be difficult for young girls who are not as mature as Stark is to understand, she said. One of the main criticisms of the pageantry world is based on the fact that these pageants promote beauty on the outside rather than on the inside.
"For me, I think beauty does come from within, but it's called a beauty pageant so you have to kind of be beautiful," said Williams Tyra.
Stark's pageant coach and "Kim of Queens" co-star Kim Gravel has a different point of view when it comes to the topic of beauty. "The world promotes beauty on the outside and pageants are no different. But my viewpoint on beauty is quite different than most pageant people," she said. "I believe everyone is beautiful and has a unique look, walk, talk and presence about them. Most people just need a little guidance to see it in themselves. My goal is to break the stereotypical mold of what is beautiful and help each girl I coach to see their individuality."
According to "Kim of Queens" Executive Producer Oliver Bogner, Gravel was "born to be on television." Her desire to sing and perform was what drew her to pageantry, he said.
"When I was young, we did not have the talent outlets that young people have today like 'American Idol' or 'The Voice,'" added Gravel. "Pageants were a way to showcase talent and pay for college."
Gravel never thought she would be a pageant coach. But over the years, she explains, she has trained dozens of young ladies, not for money or a business, but more out of a duty to "pay it forward."
"My sole reason for training girls has nothing to do with pageants and everything to do with developing productive young leaders with strong points of view," said Gravel.
This is the premise of her television show "Kim of Queens," which is praised for its positive messages and, each week, shows Gravel transforming a not-so girly girl into a beauty pageant queen. Gravel also spends time coaching her seasoned pageant pros, including Stark, Addison Wingate, and Marah Collins.
Through her unique coaching style, it would appear that Gravel is able to dig deep down into these girls' souls and help them become the ladies that they aspire to be. In a recent episode, for example, Stark revealed that she had struggled with an eating disorder - a shock to many because of her young age. But "being on TV helped me open up more," said Stark. "We never told anyone about my eating disorder besides close family and friends. I think that growing up with anorexia people can relate to and I hope I can help others."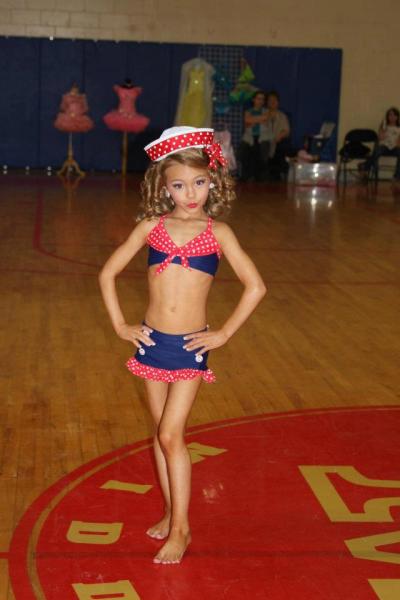 How Real is Reality Television?
While some may argue that producers force reality television stars to make these sorts of confessions to drive up ratings and create drama for the show, Bogner says that this is not true.
"Nobody is forcing the girls to do anything," said Bogner. "Kim gets them to open up to her because of the loving person that she is."
In addition to Bogner asserting that his reality television show in fact displays the truth, Tom Rogan, executive producer of "Toddlers & Tiaras" and "Here Comes Honey Boo Boo," also agrees that his team does not create drama just for the sake of creating drama.
"I definitely feel the show ["Toddlers & Tiaras"] portrayed everything that happened out there in an accurate way," said Rogan.
Jayla Phillips and her mother Andrea were cast on the show "Toddlers & Tiaras" and say that they overall had a positive experience.
"Jayla wanted to be on TV. A lot of that show is drama and I've never been one of those types of pageant moms but it had gotten where later in the season they would have one crazy mom and one bad kid and a normal person thrown in there and I guess we were considered the normal people," said Phillips.
That doesn't mean Phillips felt all was portrayed accurately. Just as Wendy complained of the show's strategic editing, she pointed to certain nuances she'd observed on-screen. "I felt like I was normal on the show but Jayla, they made her look way more shy than what she has ever been," said Phillips. "I read on the Internet that someone said that I probably made her do pageants and she hated pageants which is very far from the truth."
Similarly, Leeann Greene Busby said that she and her daughter "were portrayed as losers, not winners on 'Kim of Queens.'"
"My daughter had never lost a pageant until the show," said the Season One star.
Psychological Effects of the Child Pageant World
Although many who participate in it consider the pageant world to be no different than competing in a sport, there may be some negative consequences that come with the world of pageanting.
Cartwright, who has attended and studied countless beauty pageants over the years, concluded that many parents involved are "Princess By Proxy Parents" or parents who are driven by the financial and social gains of their child's accomplishments.
"It varies with each child, and there is minimal research regarding what happens to former child pageant participants, but there is the potential for the child to suffer an eating disorder, poor self-esteem and poor self-image," said Cartwright.
However, according to Amanda Smith Vogel, pageant consultant and owner of Sash and Crown Consulting and former Miss Georgia USA, beauty is not the determining factor in who wins a crown. "When I judge a child under the age of 12, personality plays a huge role in what I look for in awarding a crown," said Vogel. "If I sense a child is uncomfortable onstage and likely participating in the pageant because a parent has pushed her to be there, I score her very low, hoping the pushy parent will get a clue and remove the child from the uncomfortable situation."
Critics have even suggested removing the shows from the air altogether. Rogan insisted this is not the answer, saying that most of the complaints stemmed from issues with the pageant world itself, or with the parenting styles displayed. "If you disagree with the fact that these pageants exist, or you feel it should be done differently, then you can take the hard route and figure out why this is happening and what is it about our culture that has given rise to this. As opposed to saying, this show is terrible take it off the air."
Despite the controversy, none of the girls named plan to stop competing in pageants anytime soon. Both Rogan and Bogner say they would allow their children or future children to compete in pageants.
"Pageants are simply a sport and I'm not sure why the world is so scared of outward beauty when that's all advertisers, fashion industry and now even TV commercials perpetuate," said Gravel. "Look, I'm not a fan of all pageants or even think they are for all people. But I will say you can use them for self-improvement, scholarship money and to learn how to speak! Pageants, for me, were a means to an end. Look, I'm sitting here today with a TV show trying to help young women discover their God-given calling, all because of a pageant. So they can't be all that bad can they?"
Reach Contributor Lauren Brooke Steinberg here.