USC Sports
A New Era In Trojan Basketball Begins With Exhibition Win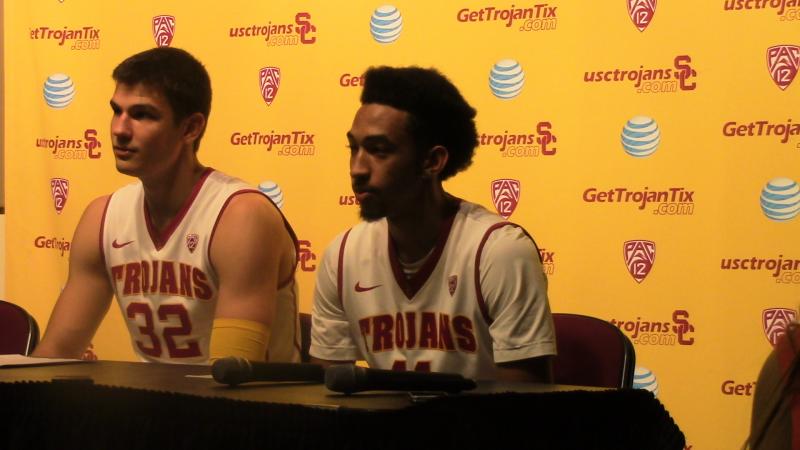 We've established this Trojan team is young and green. But save for a few rookie mistakes, watching them play for the first time this season during Saturday's exhibition game against Cal State Los Angeles should project an exciting season for USC hoops.
Upon first glance, the home team looked severely undersized next to the Golden Eagles. It wasn't a pretty start for the Trojans either. They allowed the visiting team to take an early 14-1 lead and went the first six minutes without a single field goal. Shots were forced and offensive rebounds were non-existent.
Three of five starters were freshmen, and it took a little help from sophomore guard and co-captain Julian Jacobs to give them the spark they needed. His seven back-to-back points ignited the offense, enabling his teammates to settle in and shake off the nerves. After trailing for most of the first half, they took their first lead with 3:17 left before halftime and never looked back.
And who says a true freshman can't lead this team? Jordan McLaughlin, the Trojans' top recruit and starting point guard, commanded the floor like he's been doing it for multiple seasons. "It was fun being out there and just being able to play and show everyone what we've been working on this summer."
McLaughlin chose USC over UCLA, which was a huge win for Coach Enfield and the Trojans. Without plenty of momentum coming in from the previous season and losing veteran Byron Wesley to Gonzaga, this team is nearly starting fresh. Despite an uphill battle to work towards an apperance in the NCAA tournament again, he looks poised to take the reigns.
His first score as a college athlete was at the free throw line. Not the most exciting, however, once he was able to find his rhythm, he earned his first field goal off a steal and took it home for a fast layup. Because he's so quick in transition play, it was difficult for CSULA's LaBradford Franklin to keep up once he made it down the court. He speed was remarkable, and he never seemed to look fatigued.
SEE ALSO: USC Men's Basketball Preview: Young And Hungry
"That's exactly what Coach Enfield wanted us to do--play as fast as we can until we get to half court, and then just play smart," he said. His ability to take control and set the pace, get the ball moving, and make solid decisions is exaclty what this team needs to make a splash in the Pac-12. He finished with 18 points, three rebounds, and three steals. He is going to be on fire this season.
One thing the team did struggle with was allowing second-chance points on defense. After giving up 13 defensive rebounds in the first half, the Trojans regrouped during halftime and only allowed one for the remainder of the game.
"Our principle is active feet, active hands, active mouth. So we just tried to take that to the game and cause chaos," said McLaughlin. The team totaled 13 steals and were great at the press, falling into the second-year coach's game strategy nicely.
All the freshmen as a whole were stellar, responsible for 42 of the 87 total points scored. Forward Malik Martin and guards Malik Marquetti and Elijah Stewart also showcased what they were made of on Saturday. Stewart's hustle and ability to make defensive plays put him at the top of leaderboard in steals with five, while Martin led in offensive rebounds and Marquetti led in assists with also five apiece.
Katin Reinhardt and Darion Clark who sat out last season also made solid contributions. Despite a rough go in the first half, hitting only one of seven from the field, Reinhardt finished the night with 13 points. Clark was absolutely resilient on the defensive boards and led with eight.
Besides all their individual contributions, what was most impressive was the Trojans' dynamic play and how well they played together as a unit. They moved the ball around to find the open man and were in-sync in the second half. Leading by as much as 22 points, the Trojans got a solid first win under their belt against the Golden Eagles. Final score 87-68.
It's a new era in Trojan basketball. This team is going to be fun to watch. If they are able to ease out of some growing pains early, something dangerous could be brewing this season.
Reach Sports Reporter MG Montemayor here. Twitter: @mgmontem