Entertainment News
'The Hunger Games: Mockingjay - Part 1' L.A. Premiere Red Carpet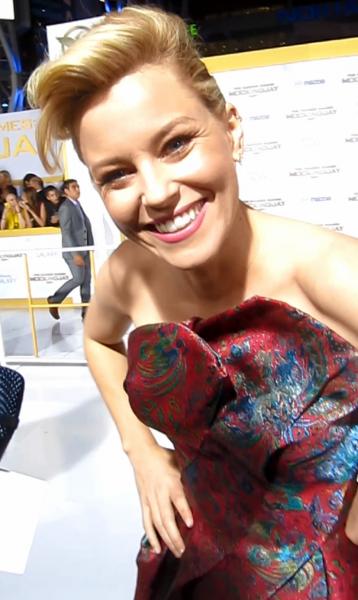 "The Hunger Games: Mockingjay - Part 1" Los Angeles Premiere at the Nokia Theatre was nothing short of an impressive spectacle. Hundreds of fans surrounded the red—or should I say white glass—carpet as fire torches lined up the walkway. Music was blasting throughout the night, as the "Mockingjay" soundtrack was put on repeat. The extravagant production also featured some eye-catching outfits worn by some of the stars.
We had a chance to talk to Elizabeth Banks about all the exciting wardrobe her character, Effie, displays in the movies.
Banks mentioned how "fun" her outfits tend to be. "It inspires me to wear fun dresses like this one," she continued, "It's French."
Suffice to say, Elizabeth and her dress looked absolutley fabulous. I vote for Effie's inspiration on her outits to continue.
READ MORE: 'The Hunger Games: Mockingjay Part I' Releases Trailer
We later had an opportunity to chat with one of the film's screenwriters, Peter Craig.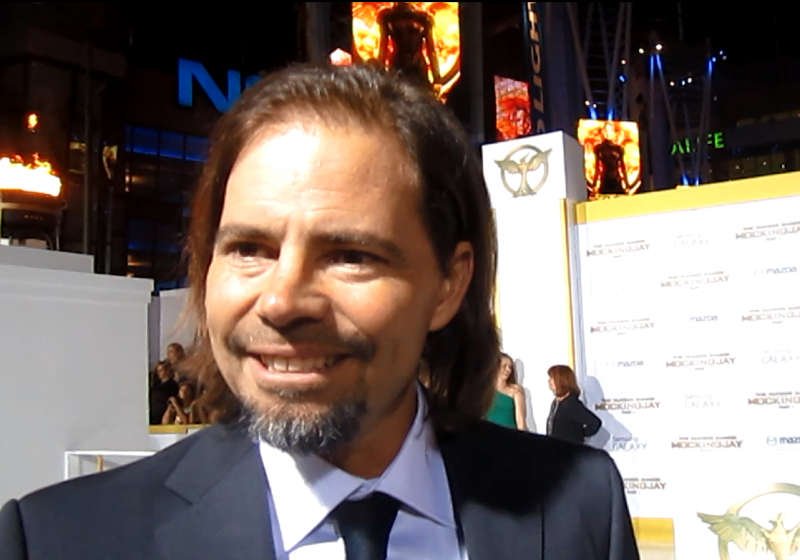 When asking what the key differences were between adapting a novel to a screenplay versus one's own mind, Craig had some insights to share.
"You just have to look at how every novel's different. With this one, you have to be more faithful because people care about it so much, so you have to look at where it just doesn't translate," Craig added. "The creativity comes more with the infinite amount of stuff you have to do to make it cinmeatic instead of creating from a blank page—which is fun, but sometimes easier because you can solve your own problems in different ways. Even with a perfect book, it'll be hard to adapt it."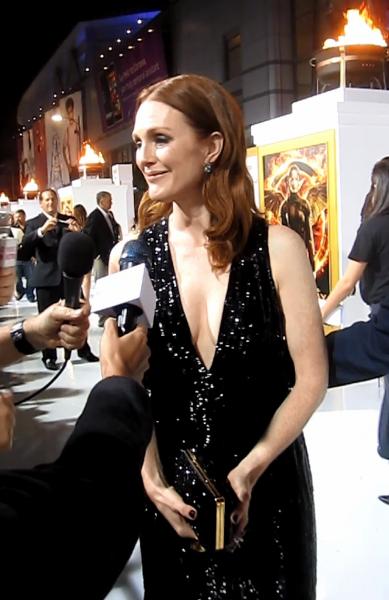 When analyzing the ways in which a first-person novel can be translated into a more objective film, Craig explained the creation of scenes that "are outside Katniss' perspective. Some people watch this and think we didn't diverge from the book at all, but in fact we invented all these scenes that are outside her perspective that are things she knew had happened—and that's really what you have to flush out."
"You have to introduce all the characters in her point of view. Really, the whole series is about her."
When asked about any advice he could give to aspiring screenwriters, Craig had some pearls of wisdom to give.
"Never, never quit. It always happens later for most people than they think it's going to happen. If you can be comfortable being uncomfortable waiting for the break to come and those are the people who make it. If you're good at treading water and being a good writer at some point, you'll get your opening," Peter emphasized.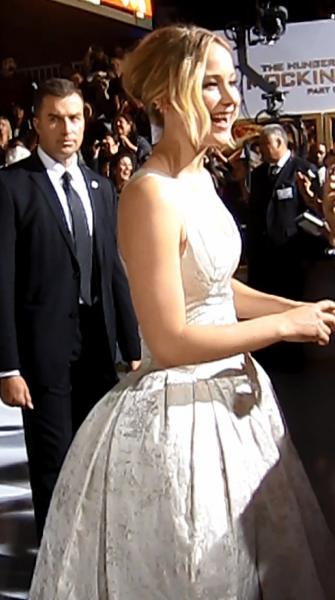 Meanwhile, Julianne Moore, who plays President Alma Coin in the film was looking as sparkly as ever, in her sequined black dress.
When Miss JLaw herself stepped onto the carpet, describing the environment as a frenzy would be a gross understatement.
It was hard to catch a glimpse of the beauty—as expected, the 24 year old Oscar winner is in high demand. Although there was a part of me that was hoping Lawrence would trip and give this journalist the million dollar shot of her falling, I'm glad she made it through the ceremony safely and without any injuries.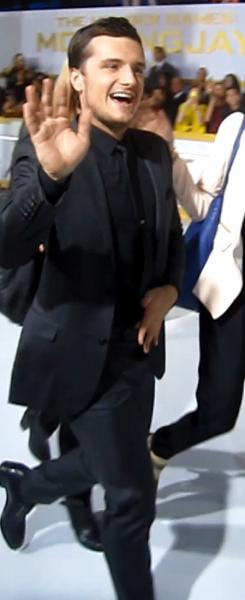 Once Jennifer and her gorgeous white poofy gown greeted the fans, it was almost hard to spot her in the center of an adoring crowd. She graciously did the rounds of autographs and photos while showing us a new glamorous look.
READ MORE: Is Jennifer Lawrence The Next Emma Watson?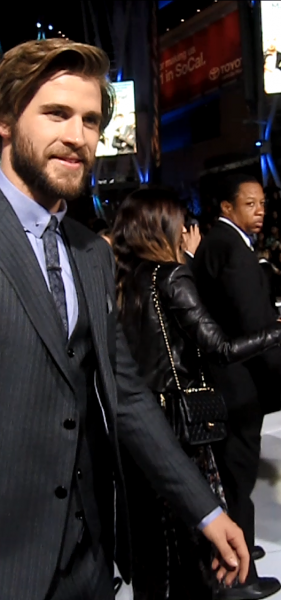 Next up were our two hunks, as Liam Hemsworth and Josh Hutcherson sported their nicely fitting suits and all-around perfect faces. I wish I could get a nickel everytime I heard a girly squeak announce "You're beautiful!"
There's not much else to say about the two leading men other than those squealing fans are more than right: Absolutley beautiful. And talented. And perfect. Brava, you two!
Overall the energy was super fun. Though hectic at times (What else was could be expected from a "Hunger Games" premiere?), if the production design of the red carpet last night gives any indicator of what visual treats we're going to see duing the film itself, then we're in for quite the ride.
Reach Staff Reporter Sonia Gumuchian here. Follow her on Twitter here.