Film and TV
Matthew McConaughey's 9 Best Roles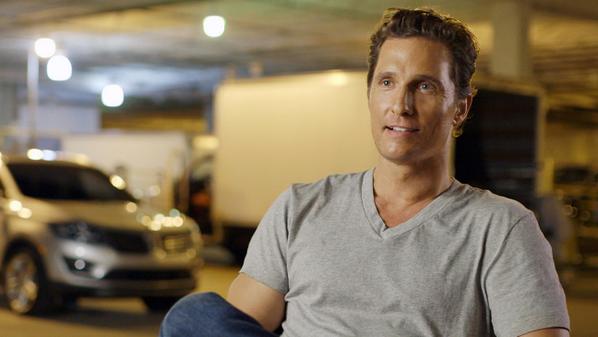 Happy birthday, Matthew McConaughey!
Today, the Texas-born actor turns 45. Considered one of the most influential people in the world by TIME, McConaughey has won our hearts over and over again with his multi-faceted acting.
The man's played everything from shady sheriff and uptight Hollywood agent to strip club owner and chest-thumping company executive.
In honor of McConaughey's special day, here are 9 of the actor's most memorable roles!
"Dazed and Confused" (1993)
For his breakout role, the Texas-born actor played the sleazy (yet lovable) ladies man David Wooderson in 1993's "Dazed and Confused." In his very first scene, McConaughey uttered the legendary catchphrase that everyone would associate with him for years to come: "Alright, alright, alright."
"Lone Star" (1996)
Three years after "Dazed and Confused," McConaughey showed off more of his acting chops in "Lone Star," playing the legendary Rio County sheriff Buddy Deeds, whom local citizens remembered as fair and just... But as his son Sam (Chris Cooper) finds out, the truth isn't always as it seems.
"Frailty" (2001)
In the 2001 psychological thriller "Frailty," McConaughey switched gears away from the charismatic, slick player that he was known for and took on the role of a mysterious man with potential ties to an FBI-wanted serial killer known as "God's Hand."
"How to Lose a Guy in 10 Days" (2003)
In the 2000s, the charming Texan began getting typecast as the leading man in romantic comedies like "The Wedding Planner" (2001), "Failure to Launch" (2006), and "Fool's Gold" (2008).
While many considered this era a low point in the actor's career, it is - for many - what McConaughey has been best known for, until recently. His role alongside Kate Hudson in 2003's "How to Lose a Guy in 10 Days" is one of McConaughey's most popular and - at 42 percent on Rotten Tomatoes - also one of his highest-rated films from his rom-com days.
"The Lincoln Lawyer" (2011)
The beginning of what has been called the "McConaissance," "The Lincoln Lawyer" reminded people that McConaughey could be more than just the good-looking leading man in a not-so-great rom-com.
In this thriller based on Michael Connolly's book of the same name, the actor plays Mickey Haller, a criminal defense attorney with a very loose sense of morality turned good over the course of the movie.
"Mud" (2012)
Another critically-acclaimed performance, McConaughey's role in "Mud" as a fugitive who befriends two boys while also hoping to win back his former girlfriend Juniper (Reese Witherspoon).
"The Wolf of Wall Street" (2013)
Even though he played a relatively minor role in the three and a half hour epic that was "The Wolf of Wall Street," McConaughey stole the show from actors like Leonardo DiCaprio in the handful of scenes he got as Wall Street stockbroker Mark Hanna - especially in that chest-thumping lunch meeting with DiCaprio's Jordan Belfort.
"Dallas Buyers Club" (2013)
Telling the true story of Ron Woodroof, 2013's "Dallas Buyers Club" was considered by many critics and fans alike to be McConaughey's best film to date, deservedly earning the man an Oscar for Best Best Actor.
Beyond losing a whopping 47 pounds for the role, McConaughey convincingly portrays Ron Woodroof's transformation from unapologetic homophobe to unlikely leader of the 1980s gay community in Texas after contracting AIDS in a time when the disease was extremely misunderstood and stigmatized as only a "gay problem."
"True Detective" (2014)
In one of his only leading roles on TV, McConaughey stole the show on Season 1 of HBO's crime anthology series "True Detective" (on which the actor is also executive producer) as the talented but troubled Detective Rust Cohle.
Reach Entertainment Producer Michelle Tiu here and follow her on Twitter.