Los Angeles
'Mass Arrest' Takes Place In Downtown L.A.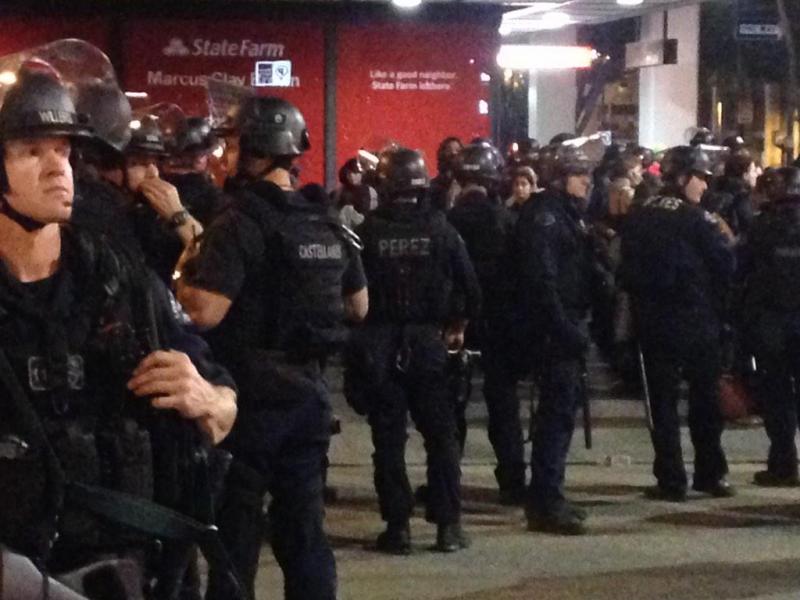 Protesters walked through Downtown Los Angeles Wednesday night, marking the third day of protests in a row.
The marchers were legal until they began to disrupt traffic—KCAL 9 reported they intented to reach the Staples Center where the Lakers were playing a home game, but the Los Angeles Police Dept. had forces in place to prevent them. An LAPD public information officer said they originally wanted to protest outside the jail, but were told they could not.
SEE ALSO: L.A. Reaction to Ferguson Grand Jury Decision
The LAPD followed the group for "several hours," according to the same officer who spoke to KCAL. According to KCAL 9's helicopter reporter Stu Mundel, a portion of the group went through the public library's courtyard and wound up on the corner of Hope St. and 6th St. It was then that the LAPD surrounded the partial group and conducted what KCAL called a "mass arrest."
USC's Daina Beth Soloman captured the final jail bus leaving to go book the protesters at various locations.
LAPD Lt. Andy Neiman, a public informant on the scene, told KCAL's Peter Daut he speculated the bail for the "failure to disperse" charge is $500. He said those who do not pay bail Wednesday night will stay in jail until "early next week" when they will face a judge.
SEE ALSO: Day Two Of Los Angeles Protest Focuses On All Police Killings
KCAL's Andrea Fujii later reported that those who do not post bail will be in court on Monday and confirmed the fine is $500.
Neon Tommy reached out to the media contact for the Superior Court of Los Angeles County, Director of Public Information Mary Eckhardt Hearn, but was unable to get through.
These Los Angeles Ferguson protest arrests were not the first of the day. On Wednesday morning, protesters were arrested after making their way onto the 101 freeway.
The protests in Los Angeles and cities throughout the country are in reaction to the the St. Louis County Grand Jury's decision not to indict Ferguson Police Officer Darren Wilson for the shooting of Michael Brown.
Click here to read Neon Tommy's continuing of coverage of protests in Los Angeles.
Ani Ucar reported from the scene in Downtown Los Angeles.
Reach News Director Ani Ucar here; follow her here.