Arts+Culture
Mapping L.A.: Blackstone Gallery Highlights Downtown Streetscapes
Stop by the corner of 9th and Broadway and you'll get a view of just about every street corner in Downtown L.A.
Blackstone Gallery
, a collaborative artists' gallery, has transformed its walls into a map of Downtown to exhibit plein air paintings echoing the diversity of DTLA culture and citizenship.
From the Civic Center and Walt Disney Concert Hall to the Arts District and Skid Row, DTLA has become a melting pot of historic structure and offbeat culture. Blackstone's latest exhibition, Streetscapes: Downtown Los Angeles means to illustrate that blend.
The project's map, painted across the street-facing wall of Blackstone, features a collection of over 50 pieces that have been painted since Streetscapes began on Oct. 9. Each piece is hung at the site or street corner on which it was created, creating a visual depiction of the diverse space between Figueroa, Temple, San Julian and Olympic Boulevard.
In early October, Raw Materials Art Supplies and the Downtown Art Walk hosted the Los Angeles Plein Air Festival for Southern California artists to celebrate outdoor painting and drawing. Blackstone's Steven Thomas Higgins, John Kilduff and Alex Schaefer, self-proclaimed "plein air lovers," took the concept one step further. The trio, along with a few other plein air painters, have since been toting their brushes from one block to the next.
READ MORE: A New Chapter: Art Walk Evolves In Downtown L.A.
"We've been wanting to do a plein air show for a while, so once we heard they were hosting the festival, it made sense that we did a month-long show," said Higgins.
And there was no better place than Downtown. "Downtown is changing so quickly, with tons of little areas that seem to be evolving overnight. There is a lot of Downtown love going on right now," said Higgins.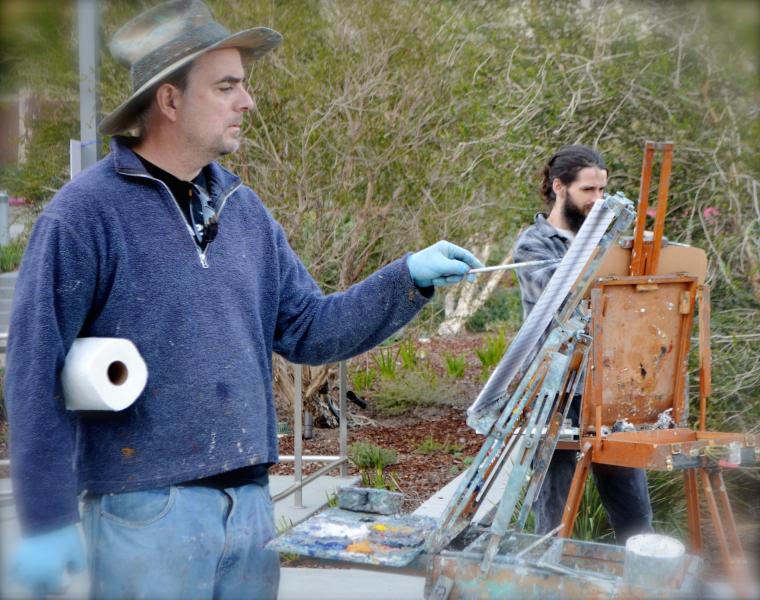 Fellow artist John Kilduff similarly applauded the neighborhood. "It is inspirational, a mix of old buildings and new buildings. It was worth the time for our project," he said.
Over the past few years, DTLA has experienced a influx of artists, chefs, designers and creatives seeking new space to work and collaborate. Elaborate street art is the first cue to this renaissance, reinforced by the organic pan-Asian eateries that lie inside many buildings. The once black sheep of Los Angeles, Downtown is now teeming with pop-up shops, innovative restaurant concepts and colorful galleries.
READ MORE: South L.A. Artists Can't Afford The Mural Ordinance
Although the revitalization has been applauded by many, Downtown L.A.'s creeping rent levels are becoming daunting for artists and shopkeepers alike. As a result, much of the arts and entertainment building in the area has been characterized by an old-meets-new transformation of grungier spaces. Blackstone's neighbor, the Ace Hotel, has been a leader in this brigade, reconstructing the 1927 United Artists Building to host a high-rise hotel and theater.
READ MORE: Plans to Expand The Arts District Might Bring On An Identity Crisis
"Rent is rising so quickly. It's hard to see art galleries being able to sustain in this environment," said Higgins. The last hope then, is embracing the spirit of revitalization. With careful strokes, artists can transform less-than-desirable warehouse spaces and tired buildings into spaces of creative thought.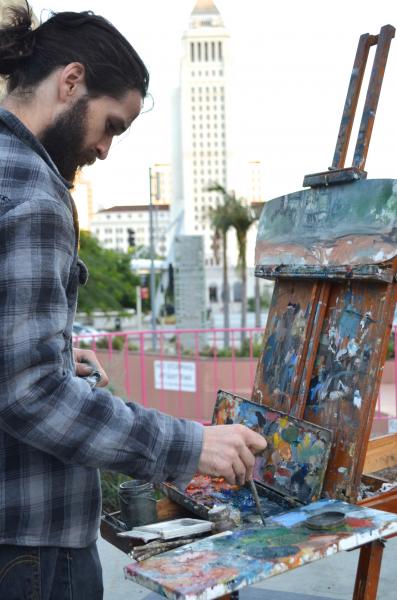 "I'm curious to see how these old buildings come into play. I've heard they have been talking about rezoning some of the historic buildings to allow businesses to exist within. I was told that they are trying to get artistic things going on in them," said Higgins.
READ MORE: Rising Rent in Los Angeles
For now, the DTLA art scene will continue to find its way through new and creative means. For Blackstone, that means embracing the streets themselves as the team pursues a completed "Streetscapes" map. When plein air is the method of choice, there is no need for fancy setups or high-rent studios, just a love for busy streets and vibrant surroundings.
"Streetscapes: Downtown Los Angeles" will conclude with a reception this Saturday, Nov. 8, 2014 from 4 to 8 p.m. at Blackstone Gallery, 901 S. Broadway, Los Angeles, CA. Join the artists as they paint in-studio and present their tribute to the great Downtown L.A. For more event information, RSVP to the Blackstone Gallery event page or visit http://blackstonegalleryla.com.
Reach Staff Reporter Alyssa Wall here.