Art and Design
LACMA's Pierre Huyghe Installation Aims For 'Living Art'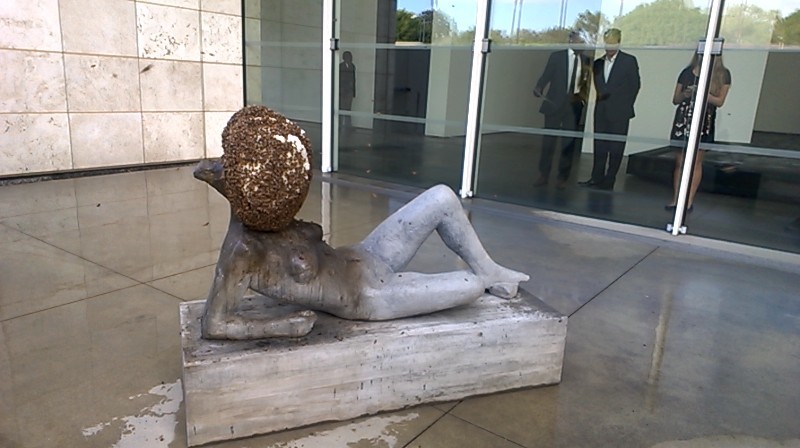 Ever see buzzing bees in an art museum? Neither had I until I previewed the Los Angeles County Museum's (LACMA) newest exhibition:
Pierre Huyghe.
This Sunday, LACMA will open the first and only U.S. retrospective of Pierre Huyghe, a French contemporary artist who works with a variety of media including film, sculpture, drawing and live animals.
READ MORE: The 5 Strangest Art Pieces LACMA Has To Offer
This installation brings elements of urban space and nature together in a completely immersive journey. Michael Govan, LACMA CEO and director, explained that this "exhibition literally grows and changes."
A doorman guards the entrance to the exhibition and announces your arrival, grandiosely proclaiming your full name. Along the way you encounter an odd collection of items, ranging from seemingly couture clothing to flickering lights and even aquariums. Oh, and don't be startled when you encounter Human — the elegant but skittish pink-legged dog-in-residence who can be found napping or skittering from room to room.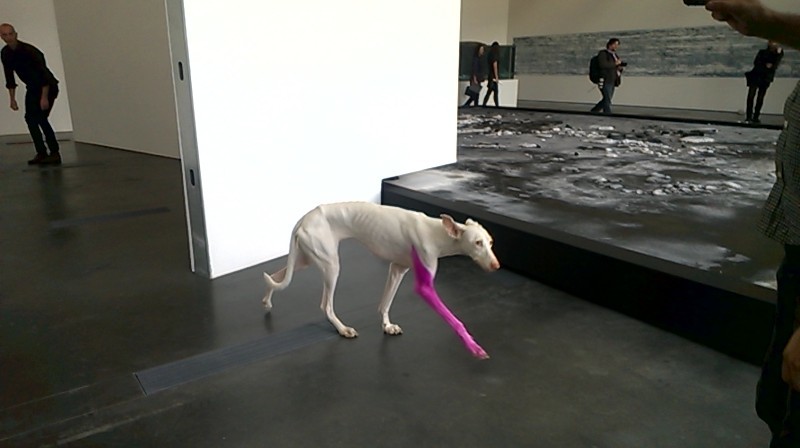 With no informational plaques to guide you, you wander through the gray- and black-painted surreal space inspired by the
La Brea Tar Pits
. As you come face-to-face with videos, house plants, polygons and other Huyghe imaginings, the unpredictable layout encourages you to enter many spaces. In one room, you become a self-proclaimed master light technician as you pick up and play with dials hanging from the ceiling. In another, you are completely entranced by surrealism as you peel back a curtain and step into a fog of darkness where an ethereal lamp-headed person sits in a corner with Human, the dog.
If you're not an entomophobic, or one that is afraid of insects, step out to the back courtyard and mingle with the bees decorating Huyghe's lax female nude. But don't worry, these are Italian bees — allegedly a more docile insect and they're smoked to remain calm. However, the heavy glass door to the patio does warn to "approach at your own risk." But if you happen to be an insectophile (one who loves insects), this bee colony is a live one complete with an egg-laying queen.
Pierre Huyghe will be on view at LACMA until February 22, 2015.
Vanessa Wilson is a contributor to USC Annenberg's Ampersand. Contact her here.