Entertainment News
Kate Gosselin And Kevin Jonas Make It On 'Celebrity Apprentice' Lineup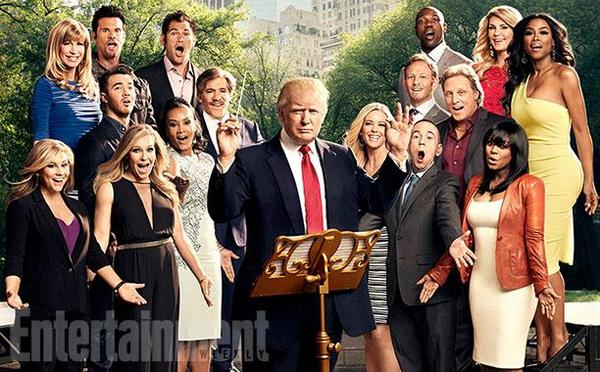 This morning, NBC announced the new cast for season seven of "Celebrity Apprentice." Notorious for its exaggeration of the meaning of the word "celebrity," the show has an interesting mix of celebrities from athletes to singers to reality TV stars to people we didn't even know were famous. The list of cast members, in no particular order, is the following:
1. Shawn Johnson (Olympic Gold Medalist)
2. Leeza Gibbons (90s Talk Show Host)
3. Lorenzo Lamas (Actor, 80s soap opera "Falcon Crest")
4. Kevin Jonas (The eldest Jonas Brother)
5. Jamie Anderson (professional snowboarder)
6. Johnny Damon (MLB baseball player)
7. Vivica A. Fox (Actress, "Independence Day")
8. Geraldo Rivera (radio talk-show host)
9. Kate Gosselin (Reality TV star, "Jon & Kate Plus 8," "Kate Plus 8")
10. Ian Ziering (Actor, "Beverly Hills 90210")
11. Terrell Owens (Former NFL football player)
12. Gilbert Gotfried (Comedian)
13. Sig Hansen (star on "Deadliest Catch")
14. Brandi Glanville (Reality TV star, "Real Housewives of Beverly Hills")
15. Keisha Knight Pulliam (Actress, "The Cosby Show")
16. Kenya Moore (Reality TV star, "Real Housewives of Atlanta")
The late Joan Rivers, who won season two of "Celebrity Apprentice," will appear as a mentor in two episodes along with past winners Piers Morgan, Bret Michaels, John Rich, Arsenio Hall and Trace Adkins.
Who has the best chance of winning? With this bunch, I honestly can't give you a confident answer. What I can say is that based on this wide variety of "celebrities," this season is bound to have its share of ups and downs (and by "ups and downs" we really mean fake smiles and screaming matches).
Kevin Jonas may seem like an unlikely winner, but his popularity among former Jonas Brothers fans may keep him on the show longer than his actual skill level. Shawn Johnson's competitiveness (after all, she did win season eight of "Dancing with the Stars") may get her to the winners circle as well.
Really, no one will care about who wins this season because the main reason for watching will be to see Kate Gosselin battle it out with some "Real Housewives."
Are any of these "celebrities" a surprising pick for the show? Absolutely not. We all know that "Celebrity Apprentice" has a loose definition of what it means to be famous, and adding cast members like Jamie Anderson and Lorenzo Lamas confirms our preconceived notions.
Season seven of "Celebrity Apprentice" premieres January 4 on NBC.
Reach Associate Entertainment Editor Caroline Langella here. Follow her on Twitter.