Music
The Evolution of Iggy Azalea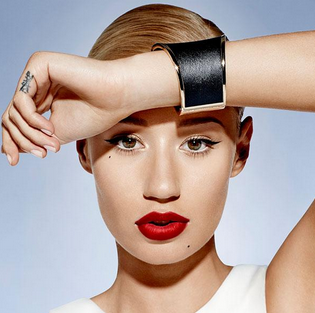 Originally hailing from New South Wales, Australia, Iggy Azalea seemingly transformed overnight into hip-hop's hottest female rapper. However, preceding her mainstream recognition, Azalea spent the greater part of her career navigating the world of anonymity.
Leaving her homecountry of Australia in 2006, Azalea came to America alone at only sixteen, spending time in Miami, Houston, and Atlanta before moving to Los Angeles in 2010. Azalea's musical career really began when she released her first music video for "Pu$$y." The viral interest in the video spurred the release of her first mixtape titled, "Ignorant Art," a collection demonstrating her unique flow, and taboo lyrical content. This project caught the attention of Atlanta rapper, T.I. who would become Azalea's mentor and business partner.
READ MORE: 7 Highlights From The 2014 MTV EMAs
Proof of her loyalty to the southern hip-hop star, Azalea chose not to sign a deal with the major label, Interscope Records, as they wouldn't allow T.I. to participate in her then upcoming studio album. She instead stayed independent with T.I.'s Grand Hustle Records, postponing the release of, "The New Classic."
For an indie hip-hop artist, landing on a spot on XXL, a premiere hip-hop magazine, suggests a promising future for lesser known talent. Azalea did just that in 2012 alongside budding stars such as French Montana, Kid Ink, and Macklemore. XXL received criticism around their choice, as many argued that the Australian bombshell wasn't deserving of such recognition. Fellow female emcee and namesake, Azealia Banks, made a particularly large amount of noise when she took to twitter to demonstrate her disapproval.
The criticism that exists around Iggy Azalea today goes hand in hand with the complaints she was receiving then. Firstly, many find it unsettling that though her speaking voice is a typical of a native Aussie, her accent and timbre completely transform as she takes the MIC.
READ MORE: American Music Awards 2014: Complete List Of Nominees
I think it's naïve to say that the reason so many listeners criticize this discrepancy doesn't involve race. I'd argue that many people feel that through her emulation of American rap, white Azalea is mocking the sound and culture of black hip-hop.
Though I'm not trying to argue that she's the best in her field, I notice that she's slammed for her artistic choice in verbal delivery, meanwhile, an artist such as Adele is praised for her ability to mirror the vocal techniques of soul, a traditionally African-American art form. Similarly, Mick Jagger drew on African-American influences from blues in order to create his famously regarded works in rock. Neither of these artists face the scrutiny that Azalea does.
Secondly, when evaluating rap, the lenses commonly used concern lyrical content and use of rhythmic devices, so it comes as no surprise that the greatest degradation of a rapper's worth is the use of a ghostwriter, someone who writes a song but doesn't receive acknowledgment for their contribution.
Instead, the writing credit remains in the artist's hands. It's pretty much the worst thing you can do, and rightfully so. Using a ghostwriter disrespects the relationship between artist and audience, ruining their credibility and breaking the trust that makes music so powerful.
Azalea has been rumored, namely by Nicki Minaj at the 2014 BET Awards, to have used ghostwriters on several of her projects. Specifically, mentor T.I. is thought to be a main contributer to Azalea's energetic verses. Of course, Azalea and T.I. both deny that this occurred. These accusations may simply be rumors fueled by competitors and shouldn't be so easily regarded as factual. If they are true, then as I discussed, Azalea has violated a crucial hip-hop commandment, and doesn't truly deserve the artistic respect that rappers covet.
Personally, I've listened to "Ignorant Art" and I think that Azalea's more recent work is pretty aligned with her previous work, and doesn't show any blatant changes in style that would suggest a ghostwriter. Sure, there are subtle differences from her previous work, but change is both inevitable and healthy in art. The changes could be attributed to her growth as an artist or an attempt to conform to standards of mainstream music that are shown to reap success. Either way, it's wise to be careful when looking to competitors for information on Iggy Azalea, or any other artist.
Whether you like Iggy Azalea or not, she's proven that she's a force to be rekoned with as hip-hop turns a new leaf in the resurgence of female emcees.
Reach Staff Reporter Brittany Brazil here.