Food
Salt & Straw Serves Up Unique Seasonal Ice Creams
With warm wood panel walls, a handwritten chalkboard menu and shelves stocked with artisan food creations, Salt & Straw in Larchmont Village is anything but a typical ice cream shop.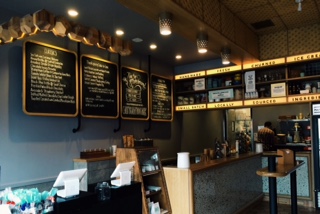 Co-owned by cousins Kim and Tyler Malek, the popular ice cream store that originated in Portland, Ore. is creating and selling ice cream that is as inventive as it is addictive. Despite its homey and familiar ambience, the shop offers creative twists on classic flavors.
Salt & Straw opened its doors in August, offering Angelenos a taste of ice creams inspired by the quirky spirit of Portland. Salt & Straw's commitment to locally sourced products and local farms is evident in all of its products. The store embraces the farm-to-table aesthetic, creating ice creams diverse and robust in flavor.
The ice cream is churned in downtown Los Angeles and delivered fresh to the store every morning. Made with high-quality, local ingredients, Salt & Straw's delicious creations are anything but ordinary. The avocado and strawberry sherbet exhibits the lush creaminess of a California avocado and the sweet juiciness of strawberries. The Stumptown coffee and Compartes "love nuts" flavor combines smooth, rich coffee with salty and savory chocolate and caramel pecans. After trying multiple flavors, it is easy to understand why Salt & Straw is one of the most talked about ice cream stores in the city.
While most stores in Los Angeles are beginning to look a lot like Christmas, Salt & Straw is reminding people to give thanks in the best way possible. Available throughout the month of November, a special Thanksgiving-inspired menu captures the essence of everyone's favorite seasonal dishes. Must try Turkey-day flavors include honey bourbon corn pudding, salted caramel turkey and sweet potato casserole with honey pecans.
While all of the Thanksgiving flavors are mouthwatering, there are two flavors that will inspire ice cream connoisseurs to line up outside the store. The cranberry-walnut stuffing, made exclusively for Salt & Straw's L.A. location, captures the comfort of home in one of the holiday's most popular side dishes. The ice cream is warm and sweet with its molasses brown bread base, toasty with its roasted walnuts and biting with the tartness of cranberries. The spiced Chèvre pumpkin pie offers another creative pairing with its velvety cheescake-like base and its hearty ribbons of pumpkin pie. The Thanksgiving flavors encapsulate the artful preparation and thought that Salt & Straw devotes to each and every one of its exquisite flavors.
240 N. Larchmont Blvd., (323) 466-0485, saltandstraw.com
Contact staff reporter Madison Poulter here. Follow her on Instagram here.