National
Ferguson Is 'A Human Issue,' USC Rally Organizer Says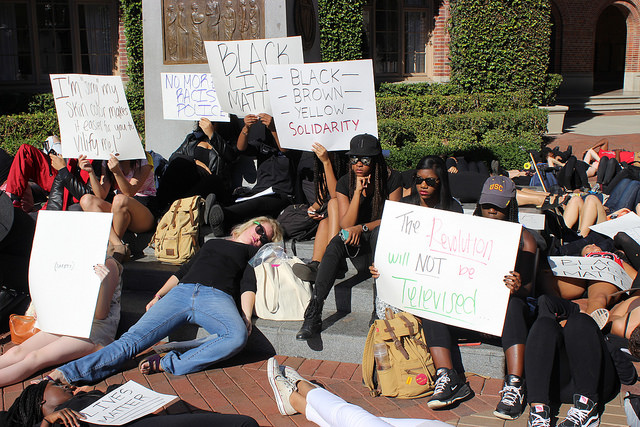 As students sat sprawled out around the statue of Tommy Trojan on an uncomfortably warm Tuesday morning, a bespectacled blonde girl jumped to her feet to address the crowd. "As you all probably noticed, I'm a white girl," she said.
"And I'm sorry," she continued. "Because I have not experienced the racism and institutional discrimination that a lot of you have."
The "white girl," a USC engineering student named Andrianna Ayiotis, was speaking to a crowd of predominantly African-American students at a rally held in response to the grand jury decision in Ferguson on Monday to not indict Darren Wilson, the shooter of Michael Brown. She had been at a protest the night before, where she had received preferential treatment because of her race, she said.
"Somebody said, 'All you white folk who are here, please go in the front, because the police are not going to hurt you.' And that's not okay."
While some people characterized the shooting as a "hate crime," the crowd was not limited to black students alone. Many who joined the protest said that the news was poignant to all minorities that were vulnerable to discrimination. One African-American woman toted a sign stating: "Black, Brown, Yellow, Solidarity," as Caucasian, Asian and Latino students walking by took off their backpacks and joined the sit-in.
SEE ALSO: #FergusonDecision Demonstrations Make Their Way To USC
"It's a human issue," said Danielle Hixon, a USC junior who had coordinated the event.
Because of the Thanksgiving holiday, Hixon wasn't sure how large of a turnout to expect. She said she would consider the rally a success as long as it started a dialogue. "We just want to hear what you guys feel [and] we want to tell you how we feel," she said.
Glancing over her shoulder at the dozens of students behind her—a crowd that would gradually swell to well over a hundred people—she said she was happy at the attention the event had received. "In general, all of these people are new to me, and I've never met them," she said, smiling. "I'm really proud that they decided to come out and support the issue."
Just moments before, most of the group had lain down on the ground in a four-and-a-half minute silence to honor the request Brown's family had made ahead of the grand jury decision.
For those four and a half minutes, a serene calm had swept over the air. Many of the young people had said it was their first public demonstration and spoken passionately about other prominent black contemporaries such as Eric Gardner, Ezell Ford and Trayvon Martin. Some passersby stopped to snap pictures and videos. Outside of the circle, a university tour group awkwardly stood and watched.
Hixon said that being at USC in particular opened her eyes to racial issues. "It's bothersome, definitely," she said, adding that friends had experienced being the tail end of racist comments made at parties, especially on the row.
But "I'm not going to condemn the entire, whole of USC for like, a few dumb people," she said. "I just feel like the racist, ignorant people—they tend to be the loudest."
While Hixon said that many of her friends tended to avoid discussing racial issues, "as a black person, you realize you're black everyday," said Hixon, who comes from Woodland Hills, a predominantly white L.A. suburb. "And in these classes, you're like, one of two black people."
She said many of her peers were still unaware of "what a person of color goes through on a daily basis."
"I hope to have people stop trying to avoid the topic of race, and stop saying racism is over, because it is not over," she added.
READ MORE: People of Different Ethnicities Stand With Ferguson
Ometo "MC" Anassiyzo, a junior at USC, said his disappointment by the grand jury decision was compounded later that night when he went on Yik Yak, a popular anonymous message board app, to see racist comments being made. "There was one comment about the black house at USC," he said, in reference to a recent student government resolution to create a programming space for African-American students on campus. It said, 'Why are they building a jailhouse at USC?'"
It was because of comments like these, Anassiyzo told the crowd, that it was important to develop a "thick skin."
"My best friend David Elliott came up to me and was like, 'Pick your head up, man. Don't even let your body language drop,'" he said.
Common among the students was the reminder that "there's just injustice in general," said Anassiyzo. "And as much as you don't want to discuss, you don't want to be weighed down, you don't want your mood to be weighed down, you don't want to look at the world negatively, it's something that, yeah, is almost slapped in your face every day."
His friends nodded in agreement.
Racial discrimination is something that "will affect you whether you like it or not," said David Elliott, a junior from Houston.
Growing up, Elliott said he had "always been confronted" by unfounded suspicion. During his high school days in Texas, when he had his hair grown out into braids, he began being followed by the police. "Same thing in my neighborhood when I had braids. I lived in my neighborhood for a good 13 years," he said. "It was very depressing."
The police trailing him would never say a word, he said. "They'd just keep a quick eye."
Joy Ofudu, a freshman, said she had also experienced being followed. "I think this is like, a common experience," the 17-year-old said. "If I go to stores with friends who are of a different skin tone of me, I can notice the store owners are closely watching me to make sure I don't steal anything."
To allay their anxiety, she began changing her behavior. "You start to regulate yourself, so that people don't suspect you of doing something. I smile at people on the street, so they don't think I'm the scary black girl. Little actions like that. I'll make sure to change my speech, so I'm more articulate, so people don't get confused about my background, or where I come from."
Many of the students said that their experiences had made them worried about how to explain racism to their own children. A man who joined the forum asked, "Who here is afraid to have kids?" Scores of hands went up.
"I was just thinking, just like, all last night, how did my parents go about teaching me how to react to certain situations as such?" said Elliott. "And it's just really hard as to imagine sitting your child down and discussing just like, 'Yeah, you should be angry about this. There's certain ways as to how to direct your anger to solve the problem.'"
The saddest part, said Ofudu, was that parents would have to promote a "slavery mentality."
"'Don't disobey the masters, don't disobey somebody who's got more power than you. Because you face dangers if you don't,'" she said.
"I would personally like to raise my child to not see skin color, but unfortunately I cannot do that," said Anassiyzo. "Because if I don't teach him about skin color, the world will."
Reach Editor-at-Large Michelle Toh here. Follow her on Twitter here.
Reach News Director Ani Ucar here. Follow her on Twitter here.
Reach Web Producer Belinda Cai here. Follow her on Twitter here.