USC Sports
Don't Forget About Cody Kessler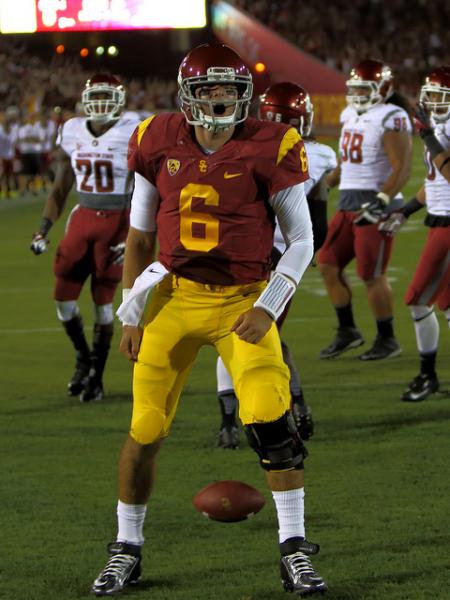 When college football fans and analysts rave about the top quarterbacks in college football, the same names usually come up. Oregon's Marcus Mariota is frequently discussed as being the top pick in the 2015 NFL Draft. Florida State's Jameis Winston, the reigning Heisman Trophy winner, has had his draft stock drop due to off-the-field issues, but is still considered a top talent at the position. Mississippi State's Dak Prescott has emerged as a Heisman Trophy candidate for helping the Bulldogs rise to #1 in the polls.

One name that doesn't often come up in these talks is USC's Cody Kessler.

If you've watched a USC game on TV this season, you've heard how broadcasters have said repeatedly that Kessler is one of the most underrated quarterbacks in college football, leading a Trojan team in the first season under a new head coach and still dealing with NCAA sanctions that have left USC lacking in depth at numerous positions. However, his name is rarely mentioned on ESPN or any other program when discussing the most productive players at the position.

Meanwhile, Kessler might be having one of the best seasons of a USC quarterback in recent memory. Listed below are Kessler's stats for the season through 9 games, along with where they rank among the nation's qualifying quarterbacks:

69.7 completion percentage (3rd)

2548 passing yards (14th)

8.6 yards per attempt (17th)

25 TD (T-4th)

2 INT (same number as Mariota)

168.2 passer rating (6th)

SEE ALSO: Steve Sarkisian Risking USC Players For Stats Is Dangerous

To truly appreciate what Kessler has done, let's look at USC's previous two starting quarterbacks who have gotten much more publicity: Mark Sanchez and Matt Barkley. We looked through their season statistics as starters, and picked out each quarterback's best overall season, which were Sanchez's 2008 season and Barkley's 2011 season. Their respective statistics are below:

Sanchez: 13 games, 12-1 W-L, 65.8% completion, 3207 yards, 8.8 yards/attempt, 34 TDs, 10 INTs, 164.6 passer rating

Barkley: 12 games, 10-2 W-L, 69.1% completion, 3528 yards, 7.9 yards/attempt, 39 TDs, 7 INTs, 161.2 passer rating

Assuming Kessler maintains his current pace, which is possible considering how inconsistent USC's three remaining opponents have been on defense, here are his projected stats for the season (Note: win-loss record is not included, and we're assuming USC plays a December bowl game to put them at 13 games on the season):

13 games, 69.7% completion, 3680 yards, 8.6 yards/attempt, 37 TDs, 3 INTs, 168.2 passer rating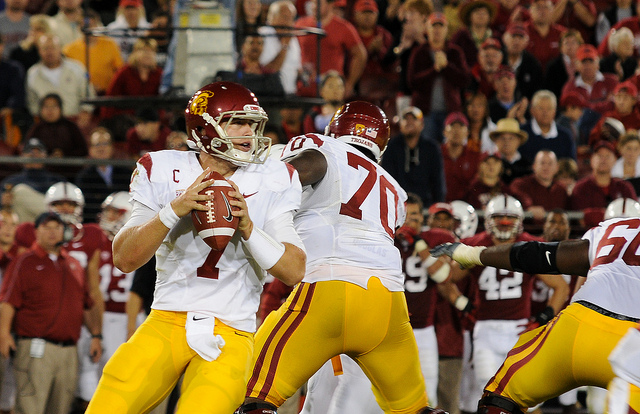 Based on these projections, Kessler would have a higher completion percentage, passing yards, and passer rating, as well as the fewest interceptions, although would have played one more game than Barkley. He'd also be second in yards per attempt to Sanchez, and just behind Barkley in touchdown passes.
So why aren't people outside of USC and Pac-12 broadcasts talking about Cody Kessler?
The simplest answer is the common view that quarterbacks get too much blame for losses. This year's Trojans squad already has three losses, which is as many as Sanchez and Barkley had combined in the selected 25 games. The top three quarterbacks mentioned at the beginning, Mariota, Winston, and Prescott, are a combined 21-1 this season. The only loss there was Oregon's 31-24 loss to Arizona that was later deemed the result of injuries to the Ducks' offensive line.
USC's three losses? Their first was a 37-31 loss to Boston College on the East Coast during which the USC defense gave up 452 rushing yards and the offense mustered but 20. Loss #2 was a 38-34 defeat by Arizona State during which the defense gave up 510 passing yards to backup Mike Bercovici, capped off by a poorly defended last-second Hail Mary. The final loss was another last-minute, 24-21 loss to Utah where a slightly wider field would have sealed the win for USC.
Kessler's stats in those games? He completed 70.3% of his passes for 854 yards with six touchdowns and one interception.
SEE ALSO: How Does Sark's First Year At USC Compare To Carroll And Kiffin's
The Trojans gunslinger wasn't perfect in these games. There were some throws he could have made that would have helped the team move the ball, and he had a few late-game offensive drives stall out, giving the opponent a chance to take the win that they often took advantage of. That being said, Kessler held his own, limited his mistakes, and gave USC a fighting chance.
Kessler might not be as talented or dynamic as Mariota, Winston or Prescott. The Trojans have more flaws than each of their respective teams, mostly due to a lack of depth at various positions.
The one constant for the Trojans, however, has been Kessler, who has kept his cool through what has been a very up-and-down season for USC. Personally, if the Trojans were sitting at one or maybe even two losses, I think Kessler's name would come up as a dark-horse Heisman contender, similar to how running back Javorius Allen was before the loss to Utah.
We'll miss Kessler if he decides to skip his final season to go to the NFL Draft, but if he doesn't, he might get a chance to win with a deeper USC squad, and improve how he's viewed on a national level.
Reach Staff Reporter Andrew Schultz here or follow him on Twitter.