Arts+Culture
The DIY College Experience: USC's Neglected Transfer Students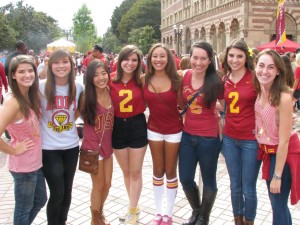 As a transfer student during my first semester at USC, I felt that my experience differed from those around me in a way. I lived in Annenberg House, one of the university-owned apartment buildings, and met a group of guys on the same floor as me who I consider to be some of my best friends today. We had all transferred to USC that same year, and bonded on that notion. Although we had different music tastes and did not watch the same television shows, we still somehow connected and became "bros" over the course of one semester. On top of that, all of my credits from my previous university transferred over without any problems.
Overall, my transition went pretty smoothly. I was able to live in an apartment building with other transfer students, and luckily met some friends who just so happened to live down the hall. However, this occurrence is not common for some transfers as USC. Some of them have claimed to experience lonesomeness, anxiety, and even pure anger for the circumstances that they have endured during their first semester at USC.
Maya Williams, a junior-level Korean major, said that USC did not offer her housing when she first transferred last year.
"I got my acceptance letter in late July, so all of USC housing, on and off campus, were already taken."
She continued to say that she had to live in an apartment with random people, and that exacerbated her negative experience even more.
"I lived in Gateway Apartments with a group of girls who had already been at USC for over a year. They had their friends and cliques all figured out, and I was left out of the loop."
Lack of housing is just one of the issues that could hinder the transition process for transfer students. Kyle Yoshihara was not only a transfer student in 2012, he was also a spring admit. He claimed that orientation and Welcome Week only cater to incoming freshmen, and do not focus on the needs of transfers and spring admits.
"The school offered a one-day orientation for all of the spring admits, but that's not nearly enough time to make us feel at home. They showed me and the other spring admits the cafeterias, Leavey library, and Tommy Trojan."
Yoshihara even said that he was not even given the necessary tools to get involved with any extracurricular activities around campus.
"By the time I found out about the spring Involvement Fair, it had already happened two days prior. They never mentioned it to us at all. It sucked."
The Diversity Affairs Committee of Undergraduate Student Government is currently working on ways to improve the transition for transfer students and spring admits.
Proposed solutions to placate the issue include orientation and Welcome Week activities in the fall geared specifically for transfer students, along with the same for spring admits during the spring semester. Further plans involve the USC Village, which is scheduled for completion in 2017. The finished project is set to include extra dormitories for incoming students. The committee is talking to administration to allow one of the dormitories to be secluded for transfer students and spring admits as well.
"We want transfers to have a place for them to live together and bond. Just like there is a dorm for incoming black freshmen and one for incoming film students, transfers should have that same opportunity to not only live in university housing, but to also share a space with each other," said Levi Powell, the Director of Diversity Affairs.
The committee is also proposing that spring admits who plan on going to another school nearby USC before the spring semester should have the option to live in university-owned apartments while they complete their first semester.
Ermaline Ogbodo, who transferred from the University of California, Santa Cruz, appreciated the fact that someone is trying to fix this issue.
"It feels good to know that this issue is finally getting acknowledged around campus. It's something that may not make major headlines, but should still be resolved with some type of action."
Reach Staff Contributor Mark Love here.