Music
Danny Elfman's Music From The Films Of Tim Burton At The Nokia Theatre: Show Review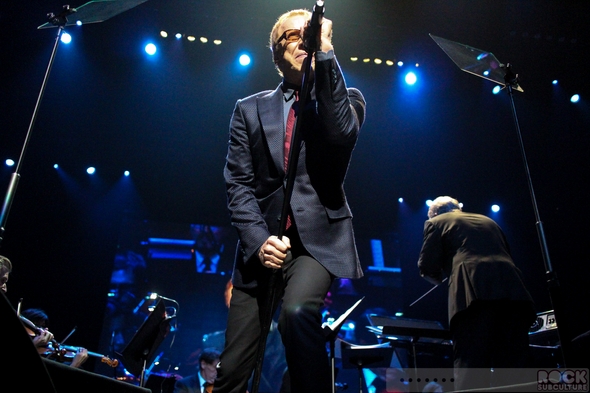 L.A. Live drew an animated crowd this Saturday night with the second evening of "Danny Elfman's Music from the Films of Tim Burton" at the Nokia Theatre and Stan Lee's Comikaze Expo, a pop-culture convention, at the Los Angeles Convention Center next door. Attendees of both events flooded the streets in ornate costumes and elaborate makeup under the veil of Halloween weekend.
The evening was a star studded affair with many celebrities in attendance and guest performances by the talented violinist Sandy Cameron; along with Catherine O'Hara, the voice of Sally in "Tim Burton's The Nightmare Before Christmas" and of course, the man of the hour, Danny Elfman.
READ MORE: 7 Spooky Covers For Halloween
The collaboration between Elfman and Burton began in 1985 when Elfman was asked to score the music for Burton's first full-length film, "Pee-wee's Big Adventure." Elfman had little experience with film scoring, but embarked on an adventure that would result in arguably the "most successful filmmaker/composer collaboration in the history of film" – and 16 film scores. While the Burton partnership was the focus of the evening, Elfman's notable discography also includes a ballet, TV shows, and a symphony, in addition to the music for the Cirque du Soleil show, "Iris" in a self-described effort to "push [him]self in the direction of being a composer who you never know what [they will do] next".
Experienced musicians of the Hollywood Symphony and the Page L.A. Choir were led by award-winning conductor, John Mauceri as a video montage of sketches, watercolors and clips of the films themselves captivated the attention of the audience. The layout of the evening led the audience in a thought-provoking recreation of the process of producing a Burton film – from storyboard to screening.
The 87-piece orchestra played music from the collaborations of Elfman and Burton with crowd pleasers from "Batman"/"Batman Returns", "Tim Burton's The Nightmare Before Christmas" and "Alice in Wonderland". The finale brought a charismatic Elfman to the stage to sing a few numbers as Jack Skellington, including "Jack's Lament" and "This is Halloween". The bone-chilling encore, "Alice's Theme" from "Alice in Wonderland" was performed by a shockingly young soloist, Micah Angelo Luna.
The event continues tonight at The Honda Center in Anaheim before stopping in Ohio and continuing on to London in December for two performances at the Royal Albert Hall.
Reach Staff Reporter Emilie Dylewski here.