California
Child Homelessness Reaches Record High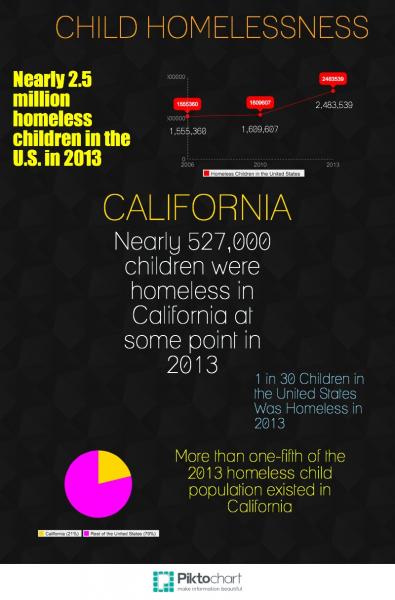 A report released by the National Center on Family Homelessness on Monday shows that child homelessness has reached record numbers.
The report, titled "America's Youngest Outcasts," uses data from the Department of Education and the Census Bureau and shows that nearly 2.5 million children were homeless at some point in 2013. To put that in greater perspective, one out of 30 children was without permanent shelter.
The number of homeless youth has steadily increased in the last decade. In 2006, an estimated 1.5 million children were homeless. That number jumped to about 1.6 million in 2010 and soared to nearly 2.5 million last year.
The situation in California is particularly dire.
SEE ALSO: Uncounted and Invisible: Homeless Youth In Hollywood
One-fifth, or approximately 527,000, of the nation's homeless youth resided in California in 2013; that is a 20 percent increase from the more than 438,000 in 2010.
Carmela DeCandia, director of the National Center on Family Homelessness and a co-author of the report, notes that California has unique problems that make the state susceptible to high homeless numbers.
"One is the high rate of children living in poverty," DeCandia said. "Twenty-four percent of children in California are living in poverty and what we see is a real disparity between the state minimum wage and the income that's needed to afford a two-bedroom apartment."
California's state minimum wage is $8.00/hour, but in order to afford a two-bedroom apartment, a person must make nearly $26.00/hour. Shahera Hyatt, the Director of the California Homeless Youth Project, was not surprised by California's numbers. For her, this is an issue that has long been underreported.
"Though we've made recent progress legislatively and otherwise on youth homelessness in California," Hyatt said, "there's been kind of a historic lack of focus on this population specifically."
SEE ALSO: L.A. County Youth Homeless Numbers Continue To Rise
Hyatt says that California lacks some of the resources necessary to assist youth. In 2011, Hyatt's organization released a study that revealed only one-third of the state's 58 counties had any type of program to help homeless youth. This, in turn, leads to them to use their own resources.
"Without transitional housing programs for a young person to live when they are experiencing homelessness, they might end up exchanging sex for a place to stay for the night," Hyatt said. "That's not uncommon, unfortunately. These are the situations that we are forcing our young people to make in absence of services and funding to meet their needs."
While there has been some success in reducing the number of chronically homeless individuals and veterans, children and families, as the report illustrates, don't seem to be receiving the same attention. DeCandia believes that the ever-increasing number of homeless children could have damaging repercussions.
"Child homelessness has reached epidemic proportions in America," DeCandia said. "This is a situation that can't be tolerated much longer because these kids can't wait; they're development is at risk. We really need to act now; with decisive action, we would be able to address this problem ... If we don't act, we may lose another generation of children to this tragedy."
Reach Staff Reporter Kevin Mallory here.