National
No Room At The Table: America's Bans On Feeding The Homeless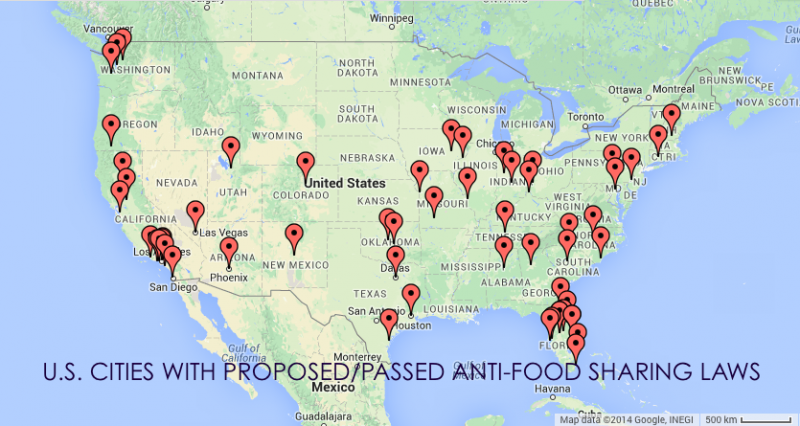 The holiday season is a time of year when charity tends to skyrocket in America. Countless families spend their Thanksgivings and Christmases in soup kitchens or working with non-profits to bring holdiay meals to people on the streets. Since 2013, though, dozens of cities nationwide, Los Angeles included, have been working to implement poilces against feeding the homeless. This Thanksgiving, soup kitchen volunteers across the country operating on public property risk being fined or jailed.
L.A. has the second highest homeless population in the country, totaling around 58,000. The Los Angeles Homeless Services Authority estimates 3,463 homeless men and women living on Skid Row, either in shelters or on the streets.
L.A.'s proposed legislation would ban organizations from serving food to homeless people in public places. This came in response to residents' complaints about behaviors such public urination and littering, as well as the security threat posed to the community. Several nearby cities, such as Pasadena and Costa Mesa, have already passed laws restricting homeless access to food sources. Ventura and Malibu have similar legislation in the works, as well.
"What they wanted to do was criminalize them for being poor," said Ted Landreth, the founding volunteer of the Greater West Hollywood Food Coalition.
Landreth has served hot meals to the homeless on public property for 25 years. He believes restricting feeding the homeless strips basic constitutional rights from poor people.
With urban poverty on the rise, the question of how the U.S. treats its neediest citizens has edged to the forefront.
"There's a shift away from feeling compassion for people struggling with their lives to vilifying people struggling with their lives," said Nonie Brennan, CEO of The Emergency Fund, a Chicago-area nonprofit that helps families in crisis.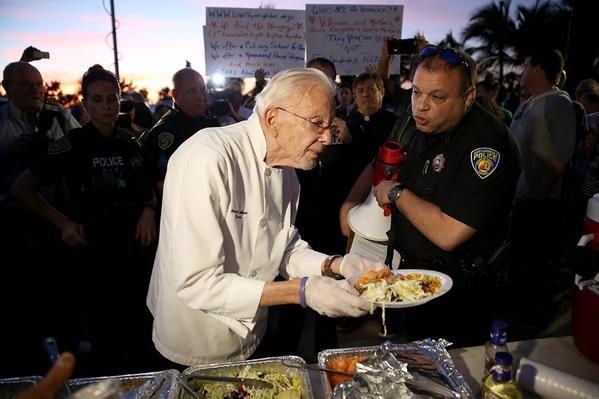 Meanwhile, Fort Lauderdale lobbyist Ron Book defended anti-feeding legislation.
"Whatever discourages feeding people on the streets is a positive thing," Book said.
Ft. Lauderdale implemented an anti-food sharing law in October 2014. Several have already been arrested under the law, including 90-year-old Arnold Abbott, who's been arrested for feeding people three times in the month the law's been in effect. He faces fines and jail time.
READ MORE: California Accounts For Over 1/5 Of Homeless Children in US
Some believe America lags behind European countries in providing quality of living for all members of the population.
"My international friends are shocked at how we can have such a bad homeless problem in such a wealthy country," said Jacob Yungman, political science undergraduate at California State University, Long Beach. "More are shocked to find out that so many homeless are mentally ill, and that we shut down institutes for the mentally ill 30 years ago."
A major idea behind these new food sharing policies is that feeding sites should be central to other rehabilitative resources directed at the homeless population, such as mental health, job preparation and housing assistance services.
Psychotherapist and executive director of Under the Bridges and On The Streets, John Shinavier, suggested L.A., with the largest health and social services system in the nation, adopt a more preventative approach to solving poverty that would provide more effective mental health and substance abuse recovery services.
READ MORE: Do New Laws Help or Hurt the Homeless?
One idea that's being tested in Phoenix is setting veterans up with housing without rules attached, like required sobriety. The rationale behind this plan is that people are more likely to address any health or substance abuse issues once they've found a stable place to live.
Law or no law, it seems to be difficult to stifle the giving spirit during the holiday season. Non-profit charity Gobble Gobble Give fed more than 10,000 homeless Americans Thanksgiving dinner in cities across the country last year, and is just one of many organizations who will be back at it again next week.
In L.A., the Fred Jordan Mission expects to feed thousands of homeless Angelenos on Skid Row this Thanksgiving. Families can attend a holiday potluck at 9 a.m. Thanksgiving morning at MacArthur Park.
Reach staff writer Christine Walsvick here.