USC Sports
Alex Quincey Leads Women Of Troy Over Utah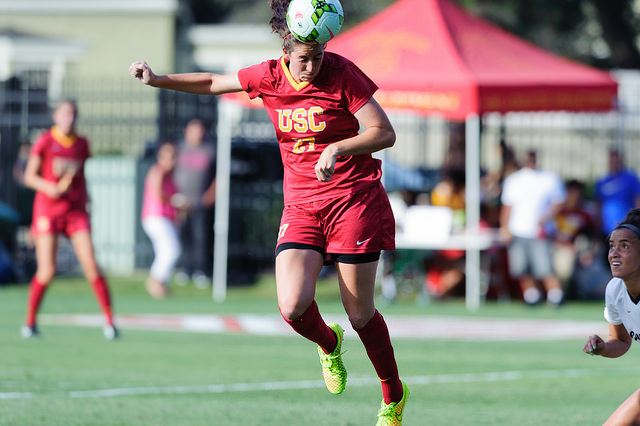 The sun on this Sunday afternoon had little effect for the athletes on the field. The Women of Troy kicked it off against the Utah Utes (7-2-3, 0-2-1 Pac-12) with high intensity after the starting whistle. In the wake of Friday's loss to Colorado, the Women of Troy were quite pleased to beat the Utes 2-0.
"We came in with better energy," head coach Keidane McAlpine commented on his team's start. "That's what this team is built for."
USC would continue to maintain possession for the majority of the starting minutes. The Women of Troy's offense and midfield looked clean and collected.
Their constant pressure would pay off in the 16th minute when senior midfielder Alex Quincey scored on a header from a corner kick by junior midfielder Reilly Parker.
Quincey had nothing but great things to say about Parker's perfect corner kick that curled right to her head after the game.
"She just served it to me on a silver platter," Quincey shared.
Going up 1-0 over the Utes kept the energy high for the Women of Troy. The Trojans in the stands matched the athletes' energy: chants and cheers were loud and proud for each successful move or shot from the Women of Troy.
Heading into the second half, USC came out just as strong. As a defense, redshirt sophomore Dominique Randle, junior Whitney Pitalo, sophomore Kayla Mills, and Parker worked as a synchronized unit to keep pressure out of their half of the field.
Just like before, the Women of Troy also had control with their offense. In the 64th minute, Quincey put another one in the back of the net; this time off of a cross from junior midfielder Jamie Fink from a pass from junior forward Tamara Mejia.
Scoring two goals, Quincey shared about the happiness it brought to her teammates and her. She was pleased to see her team "work well together."
"We just wanted someone to score," Quincey commented. "It just happened to be me."
In the stands, the fans cheered on the Women of Troy with multiple SoCal Spellouts. In the final minutes of the game, they chanted, "We are SC!" and loudly cheered as the final whistle blew.
SEE ALSO: USC Women's Soccer Crushes UC Riverside In Impressive Home Debut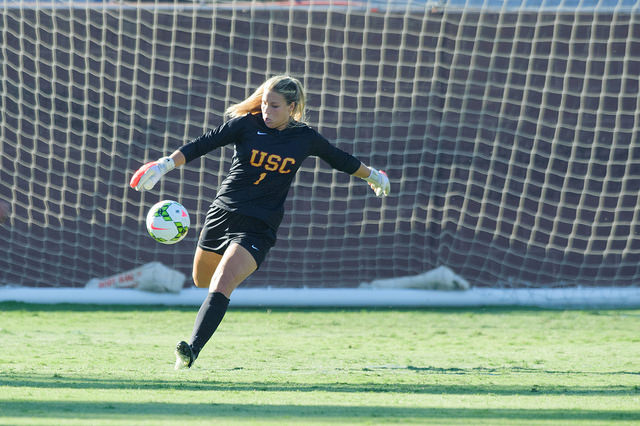 At one point, a forward for Utah had a huge breakaway, but the Women of Troy's defense was able to catch up to her, allowing senior goalkeeper Caroline Stanley to make a clean save.
Stanley was impressed by the "mentality" of her team. Contrasting between Friday's loss and today's win, she commented on how well the defense played together and how they are "making [her] job easy."
"It's about being aggressive and taking control of the game," Stanley shared. "We want to keep that momentum going forward."
Even in their success, Stanley still sees an area of improvement.
"My distribution could get better," Stanley admitted. "I've got a lot to work on—personally—to make everybody else's' jobs easier."
Reflecting on the game, McAlpine was pleased with his team's performance and their improved discipline in their set pieces.
"We did apply enough offensive pressure both games," McAlpine stated. "But today we stuck them in the net."
Looking forward to next week, McAlpine is looking to create similar situations against Cal and Stanford that they did against Utah.
"We've got to continue to find ways to apply pressure," McAlpine added. "And take teams out of what they're comfortable."
Next week the Women of Troy face California (9-3, 1-2 Pac-12) at 12pm on Friday and Stanford (10-0-2, 2-0-1 Pac-12) at 3pm on Sunday—both at McAlister field.
Reach Staff Reporter Jodee Sullivan here and on Twitter here.