NBA
USC In The NBA: 2014-15 Outlook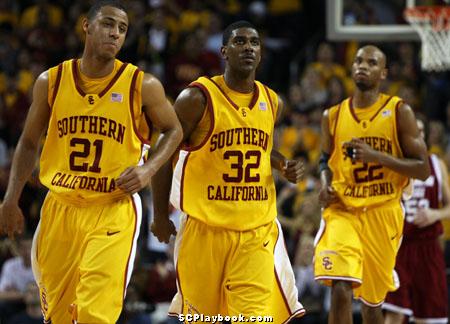 There's no two ways about it: The NBA's popularity is on the rise. Like it or not, that means college basketball is also taking a huge jump in relevance. After last year's class of Andrew Wiggins, Jabari Parker and Joel Embiid, the importance of the college-to-pro transition is becoming far more intrinsically implemented in the world of basketball.
In football, USC has statistically been the best program in terms of establishing the most successful college-to-pros pipeline, but how does it fare in basketball?
Well, keeping the much smaller number of players the NBA houses in mind, and the relative success (if even that) of the Trojan's men basketball program, the number is still pretty small.
Entering the 2014-2015 NBA season there are only six ex-USC basketball players on NBA rosters. Conveniently enough, they can be structured in lineup format, as we have everything from a shooting guard to a center to even a bench player.
So, let's look at our subjects and analyze their potential outlook heading into another exciting basketball season.
Point Guard - O.J. Mayo
26 years old, 7th NBA season
Team: Milwaukee Bucks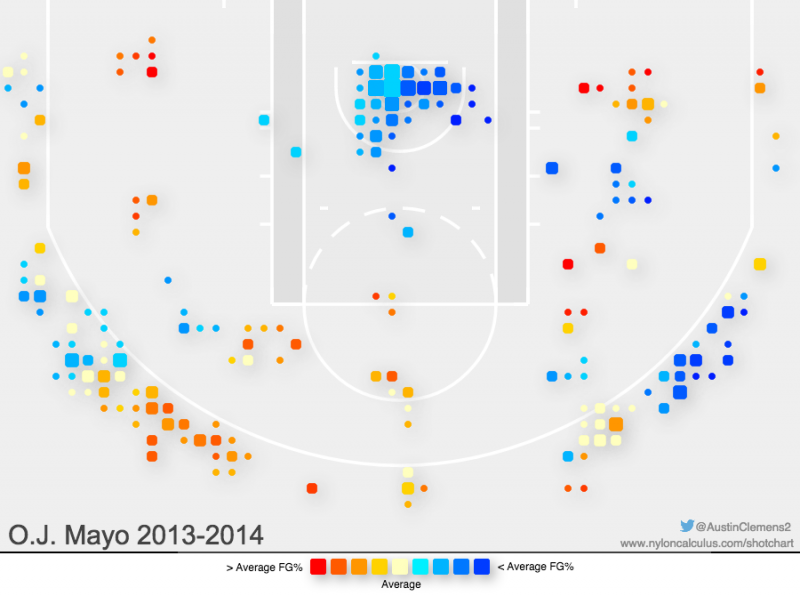 For the sake of convenience, we placed Mayo as a point guard even though he is listed as a shooting guard. The 2008 graduate is a natural ball-handler however, having played point for both the Grizzlies and the Mavs in spurs. In fact, he has always wanted to be one.
Mayo is in a tough spot. Public perception of him coming into this season is down in the dumps. Given that he never really got in shape last year and had the worst offensive rating of his career, the skepticism surrounding his "comeback" year is justified. The shooting chart above exhibits both Mayo's strengths and his weakness. Around the basket is where most of Mayo's work take place, but last year's below-average performance in finishing around the rim contributed to a poor offensive rating of 98 points per 100 posessions—his worst since coming into the league. Moreover, Mayo was erratic from behind the three-point line without taking full advantage of the corner three. Clearly, Mayo has the potential to be a versatile scorer, but last year he failed to put himself in a position to showcase such potential.
Some of that can be attributed to the poor system the Bucks employed, but a lot of that is on Mayo himself and his inability to stay fit. This year, Mayo—still only 26 years young—is seeking to disprove critics one more time and get back to his scoring ways that made him the third pick in the 2008 draft. With Jason Kidd at the helm in Milwaukee and a revamped offensive system boasting the likes of the "Greek Freak" and perennial rookie Jabari Parker, both Mayo and the Bucks are primed to be better this season. And if recent reports are true about his improved fitness, we may be in for one of Mayo's best offensive years.
Shooting Guard - Nick Young
29 years old, 9th NBA season
Team: Los Angeles Lakers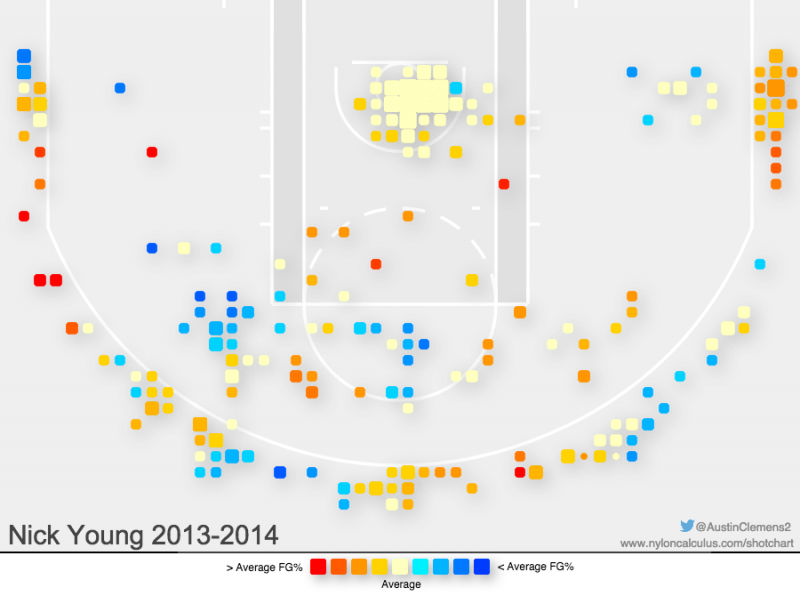 Ah, Swaggy P. How can you not love the guy?
Well, if you're Kobe Bryant or Byron Scott you might not.
Look at that shooting chart and tell me the guy doesn't like to shoot. Nick Young lives to shoot a basketball and last year's Kobe-less Lakers were his perfect dream. During a season that went down the dumps fast, Young took advantage and tested his shot from almost everywhere. Like Mayo, the 2007 graduate is known for offense and certainly not his defense. Young chucked up a career-high 23.9 shots and 9.3 threes per 100 possessions last season, but in this case, more shooting did not mean better shooting for the USC grad. In fact, his shooting percentages, both overall and behind the arc, came in a mediocre fourth out of his seven seasons so far. Swaggy took quantity over quality and it clearly did not pay off.
As of the moment, Young is out for eight weeks with a thumb injury, but given his infatuation with the three-pointer and shooting in general, his return to a Laker squad clamoring for offense outside of Kobe will be much-anticipated. We'll just have to wait and see how much Kobe and Byron will actually let him shoot, but knowing Swaggy, not even a couple of Laker legends will stop him from pulling up.
Small Forward: DeMar DeRozan
25 years old, 6th NBA season
Team: Toronto Raptors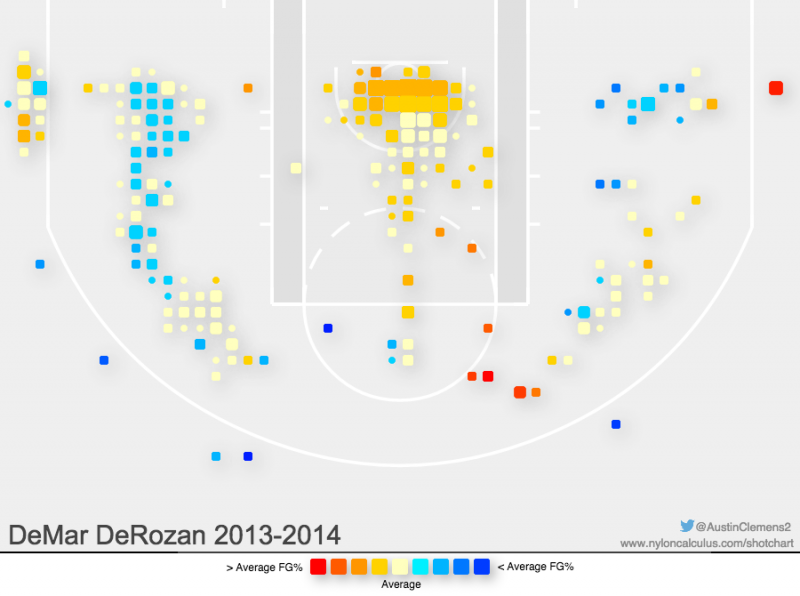 DeRozan has arguably been one of the best player to come out of USC in the past 20 years. His work in the Association has made him a breakout star and a consistent pillar of the Toronto Raptor's core. DeRozan has taken improving steps every year since he has been in the league, and despite the stoic shooting chart shown, last year he took the biggest step yet.
The 2009 USC graduate followed his one year stint as a Trojan by improving his offensive game every single year in the league. Though his chart doesn't stand out much, during the 2013-14 campaign, DeRozan averaged 22.7 points per game, nearly three times the number he averaged in his first season with Toronto. His shooting chart does show his above-average finishing around the basket, which helped make up for his mostly indifferent mid range game and had a diffect effect on his offensive output.
It was that scoring jump alongside a variety of other career-highs like three-point shooting and assists, which led DeRozan to his first All-Star appearance. Couple that with his strong Team USA performance over the summer, and DeRozan comes into this season as one of the leaders of a Raptor squad with much higher expectations. It will be interesting to see if the small forward can continue his upward trend, yet the Raptors are so deep and well-balanced this season that simply maintaining last year's performance could be more than enough.
Power Forward: Taj Gibson
29 years old, 6th NBA season
Team: Chicago Bulls
No shooting chart necessary.
I could show you Taj Gibson's shooting chart, but that would only belittle his actual role on his team, and make him look far less impactful than he really is. Truth is, Gibson makes his money on the defensive end. Yes, Gibson had his highest points-per-game average of his career last year, but at a mere 13 points-per-game, it was his defensive rating—Top 20 in the league among those who played 10 minutes or more— which helped a Rose-less Chicago squad become the second-best defensive team in the league.
Somehow, someway, the stingy, resilient core of Gibson, Joakim Noah, Jimmy Butler and of course Coach Tom Thibodeau that led the Bulls to the playoffs. They did it all without much offensive firepower, but this year, they've added great scoring pieces like Doug McDermott and Nikola Mirotic and a guy by the name of Derrick Rose is also set to make his way back into the lineup.
Gibson might even score less this year, but it won't matter. As long as his contributions on the defensive side of the floor remain as strong, Gibson will be one of the best defenders in the league, and an invaluable piece on a potential championship squad. There's no doubt that Gibson has the best shot at becoming the first USC alum since Gus Williams in the 70's to win a ring.
Center: Nikola Vucevic
24 years old, 4th NBA season
Team: Orlando Magic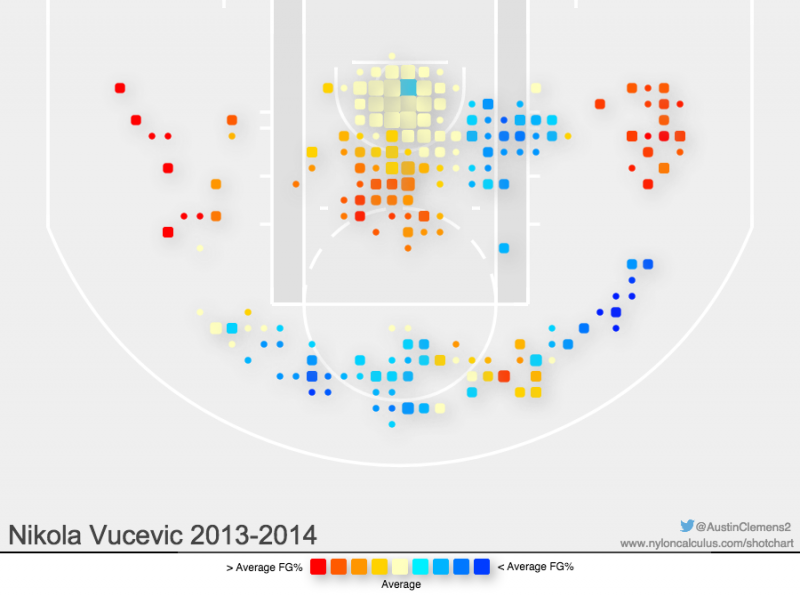 The big man from Montenegro is a rising star in the league. Though he's been "stuck" in Orlando for most of his career, Vucevic has the early makings of a successful big man.
The 7-footer (no, you still can't teach height) is a relentless scoring and rebounding machine. His total rebounding percentage was Top 10 in the league last year, and his scoring inside the paint (as seen in the chart) was among the most efficient as well. Vucevic doesn't just stay inside the restricted area, however, as he can clearly hit that short mid range jumpshot consistently from the side of the basket. This, coupled with his height and rebounding skills, stretches out the defense à la Lamarcus Aldridge, and simply makes those around him much more effective.
Vucevic had a very solid 2013-14 campaign, and all signs point to an even better breakout season this year. On a young, inexperienced Magic squad, the 2010 USC graduate could be one of the bright spots to an otherwise mediocre rebuilding season.
Bench
Center - Dewayne Dedmon
Speaking of the Magic, this 2011 USC grad went undrafted out of college, and has played for three NBA teams already, but this year, Dedmon has found himself on the Magic roster this year with his first guaranteed contract. Though the center is listed as the third-string big man, he has finally found a landing spot on a young team that will give him tangible minutes.
Coach - Brian Scalabrine
Yup, that's right. The White Mamba turned to coaching in 2012 after his short-lived greatness on the hardwood, and has found success as an assistant coach in CHicago, Boston and Golden State. Earlier this year, in LeBron-like fashion, he announced his return to Boston, where he won a ring in 2008, to become an assistant coach alongside Celtics head coach Brad Stevens. If only Scal could one day come back and coach the Trojans of So Cal...
Ladies and gentlemen, your 2014-15 NBA USC Trojans.
Reach Staff Reporter Paolo Uggetti here or follow him on Twitter.