Arts+Culture
USC Habitat For Humanity Builds Families A Better Future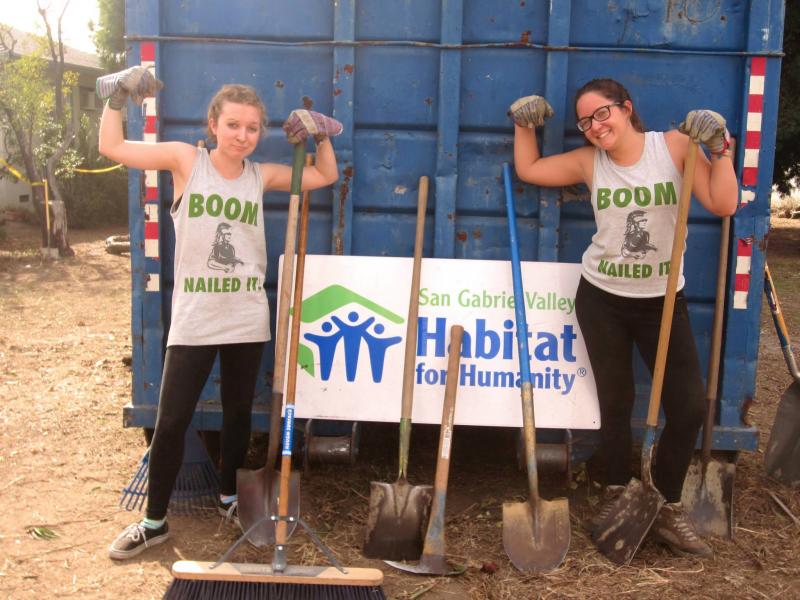 If you were to ask Tiffany Tse how she spends a typical Saturday, her response might shock you. This petite, soft-spoken Junior from Bangkok won't be found dozing in bed 'til noon like some USC students would on the weekend. Instead she's up at the crack of dawn, hammer in hand, ready to get to work.
Tse is the president of USC's chapter of Habitat for Humanity, and she has spent many a Saturday at one of Habitat for Humanity's "build sites" across L.A. She, along with other members of the organization, helps to build homes from the ground up for underprivileged families.
READ MORE: Los Angeles Bans Homeless From Living In Their Cars
Globally, Habitat for Humanity is dedicated to addressing and solving issues related to poverty and homelessness. Founded by Millard and Linda Fuller in 1976 and famously supported by President Jimmy Carter, the organization creates a partnership with low-income families to provide affordable housing in exchange for participation in their house's construction. In addition, their monthly mortgage payments go straight to building more Habitat homes.
Without the hard work of volunteers like Tse, Habitat for Humanity couldn't provide this service to struggling families in need of a home.
"Twice a month, our members head out to poorer parts of L.A. to build and renovate houses sponsored by Habitat for Humanity," she said. "We hold events throughout the year that enable our chapter to participate at these sites regularly."
The chapter contributes to both building sites and renovation sites run by "A Brush with Kindness," a Habitat affiliate that fixes up old homes for the organization.
Tse is particularly excited about the chapter's build schedule this semester because they will be returning to the same site for every visit.
"In years past, we were assigned random builds each week. With our consistent assignment this semester, however, we get to see our house progress from the ground up," she said. "It's really cool to see how the lot is progressing, knowing that I had a significant part in making that happen."
READ MORE: Helping L.A.'s Homeless Requires Challenging Conventions
Saturday, Habitat hosted a fundraiser on the front lawn of one of USC's fraternities, Zeta Beta Tau, as a way to develop awareness about their chapter and raise some money. For a five-dollar entrance fee, attendees could hang out on ZBT's lawn, have a slice of pizza, and work on craft projects provided by Habitat.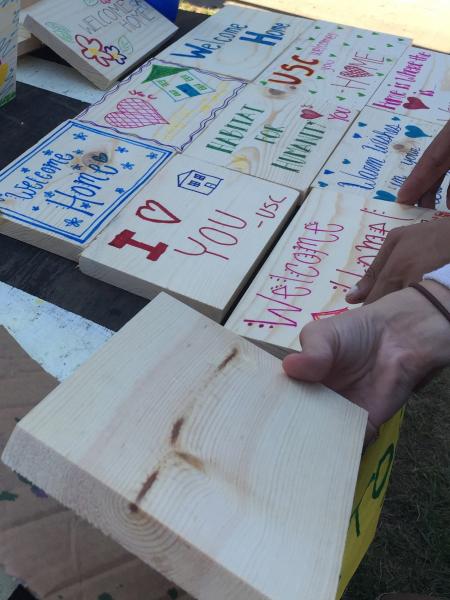 The main craft of the event was decorating plaques that would eventually piece together to form a table. The completed project will soon be given as a housewarming gift to a deserving Habitat family. The plaques said everything from "Home Sweet Home" to "USC Habitat for Humanity loves you," little sayings to welcome the family to their new home.
Sophomore Josh Albert, the Habitat fundraising chair, chose to hold the event on 28th Street to harness the Row's social environment.
"I decided to utilize the Row and really attract people to our event," Albert said. "When people are blasting music and hanging out, others want to join, and I wanted that atmosphere to introduce others to Habitat for Humanity."
The chapter also holds other social events throughout the semester for its members. Past events have included the Hollywood Hike and a weekend retreat to Big Bear.
In addition, USC Habitat sponsors an "Alternative Spring Break" trip each year. Sophomore Arielle Sitrick helped organize the trip last year to Maui. Although a Spring Break in Hawaii sounds like the epitome of a relaxing week, the 15 students who participated in ASB were hard at work every day of the trip.
"The local affiliate hosted our group at a local church. Each day, we'd wake up, head to the site, and do whatever task they threw at us," Sitrick said. "It was hard work, and the church was crowded since we shared the space with other ASB groups, but it was incredibly fun and rewarding."
This year, the group is heading to Alamosa, Colorado for their Spring Break trip. If interested, visit the USC Habitat for Humanity Facebook page or contact Tiffany Tse at [email protected].
Contact Staff Reporter Alana Bracken here and follow her on Twitter here.