Music
St. Lucia At The Fonda Theatre: Review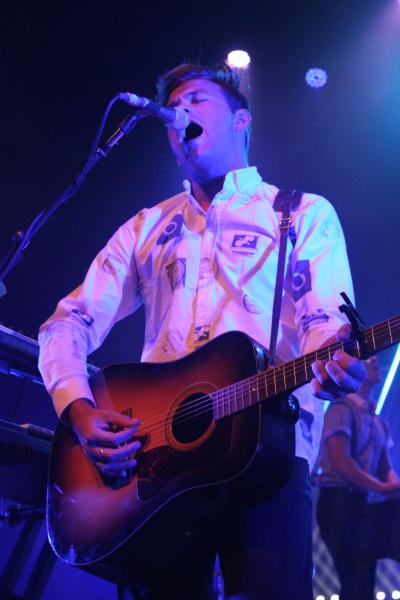 St. Lucia'
s show on Friday night was escapism set to music.
It took you to a new place, a different time, and was almost transformative in itself.
On their national "The Night Comes Again" tour, St. Lucia stopped by the Fonda Theatre to show Los Angeles their best show yet. Last opening for Ellie Goulding at the Palladium in 2013, the band has matured and allowed their music to flourish in originality and creativity since then.
Opening band Haerts set the mood for the evening, kicking off the night with pop-synth songs like "Giving Up" and "Wings." Haerts knows St. Lucia as more than just the other band they occasionally play with; Grobler produced most of Haerts' new album.
READ MORE: St. Lucia: Interview
St. Lucia began their set with the curtain parting, lights dimming and Lionel Richie's "All Night Long" pounding through the speakers. Anticipation was felt through the crowd, cheers began to form. Eventually, St. Lucia appeared.
Performing hits off their new album "When The Night" and their self-titled debut record, the band was almost like a drug to the audience. People were constantly dancing. Not just the awkward sway or the foot-tapping jive, but actually dancing with each other or even by themselves. They yearned for the music and it was given to them.
Lead singer Jean Philip Grobler was entertaining to watch alone. He is a man that truly feels the music, always playing the guitar and getting the audience involved. Grobler is joined by his wife, Patti, on keyboards, Ross Clark on bass, Dustin Kaufman on drums and synth pro Nick Paul (whom the crowd sang "Happy Birthday" to as well).
Standouts from the night included "Wait For Love," "Closer Than This" and "All Eyes On You." Not only was the show a load of fun to dance to and enjoy, but the production was also very amusing to watch. For example, there were cat eyes on the digital screen behind the band, intense drum solos and bright colors streaming throughout.
The band even played a few new songs to "test out" on the LA audience. A synth-laden song titled "I Wanna Love Somebody" was incredible. It had the same alternative, electronic beats as Flume with the vocals of alt-J. The crowd was invited to snap along and although no one knew the words, there was complaining because it was such an amazing song.
Returning to the idea of escapism, there's something about St. Lucia's music that reminds you of a place you have never been to before. This place is magical and mystical. However, there is something almost nostalgic; it reminds you of a place you've been to before, even if it's just in your mind. Perhaps it is because of the heavy synth or the soft vocals or the island vibe, but they're doing something right when it comes to making music original, daring and venturesome.
Reach Music Editor Jillian Morabito here.