Science+Tech
STEM Conference Aims To Encourage Women And Minorities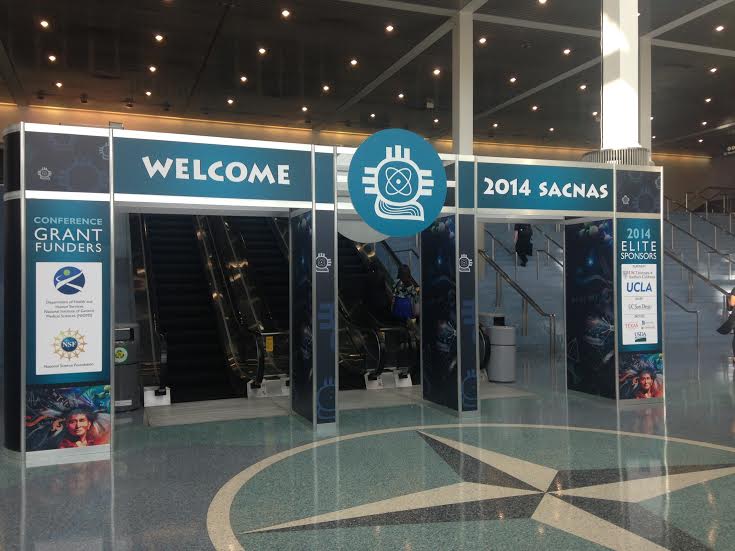 Nerds of the world, unite. Unless you're a minority or a female, that is.
The science and technology industry is overwhelmingly white and male, and the Society for Advancement of Hispanics/Chicanos and Native Americans in Science (SACNAS) is in Los Angeles this week in an attempt to alleviate that stiff statistic for future generations.
The conference, running October 15-18, offers presentations of research, travel scholarships, and an environment that attempts to offer support and foster growth for members of the Hispanic, Chicano and Native American communities throughout all stages of careers within science and technology.
In its 40th year, the conference couldn't come at a more pertinent time.
Demographics released by Google earlier in 2014 confirms that the company's diversity is underwhelming at best, and embarrassing at worst.
The tech giant admitted in the report that they have been "reluctant to publish numbers about diversity" and that they "now realize we were wrong, and it's time to be candid about the issues."
Experts like Professor Xu Guanlin, honorary president of Nanyang Technological University, Singapore, who spoke at Peking University in "an iconic high-tech area in Beijing otherwise known as the Chinese Silicon Valley" believe that science and technology are the driving forces of the global economy.
Because science and technology comprise fields that continue to grow in both size and relevance, it's important to look at the lack of influence minorities have on these areas. The lack of diversity in their hallways and think-tanks could affect people on a global scale, because the products being generated by a mostly-white, mostly-male population lack the insight and experience of millions of people they are distributing the technology to.
SEE ALSO: Griffith Park App For Kids Pushes Scientific Curiosity
Science and technology can't be influenced by a diverse group of people if none of the developers, computer engineers, or slew of other employees of major tech giants hail from underrepresented communities.
SACNAS describes itself as a "society of scientists dedicate to fostering the success of Hispanic/Chicano and Native American scientists – from college students to professionals – to attain advanced degrees, careers, and positions of leadership in science."
SACNAS also aims influence the face of science itself by contributing to and diversifying the scientific workforce in the U.S. Doing so, SACNAS says, can "result in an overall increase in the nation's scientific competitive edge."
Conference-goers like Azalea Martinez, a junior public health and pre-nursing at Oregon State University, believe that opportunities are looking up for minorities and women in STEM.
"It seems to be that there is a lot of opportunity for minorities in certain programs," Martinez said. "There's a lot of recruitment trying to bring those numbers up in the STEM programs."
A widespread problem
Unfortunately, it's difficult to increase the competitive edge of a blade that is reluctant to be sharpened. Google isn't the only company being put under a diversity-colored microscope. Earlier this year, major companies including Facebook, Yahoo and LinkedIn followed Google's lead in releasing statistics for their employees. The numbers are staggering.
In every one of these companies, men outnumber women 2:1. The workforce is overwhelmingly white, with the Hispanic population representing less than 10% of the employee population in every single company.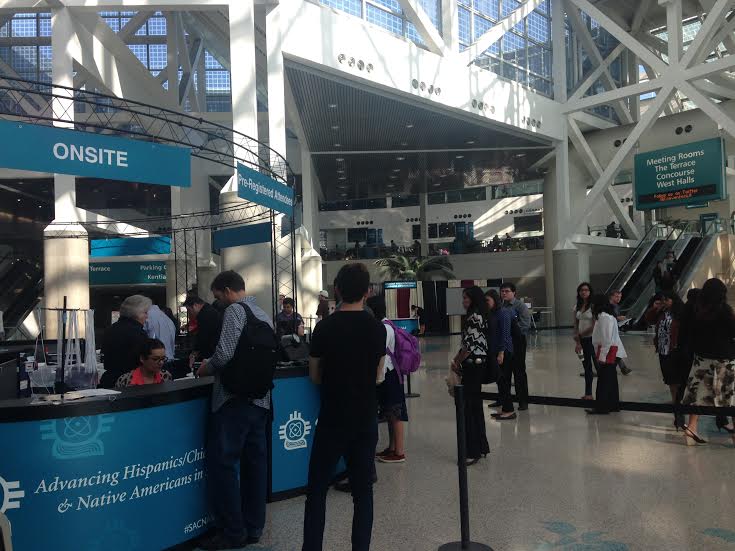 It isn't for a lack of interest, either. The days of the traditional "tech men" like the one in Weird Al's parody "White and Nerdy" are over. There are an abundance of multicultural men and women interested in breaking into the industry, but are unable to.
The pressing question then becomes, why? If there is a population of young scientific and technological minds willing and ready to break into this market, and a conglomerate of tech companies publicly promising to "fix their diversity problem," what is the issue?
"I think it starts very early," said Dr. John Matsui, Assistant Dean of Biology at UC Berkeley. "I think role models are very important, and if role models are lacking, people who look like us, and people with whom we can relate, then I think that is one bottleneck."
SEE ALSO: L.A. Cleantech Global Showcase Kicks Off
Some argue that pedigree plays a role in young professionals securing jobs after college in this booming industry. The notion of a young 'rags-to-riches' professional is the exception rather than the rule, in the up-and-coming world where STEM fields reign.
"I think that there are structural inequities in terms of how people are chosen to take part in lab research, as well as chosen for internships and so on," said Dr. Matsui. "GPA is the main criterion by many to judge a student by his or her suitability for research or for an internship, but GPA does not tell the whole story," Dr. Matsui said. "[This is] another situation where the playing field is uneven, where barriers actually get in the way of students pursuing their dreams."
Looking at the numbers
Reuter's conducted an intensive study on 88 companies in Silicon Valley that all receive substantial funding from one of the five top Valley venture firms between 2011 and the first half of 2013.
The founders starting up the companies that receive funding from these "power-house five" have all held significant positions at large technology firms, worked within a smaller firm that is well-connected, already successfully started up a company or attended one of the some of the most prestigious universities in the country: Stanford, Harvard, or the Massachusetts Institute of Technology (MIT).
These facts raise alarming red flags for people looking out for the underdogs – including those who are women, or members of underrepresented communities like the Chicano, Latino or Native American populations that organizations like SACNAS work to give opportunity to.
Unfortunately, data shows that women in pursuit of a computer science degree have declined on an undergraduate level since the 1980's. Equally as staggering are the low numbers of African Americans and Latinos pursuing the same degree.
In response, Google has increased its benefits, like extended maternity leave for its female employees, in an effort to curb the clear disparity between races and genders. The comapny has also gifted hefty donations to programs like the National Center for Women in Technology that encourage women to pursue a bachelor's degree in computer science. Still, more than 69% of Google's employees on a global scale are men, with no clear sign of slowing down.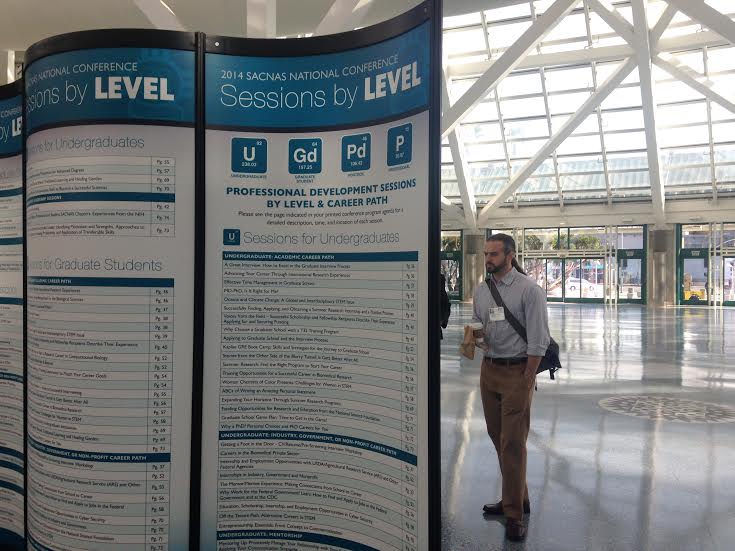 The central hub of technology
Even more importantly, Silicon Valley – widely regarded as America's "super-center" for everything from tech research and development to the marketing of compute products and software – still remains alive and thriving in Northern California.
Reuter's analysis looked at companies based in this area that were funded by Accel Partners, Andreessen Horowitz, Benchmark Capital, Greylock Partners and Sequoia Capital. Their analysis shows that the technological entreprenuers in this area are significantly more financially stable and more competitively educated than the general population.
It has even been suggested by research that knowing an entrepreneur personally can make an individual more likely to be an entrepreneur themselves.
SEE ALSO: Discoverer Of The 'God Particle' Awarded Nobel Prize In Physics
The concept of existing in a common network with other people is what Dr. Matsui says can be a major challenge for first-generation college students, or other students who have no one in their life to relate their work to.
"If your social identity maps onto what's going on in science – if family members are in science, if your friends and loved ones really are part of the science culture, then tehre's a one to one correspondence, and there's not a problem," Matsui said. "If you're first in your family to go to college [or to conduct] research…it's hard for parents, it's hard for family, it's hard for friends to really understand: Why science? Why research? Why pursue this as a career?"
Still, strides are being made to make long-term changes. An in-depth analysis conducted by Time Magazine at the end of July reported that Code.org, a non-profit organization supported by big names in tech like Mark Zuckerberg and Bill Gates, are attempting to imitate countries like China, Vietnam, and the U.K. According to the report, these countries currently enact a curriculum where classes for coding are offered in the early years – including elementary school – and as a result, the gender gap appears to be "negligible."
Reach Associate News Editor Diana Crandall here. Follow her on Twitter here.