Film and TV
'Play It Again, Dick' Episode 4 Recap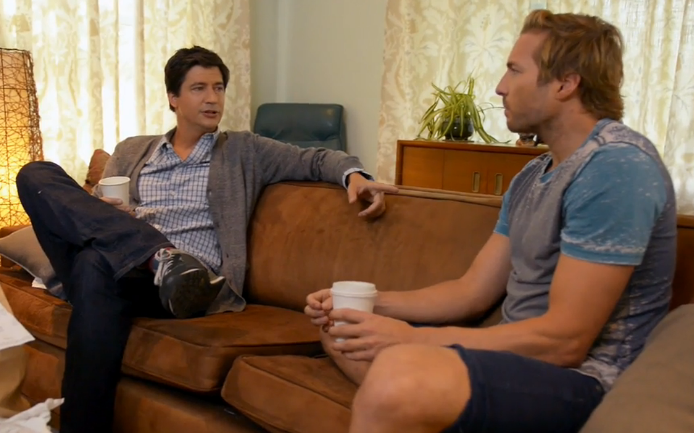 Ryan Hansen continues his quest to recruit the rest of the "Veronica Mars" cast for his spinoff in
episode four
, and one of this week's major guests is
Francis Capra
(Weevil Navarro).
Francis is still tattooed, but his persona doesn't give off a motorcycle gang leader theme. He sits on the couch with Ryan wearing all black, acting artsy.
READ MORE: 'Play It Again, Dick' Episode 2 Recap
He complains about Rob Thomas' portrayal of Dick Casablancas and says that he always though Ryan did a good job trying to portray Dick's sadness through his stupidity. Francis also says that Thomas made Dick look like "a cartoon character." He mentions that most of his roles have been playing criminals, one of which was on "Veronica Mars." He says he embraces playing criminals. Spoiler apert: Francis Capra is on board to do the show.
Ryan has some problems doing math when it comes to paying for takeout. The scene then shifts to our next guest, Ken Marino (Vinnie Van Lowe) sitting with Ryan discussing who's on board for the spinoff.
READ MORE: 'Play It Again, Dick' Episode 3 Recap
So far, Kristen Bell, Jason Dohring, Percy Daggs III, Enrico Colantoni and Francis Capra are in, and Chris Lowell is out. Ryan tries to persuade Ken to join, but he will only agree if he has a dance number accompanied by the Laker Girls, or if he's filming the show for the Internet. Their conversation is interrupted when Ken complains about music coming from another room. A man practicing a dance tells Ryan and Ken off and continues on with his rehearsal.
Ryan comes up with a martial arts scene in the show, which is about to be filmed in a few days. Ken Marino isn't convinced and tells Ryan that he sees him doing this on his own.
Till next Tuesday…
Reach Staff Member Tanya Mardirossian here. Follow her on Twitter.