Theater and Dance
'Pippin' Offers High Flying Thrills At The Hollywood Pantages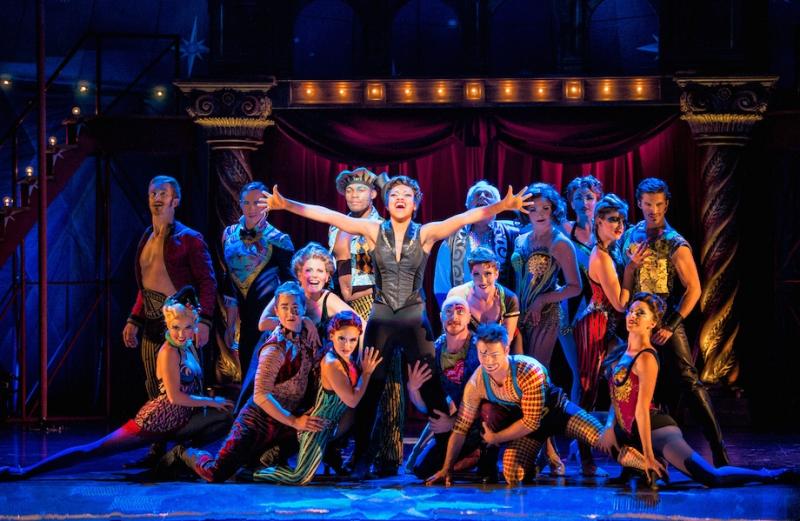 Since its debut at the Imperial Theatre on Broadway in 1972, "Pippin" has been a well-loved Broadway classic. Legendary choreographer Bob Fosse directed the show, which went on to win five Tony Awards and ran for nearly 2,000 performances before closing in 1977. Now playing at the Hollywood Pantages, Tony-winning director Diane Paulus ("Hair") revamps this Broadway classic.
The revival production of "Pippin" debuted at the American Repertory Theatre in 2012 before traveling to Broadway in 2013. "Pippin" went on to win four Tony Awards, including Best Revival of a Musical and Best Director of a Musical.
The show follows Pippin (Matthew James Thomas, who originated the role in the Broadway revival), a young prince and the son of Charlemagne (played by the terrific John Rubenstein, who originated the role of Pippin in the original 1972 Broadway production). Fresh from university and ready to prove himself, Pippin embarks on a journey to find his life's purpose that takes him to the battlefield, onto the throne, and into the arms of Catherine (Kristine Reece), a widow in need of a companion. Along the way, Pippin deals with his stepmother, Fastrada (Sabrina Harper) who absolutely kills her solo in "Spread A little Sunshine". Roger O. Hirson's book follows Pippin as he learns that one does not always need to live a life of glory to be happy and that it does not pay to always look for greener pastures.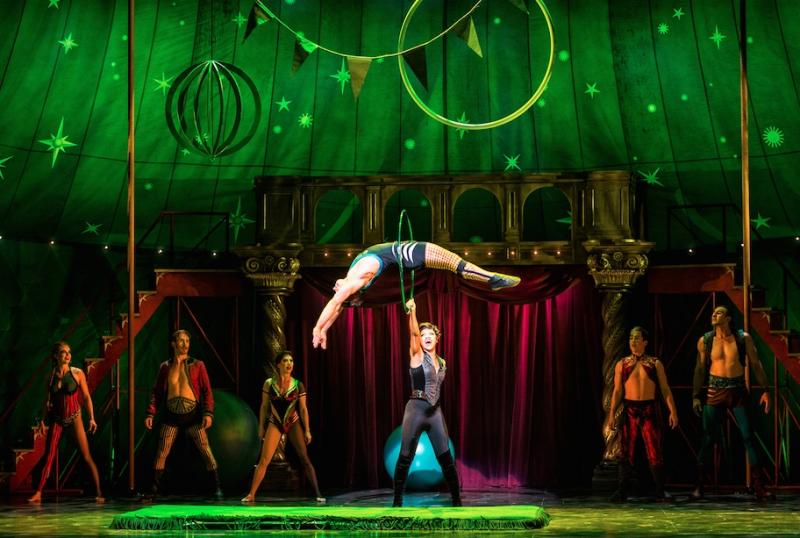 Chet Walker's Fosse inspired choreography and Gypsy Snider's circus creation give this revival more pep than the original production. Every number includes belief-defying acrobatics and every musical number is on point, particularly "Glory" and "Magic To Do." The only drawback is that the combination of vibrant sets, costumes and lighting combined with the attention grabbing acrobatics feel a bit overwhelming at times.
All things considered though, this is much better than boredom.
The incredible Andrea Martin (a two time Emmy and two time Tony Award winner) steals the show as Pippin's straight talking grandmother, Berthe, the role for which she won a Tony in 2013. Her sassy and saucy performance of "No Time At All" has the entire audience on its feet as the veteran actress performs daring acrobatics on a high flying swing with a shirtless male dancer. Stroking his chest the entire time and asking Pippin to "live a little," Martin is the coolest grandmother ever.
As the Lead Player, the role Ben Vereen originated and won a Tony for, Sasha Allen (NBC's "The Voice") sizzles as the sassy showrunner. Guiding Pippin through his journey, the Lead Player controls the action of the company's dancers. Allen's powerhouse vocals and slick dance moves make her the coolest character in the whole show.
SEE ALSO: Oh, What A Night With 'Jersey Boys' At The Pantages
Thomas is great as Pippin, delivering a believable and endearingly boyish performance. Although at times he seemed vocally outmatched by his costars, he plays his part with the perfect mixture of braggadocio and bashfulness. Thomas reads the audience well and induces lots of laughter with his well-timed comedic bits, including dancing off key and several wisecracks.
This production of "Pippin" should be seen by everyone. Nearly every opening night audience member was on the edge of his or her seat as the company members performed miraculous acrobatic feats that made jaws drop. Tony Award winner Scott Pask's sumptuous set design and Tony Award nominee Dominique Lemieux's beautiful costumes add to the razzle dazzle of the whole affair, which really elevates the production to new heights.
This revival features far more color and is bigger and louder than its predecessor, but still has what makes the original so great: great songs and a relatable and engaging story.
"Pippin" is playing through November 9 at the Hollywood Pantages (6233 Hollywood Boulevard, Los Angeles). Tickets start at $25. For more information visit HollywoodPantages.com
Reach Web Producer Helen Carefoot here and follow her on Twitter here.
For more Theatre and Dance coverage click here.