Film and TV
Nicholas Sparks Must Be Stopped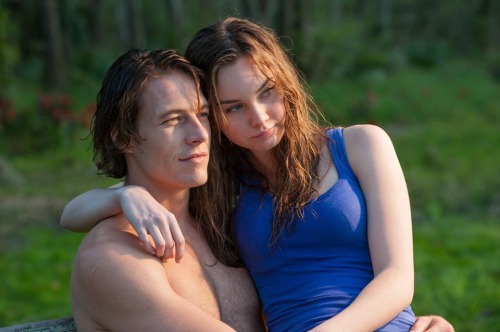 Don't get me wrong, I'm a sucker for a good romance and I have nothing against Nicholas Sparks or his novels. Except for the fact that they keep getting made into movies that are essentially the same basic storyline with a few circumstantial differences.
Perhaps it's because the era of Nicholas Sparks movie adaptations began at the beginning of my tweenhood where they, at a very formidable age might I add, set the unrealistic standards for my potential love life. My (and many others') teenage lackluster world of nonexistent romance come with great disappointments that Ryan Gosling didn't profess his love for me with a house.
It's come down to the idea that once you've seen one movie, you've really seen them all. First, they all take place in the South (primarily in the Carolinas). Second, the two main characters typically come from two completely opposite financial worlds. Third, There's always something quite dramatic happens (like someone dying) or a disapproving parent somewhere along the way. Need I go on? Oh wait, there's a rain scene in all his films.
I think every girl in my generation can say that these novel adaptations started with growing popularity with "A Walk To Remember" (2002), hit their peak at "The Notebook" (2004), and continues on with a few pretty good blockbusters and now we have "The Best of Me" (2014) (note: this is not the first time we've seen James Marsden in a Sparks movie, but the first time he takes the front)
With all that being said, it's no secret that after getting such a huge success with his novels becoming movies, he now writes his novels with the idea that they'll be made into films (does that devalue the quality of his writing?)
Here's a ranking of of Sparks' movie adaptations.
"Message in a Bottle" (1999)
I was five when this movie came out, and I don't know anything about the book. But can I speak for everyone when I ask, "Who remembers this movie?"
"Nights in Rodanthe" (2008)
I have never seen this movie but I don't remember there being any hype about it. All I remember is that it involves two older people. Parents reconnecting are great, right? But meh for a movie about an estranged spouse. It's definitely not a movie for the younger generation.
"Safe Haven" (2013)
This movie got a lot of hype, but the idea of it just doesn't sit well with me.
"Dear John" (2010)
This is probably when the casting directors of these movies realized they get a lot more success by having some beefy actor fall in love with a beautiful girl. A Soldier going away to fight is pretty cliché though, no? And thus begins the story of the one that got away.
"The Lucky One" (2012)
A[nother] soldier survives a battle and puts that all on a photograph of a woman. Somehow he manages to find her and they fall in love with each other. Someone tell me that's not weird. But at least we get a hunky Zac Efron out of it.
"The Last Song" (2010)
I miss this wholesome Miley. But I actually find this movie to be entertainment since it goes along with Sparks's theme of the teenage summer romance. I think using Cyrus's musical talents was a little too obvious, but other than that, it was quite cute, especially the scene of shopping for a dress.
"A Walk To Remember" (2002)
As I said earlier, this was the start of Sparks's movie success. The story is just so sweet, I actually cried from this movie. This movie also set the notion that a bad boy could potentially become good all in the name of love.
"The Notebook" (2004)
I can't say this is the greatest romance movie of all time, but the chemistry between McAdams and Gosling is so beautifully natural it's no wonder they ended up dating in real life. Of course this movie embodies every Nicholas Sparks cliché I've listed, but for some reason they work all work well in this film. I love to watch this movie.
On a different note, it's also worth mentioning that Nicholas Sparks is being sued for racism and anti-Semitism. Read more about it at Times of Israel.
Reach Film Editor Dale Chong here. Follow her on Twitter here.