NFL
The NFC East: The Great, The Good And The Really, Really Bad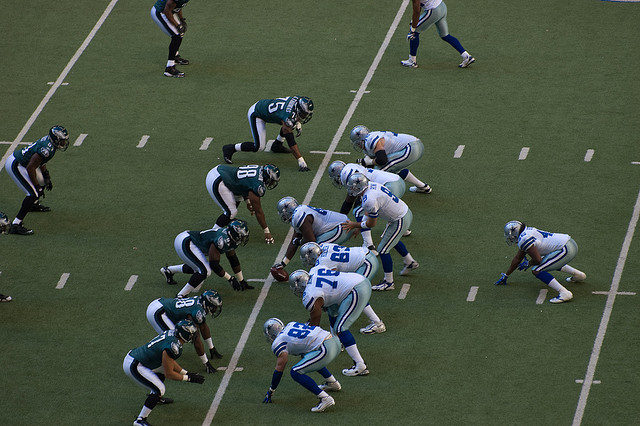 So what exactly qualifies an "NFL expert" as an "NFL expert"?
Just about every NFC East prediction and storyline made by the "NFL experts" about Week 6 of the NFL season could not have been more wrong.
The Dallas Cowboys continued their winning ways by stunning the Seahawks in Seattle, a feat that hasn't been accomplished by any non-NFC West team since 2011.
After expectations of a shootout from two offensively explosive teams as of late, the New York Giants laid an egg, getting trounced by the Philadelphia Eagles at home.
And the Washington Redskins... well, nevermind.
As the halfway point of the NFL season looms, the NFC East has certainly established itself as one of the stronger (if not the strongest) divisions in football this season. The Eagles and Cowboys are two of only three teams to possess five wins up until this point in the season. Though they put on a deflating performance this past weekend, the Giants still have shown glimpses of promise. And as pathetic as Washington has been, they still don't remain in the same sentence as winless, decrepit Oakland and Jacksonville.
After Week 6, it appears as if the NFC East hierarchy has begun to pan itself out.
Philadelphia Eagles (5-1)
The defending NFC East champs have come out of the gate flying this season, but not in the same fashion that most "NFL Experts" predicted. After a dominant 27-0 defeat of the New York Giants on Sunday, running back LeSean Mccoy racked up what has been his only 100+ yard rushing game of the season. Many expected Chip Kelly's high-powered, fast-paced offense to be leading Philly back atop the NFC East; however, LeSean Mccoy's early season woes and Nick Fole's underwhelming performance (already throwing five more interceptions than last season) can not take much credit for the Philly's hot start.
Great play by the Eagles' D in big-time moments and Darren Sproles' explosiveness have been keys to Philadelphia's success thus far. If this weekend was any indication, Philly's offense may finally have clicked. And if that's the case, beware the Birds.
Dallas Cowboys (5-1)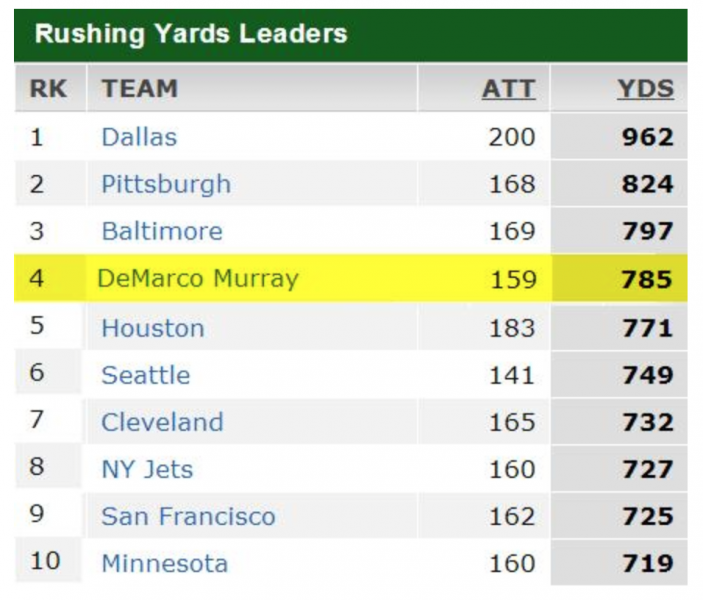 The biggest surprise in the NFC East, and possibly the NFL, thus far has been the huge success of "America's Team." After losing Pro-Bowler DeMarcus Ware in free agency and entering the season with many glaring gaps on defense, the Cowboys stellar offense has seemed to quell any defensive woes.
The Boys' hot start has come in large part to NFL leading rusher, DeMarco's Murray's MVP-caliber performance. In fact, if Murray was categorized as his own team, he would rank fourth in the league in rushing yards through the first six weeks. After a shaky season opener against the 49ers, the Cowboys have caught fire, winning five straight. Due to Dallas's recent play, Jerry Jones' grin is looking as big as Texas and head coach Jason Garrett's seat doesn't appear too hot as Dallas sets its sights high this season.
New York Giants (3-3)
With the Giants' brutal upcoming schedule, New York will be lucky to come out limping rather than dead. After it appeared the team had finally clicked behind OC Ben McAdoo's new scheme, the Giants' offense could not have looked any more miserable this past Sunday against the Eagles. The offensive line was abysmal, Eli Manning looked like he was ready to curl up into the fetal position and Victor Cruz suffered a season-ending knee injury, as if things weren't bad enough.
While this past weekend certainly wasn't promising, if there has been any pattern for the Giants under Tom Coughlin, it has been the ability to rebound after a slap to the face. If Big Blue is going to have any chance at the NFC East, a big win on the road must come against Dallas this coming Sunday.
Washington (1-5)
When RGIII suffered what appeared to be a devastating knee injury early in the season, I predicted that Griffin III's absence would pave the road to success for Kirk Cousins. Like most "NFL experts," I appear to have been wrong.
Griffin III and Cousins both suck. In fact, the Redskins have been so woeful thus far, there has even been talk of benching Cousins in favor of third-string QB Colt McCoy. Already four games back from Philadelphia and Dallas, Jay Gruden's first year at the helm of the Skins appears to be a flop. Barring a seven-game win streak into the playoffs a la 2012, the Redskins might as well kiss their season goodbye. Maybe a name change is in store to garner some luck in Washington.
Contact Garrett Schwartz via e-mail and follow him on Twitter.