Politics
MIDTERM WATCH: Can Democrats Hang Onto California's 7th District?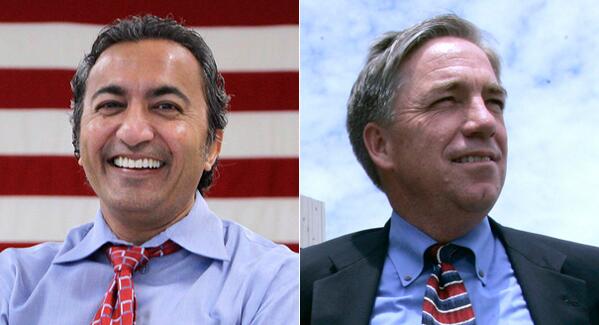 For Marie Hall, the owner of nine farmers markets in Sacramento, CA, the local government needs to make some changes.
Hall is the founder and executive director of BeMoneySmartUSA, a nonprofit that runs nine farmers markets in the greater Sacramento area and provides entrepreneurial and financial education and training to young adults. She says she has come across difficult times as an entrepreneur. Because of high costs in taxes, licensing, and permits, she says, "California is one of the worst states when it comes to running a small business."
As the ongoing congressional race nears its November vote, Hall's main concern is the cost of sustaining her business. "I'm looking for the politician who's going to work toward minimizing costs in taxing, licensing, and permits to allow the small business person to get ahead."
Small businesses are a key topic in California's District 7, in both Democratic Representative Ami Bera's and Republican Doug Ose's campaigns. Bera's campaign has focused on improving small business' access to capital, supporting tax credits, and eliminating unnecessary regulations. Ose's campaign focuses much more directly on tax cuts for small businesses. This is why Hall says she is leaning Republican for this election.
"I usually am right down the middle, but I'm leaning that way because of taxes and because I think we need less government in our daily lives," she explained.
Hall also says she simply would like to see a change from the current system. Recent developments, including healthcare reform, have not always had desirable outcomes for small business owners in terms of the costs of business. "What we thought would change for the good has only been good for a certain percentage of the public."
Hall believes the government could learn a thing or two from small businesses about properly allocating the resources of time and money. She says the government spends too much on programs that enable people to remain economically depressed, and not enough on education that helps people create their own sustainability.
As far as the likely outcome of the election, according to Professor Wesley Hussey of Sacramento State University's Political Science department, it's Bera's race to lose. He polled 47% in the primary election, leaving him in very good standing for November. But the Democrats will likely not retake the House this year.
"It will be much better for Democrats in 2016. Democrats do better in presidential election years," said Hussey. "Presidents typically lose a lot of seats 6 years into their term."
After these next couple of years, the future of Democrats in the House is optimistic. Hussey continued, "If Bera can survive his first reelection campaign, it will get a lot better in the future for him. It'll discourage Republicans from presenting him with serious challengers in the future."
According to Ose's campaign manager, the combination of both parties and all outside groups will spend an expected $15 million on this race. Bera is campaigning from Washington, D.C., and Ose is out knocking on doors and making phone calls. Television ads for both campaigns this year began before Labor Day, which is much earlier than usual.
As campaigning continues into November, it is clear that both parties are doing everything necessary to get exposure and to convince voters like Marie Hall, who is not enchanted with the current government, to swing in their direction.
Reach Staff Reporter Ciara Lunger here.