California
Los Angeles City Attorney Promotes Gun Safety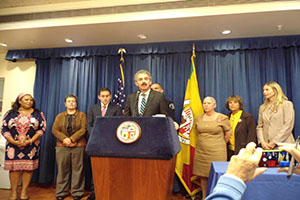 Due to shootings at schools, the Second Amendment is now a threat to students. After the fatal events that took place at Sandy Hook Elementary school and University of California Santa Barbara, the right to bear firearms has been under scrutiny.
Last May, Leah Wilcken took her son to school. He had a .45 caliber semi-automatic handgun in his backpack and seven rounds of bullets to complement the handgun, according to the offices of Los Angeles City Attorney Mike Feuer. The son told another student who told the police.
"Think how brave the other student was," Feuer said at the press confrence.
SEE ALSO:Mom Charged After Teen Son Allegedly Brings Semi-Automatic Handgun to Van Nuys School
The Los Angeles Police Department officers went to the home of Wilcken with a warrant and found four more firearms, including a .44 magnum revolver and a side-by-side 12 gauge shot gun.
"When the LAPD gun unit went to the house, among the locations in which they allegedly found weapons was in the kitchen cabinet." said Feuer.
None of the guns had locks on them, nor were they kept in a secure place, according to Feuer. The offices of Attorney Feuer pressed charges against Wilcken. This case is the first of its kind in the offices.
"There is a law in the state of California that requires weapons to be safely stored," said Feuer. "The failure to do so has raised to the prosecution like that which we're doing today."
In the wake of what could have been a tragic event, Attorney Feuer, along with the organization Women Against Gun Violence, has implemented ways to promote gun safety.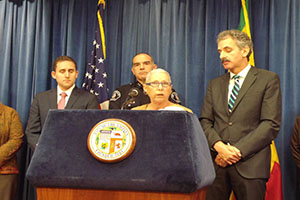 Women Against Gun Violence
is an established organization that teaches communities the importance of conflict resolution and gun safety.
"We work to end gun violence in our communities, we've done that for twenty years and we were actually called to Washington DC after Sandy Hook to contribute our best practices for a national solution." said Margot Bennett, the Executive Director of Women Against Gun Violence.
The organization started off by connecting gun violence survivors with policy makers; now that method is practiced throughout the United States. Their initiatives include youth workshops and adult workshops. Their newest program is the TALK project: Talk with your friends about guns; Ask you family, friends and neighbors if their guns are locked up; Lock your guns up safely and securely and Keep our children and communities safe.
"We can't take full responsibility, but certainly during the twenty years that we've been around, gun violence in Los Angeles and in California is down by fifty percent," said Bennett. "Of course we can't take sole responsibility for that, but our partnerships, our long lasting partnerships with City Attorney Feuer and other city council and state legislatures has led to some really meaningful legislation."
The TALK project is a program that encourages parents to communicate with their neighbors and children about fire arms and safety.
"We are specifically going to the parents of elementary school children in greater Los Angeles because we want to start early to affect long-lasting behavioral change." said Bennett.
Feuer wants to educate communities with the hopes that this will be a proactive solution to the problem.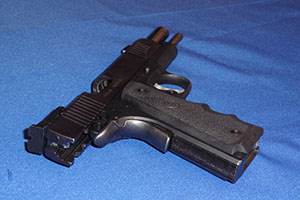 "Prosecution of the matter is an important, effective strategy. But it is not nearly as effective as preventing the problem in the first place. Hence the importance of the collaboration with Women Against Gun Violence and others," he said. "You bet I want to send a message of this today. Let's prevent tragedies by having parents be alerted to the necessity they see here in their guns."
Both Bennett and Feuer are very concerned with the student safety because they have children that could be effected by armed student at a school.
"I'm a parent and the thought that I can't send my child to school because of the fear of guns or the concern that perhaps a neighbor, where my son is going to play may not have their gun locked up, that moves me," said Bennett. "And I think it moves every parent."
Follow Staff Reporter Amanda Scurlock on Twitter here.