Arts+Culture
'Literary Mayhem' At 2014 NoHo Lit Crawl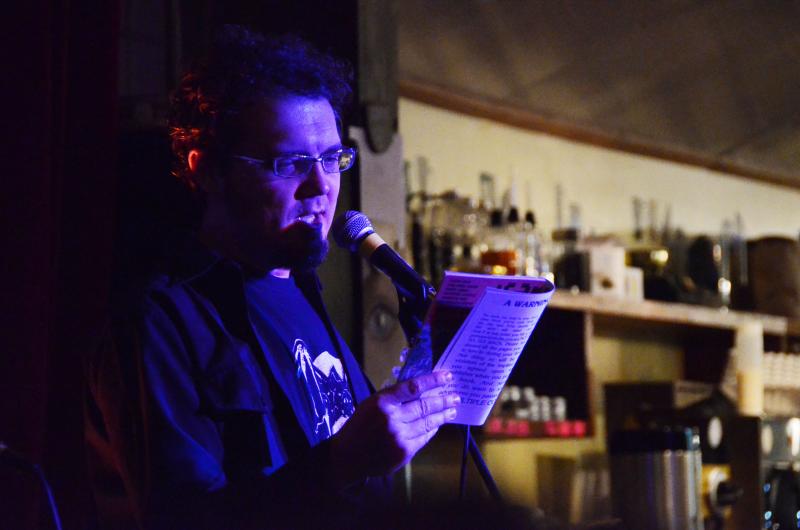 "If you want to dismiss Billy's childish nonsense and enter the arcade yourself, turn to page two," Lee Keeler read under the blue lights at
The Republic of Pie
in North Hollywood.
"If you want to laugh in Billy's face and say, 'I think that last wiener you ate must have poked you in the brain because that's about the dumbest crap I've ever heard, now get into that arcade before I slap the jowls right off your fat face,' turn to page 12. If you want to listen to Billy's dire warning and return home for the evening, turn to page 13."
"Boo," a member of the audience yelled.
The restaurant filled with screams for Keeler to let them laugh in Billy's face.
"Page Twelve! Twelve!" they cried.
Keeler complied and took the audience through "Night at the ARRRRR-CADE," an interactive story in which the reader decides the fate of Billy, the protagonist, by selecting from several alternatives at each turn.
Keeler is a part of The Devastators, a comedy publisher that had multiple readings at Lit Crawl in North Hollywood on Oct. 22. Lit Crawl is an annual event that transforms an ordinary bar crawl into a night of "literary mayhem." For the second year, NoHo's streets, businesses and metro stop were transformed into spaces where hundreds of writers read their work.
"It's literary mayhem because we have so much happening in one night, it's seriously head-turning," said Rosalind Helfand, co-founder of Lit Crawl LA: NoHo.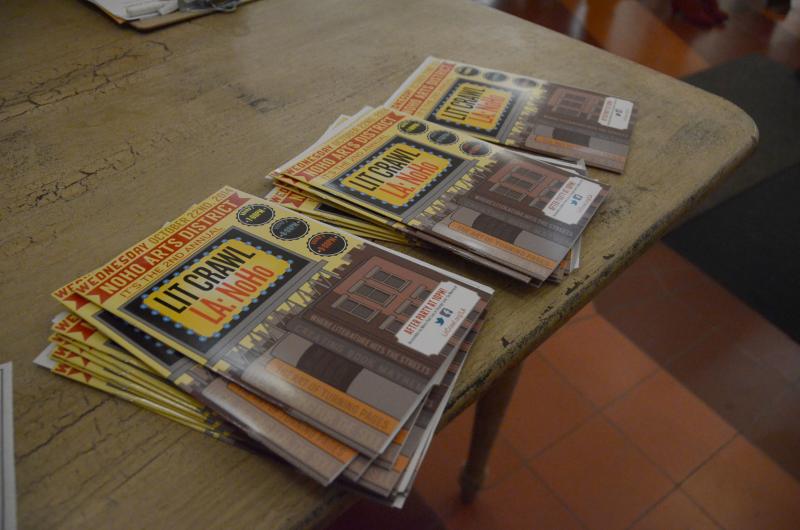 "Our first round at 7 p.m. has 13 events to choose from, and they're all great. It's a Crawl, so we don't expect everyone to sit down at just one event until it's done. We're hoping people will be running along trying to catch a glimpse of everything: mayhem."
Lit Crawl is not your typical literary event. "It's a night where pretty much anything goes and all forms are accepted," said Helfand. "We've got a few presentations that fit your more typical reading format, but imagine poets giving wild readings outdoors with drums and lesbian writers reading about guns in a movie theater lobby."
The Lit Crawl phenomenon began in 2004 at San Francisco's Litquake literary festival. Every year it expands, and annual Lit Crawl events happen in Manhattan, Brooklyn, Seattle, Iowa City, Austin, Miami, London and Helsinki.
Last year was L.A.'s first year of Lit Crawl. Over 2,000 people attended the event. This year the event was larger, with 34 presentations instead of last year's 22.
First time Lit Crawl-er Mark Miller came to the event because he is publishing his first book, an autobiographical collection of stories called "500 Dates: Dispatches from the Frontlines of the Online Dating Wars" next February and wanted to get "good writing in his bloodstream." He knew some of the writers who were presenting and liked choosing which events to attend, as well as talking to the performers.
"I think [Lit Crawl's] very successful. I think it's great. It's one of the reasons I love Los Angeles: because they have things like this," said Miller.
He's a regular attendee and performer at other readings that take place in single locations with usually one presenter. He said the scale of Lit Crawl is what sets it apart.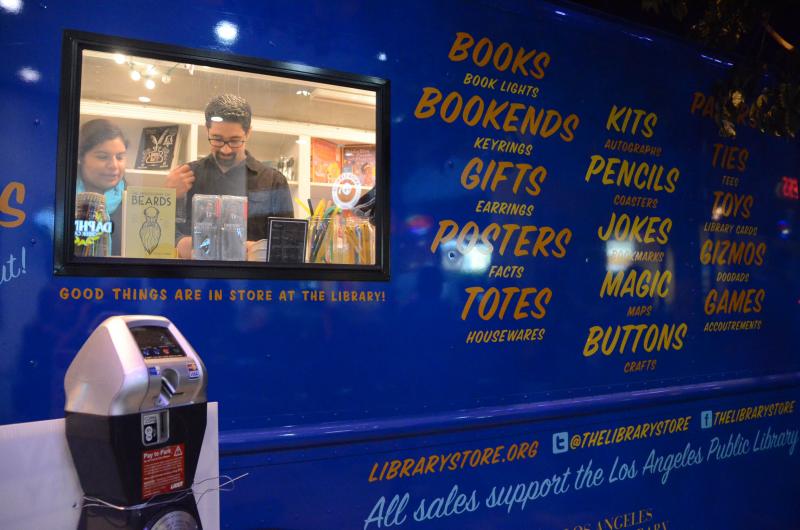 "This is like a smorgasbord," said Miller. "It's a whole festival of events in different locations, so it's a really nice introduction in a short amount of time. In three hours you can experience many different kinds of writing and performing."
Roberta Romero, a lead volunteer for Lit Crawl, goes from venue to venue to make sure each location has what it needs to keep the program going. She also is a first-timer, but feels like she belongs.
"It's been a really positive experience," said Romero. "Everybody who is a lit lover, reader or book lover is here, so it's kind of your people, your tribe, my people, my tribe."
Helfand, co-founder of the Crawl agrees. "The Crawl really puts the focus on just how amazing the literary arts in L.A. are," she said. "This is truly a city of artists, and bringing them together to take over an Arts District for the night makes it impossible for L.A., or the world, to think of our town as anything other than an incredible center for the arts."
Arlene Haasis came to the first round of the Crawl to see her friend, Joseph A. Levy, read with a group of LGBT seniors. It was the last time the group would read together. In the chaos of the Crawl, Haasis accidentally attended a different reading instead: "Voices from the Valley," by writers from California State University, Northridge at Gallery 800 at The Historic Lankershim Arts Center.
"It was excellent, excellent," she said. "I do a lot of writing, but not on this level. It was so visual. It was beautiful."
Haasis said she is now considering taking a writing class at CSUN.
One particular piece stood out to Haasis: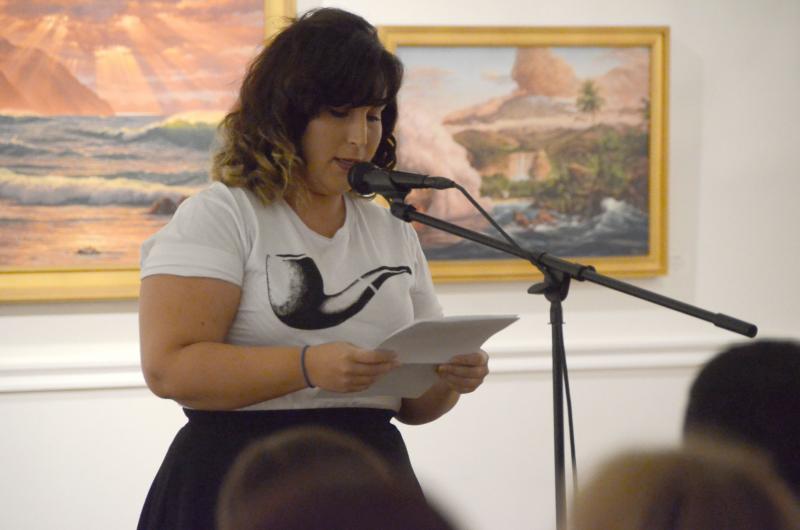 Gina Srmabekian's "Heirlooms". "It was outstanding and it went on and on," said Haasis, mentioning how the piece went back and forth between sharks and teeth and gold. "It was beautiful. You could picture every word she was saying. It was just like bursts of energy and pictures."
Srmabekian likes the openness of Lit Crawl compared to the smaller, more closed-off readings she typically goes to.
"It's like a choose-your-own adventure," said Srmabekian. "You can go and get to know all the people in your own community, and the most important part of Lit Crawl is, of course, getting to know other writers and networking and supporting each other."
She added that even though her department at CSUN is small, there is strong community there that parallels the larger writer community.
"The whole room was packed with people who are there to support each other, because that's what we're taught to do," she said. "I think the thing I like about it is [that] the people who we look up to are here to listen to us, and the next generation is also here to get what they can get out of it."
Contact Staff Reporter Hillary Jackson here.