Los Angeles
LAUSD's Graduation Rate Didn't Increase 12 Percent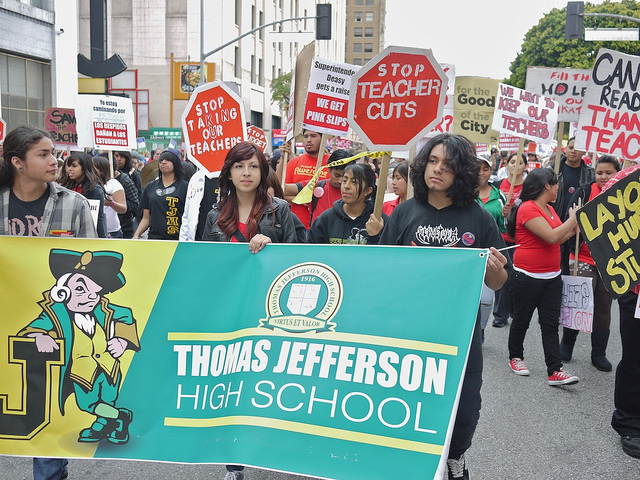 Late last week,
Los Angeles Unified School District
announced a remarkable
12-point jump
in its graduation rate, from 65 percent in 2013 to a preliminary 77 percent for the class of 2014. For a district frequently criticized for mismanagement and its recent struggles surrounding both its
failed iPad program
and a court order to fix its troubled
MiSiS scheduling system
, the dramatic uptick in graduation is undoubtedly good news.
The jump represents a contradiction to several prevailing notions about the district, notably how many of its higher achieving students have been allegedly siphoned off by a flurry of charter schools, like Green Dot Public Schools, popping up across the District's jurisdiction.
Additionally, a prolonged rate increase also becomes more difficult to maintain as well, given LAUSD's continuous yearly graduation rate increases since the district switched to its current tracking system in 2007. The numbers LAUSD released indicate difference—a sustained change over time indicating genuine change L.A.'s public schools.
"This is a historic high for L.A. Unified," said Superintendent John Deasy in a press release. "The preliminary rate does not factor in students who completed their requirements in summer school, and have also graduated. I expect the rate to grow."
LAUSD's summer school program offers students who received a D or F in a required course to graduate to make-up that course, and graduate without needing more remedial work. Given that many of these students will successfully make-up their courses, more students in the class of 2014 will ultimately graduate.
The rate increase isn't, however, without critics, who point to LAUSD's omission of several 'option' schools from its preliminary numbers.
Option schools, also known as continuation schools, are schools the district operates to help students who are at-risk of not completing their graduation requirements. Differences include smaller class sizes and more faculty attention.
Options schools also have a significantly lower graduation rates than traditional senior high schools.
For example, North Hollywood High School had a graduation rate of 83.5 percent, according to numbers the district released with the press release. The rate at Amelia Earhart High School, the continuation school on North Hollywood's campus, was 24.5 percent.
READ MORE: LAUSD Superintendant Survives iPad Fiasco
Graduation rates are challenging to calculate, given the multitude of moving targets involved in public education.
"People move in and out of the district, kids complete credits during summer school, some kids show up once and then never come back, or there are different schools set up for students who might not even graduate" explained Lisa Garcia, Director of Outreach Projects at the Pullias Center for Higher Education.
She continued, saying how "there's lots of space you can use to manipulate the numbers to tell different stories of how schools are working, or aren't."
When comparing a district's true progress compared to its previous year, it's generally best to wait for the California Department of Education to release its numbers—providing a standard consistent year-to-year and district-to-district.
"Unlike the districts, we have the ability to track students as they move around statewide—whether they transfer districts, enter the military, etc," explained Tina Jung of the California Department of Education. "LAUSD released preliminary numbers, but I can't speak to how they compare to last year's because I'm not familiar with the metrics they used to calculate."
Jung added that the state's calculations are usually released in the spring or early summer of the following year.
READ MORE: LAUSD Admits To Destroying Child Abuse Evidence
Factoring in all schools across the district, LAUSD's graduation rate drops form 77 percent to 69.6 percent, using data released with the press release. For context, California's statewide graduation rate in 2013 was 80 percent.
Although 69.6 percent is less than the rate the district publicized, it is still higher than the 68.1 percent rate the California Department of Education recorded for the 2012-2013 school year. The 69.6 percent value still also doesn't include data from students who graduated after summer school.
So, good news—the district's graduation rate is still increasing. It's just not as dramatic as the press release declared.
READ MORE: Classroom Frontlines: A Special Series On L.A. Public School Teachers Making A Difference
Why is LAUSD's rate increasing? It's hard to tell, but some educational professionals point to the greater autonomy the Deasy administration has allowed principals to operate with. Instead of enacting sweeping policy, the district allows schools to problem solve in their local contexts.
"The school's more-or-less autonomous and the district 'takes credit' for the work done in schools. The district can say 'look at what a good job' we've done but I don't think the organization could explain exactly what's going on," explained Julie Slayton, an associate professor of Clinical Education at USC's Rossier School of Education who also worked for a decade as a researcher in LAUSD.
Slayton continued, "I'd be hesitant to credit the institution as a whole. The principals are ultimately the leaders of these small cities, and they're managing schools at the local level. For high schools that can look very different from school to school."
In essence, this means that while both North Hollywood High and Jefferson High both saw a rate increase of about 9 percent, the tactics used in the South Valley are likely very different than in Central Alameda.
Reach Senior Reporter Matthew Tinoco here, and follow him on Twitter here.