USC Sports
Kostas Genidounias Leads Trojans To Victory Over UCSB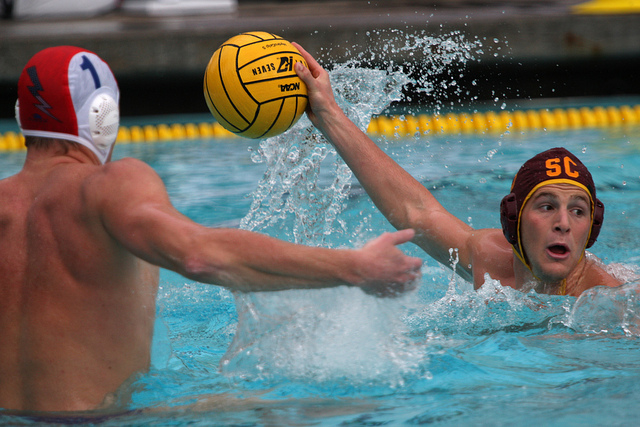 The No. 4 USC Men's Water Polo (12-2) team took to the pool Saturday at the Uytengsu Aquatics Center and put together in a convincing 14-5 win over the No. 5 UCSB Gauchos (8-4) in the Trojans' home-opener.
Senior Kostas Genidounias led the Trojans with three goals in the win moving him into second in career goals at USC with a total of 223 goals.
Genidounias moved past Juraj Zatovic on the all time scoring list with a two-meter penalty shot with a minute and 56 seconds left in the second quarter putting USC up 8-2 over the Gauchos.
After trailing 0-1 early in the first quarter, the Trojan went on a hot streak recording seven straight goals on the Gauchos. One more goal was all that UCSB could muster thanks to freshman goalie MaQuin Baron's 10 first half saves in the game. The Trojans were up 9-2 at the half with all nine goals scored by different players.
USC took advantage of the 13 exclusions called on the Gauchos, scoring six goals off of the miscues and three goals that were scored right after exclusions ended. Four of the Gauchos' five goals were scored during the Trojans' nine exclusions. Kevin Cappon led Santa Barbara with two goals in the game.
Freshman goalie MaQuin Baron recorded a game-high 12 saves in the win only, giving up just five goals. True freshman Grant Stein had two goals for the Trojans while nine other players contributed to the Cardinal and Gold's cause.
The game was a rematch of the Trojan 12-7 win over the Gauchos in the Kap7 tournament in Stockton two weeks ago.
The Men of Troy will look to avenge their losses to UCLA and Berkeley during the Kap7 this weekend as both teams will be present at the SoCal Tournament in Westwood this weekend.
Reach Staff Reporter Alex Yeoman via e-mail.