USC Sports
How Does Sark's First Year At USC Compare To Carroll And Kiffin's?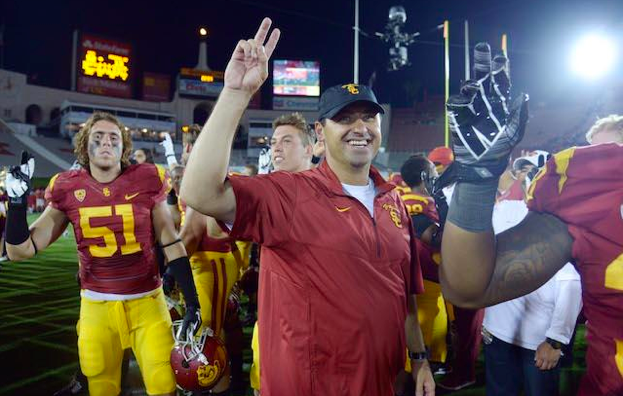 Most sports fans have short memories. The "what have you done for me lately" mentality makes sports fans prisoners of the moment. I'd imagine that the same USC fans that want Steve Sarkisian fired now were booing in full force during Pete Carroll's first season as USC coach.
USC's 2001 team started 1-4 under Carroll, before the coach righted the ship and led USC to its last glory era.
There's also Lane Kiffin's first season in 2010. Kiffin finished with a 5-4 conference record and ended the year by beating UCLA 28-14.
Sarkisian's first season as USC coach has some eerie similarities to USC's last two full-time football coaches. All three coaches had strong debuts, as USC won each of those games by double-digits.
But sports fans are just as, possibly even more, likely to remember the lows compared to the highs. This season, USC has suffered some absolutely heartbreaking defeats. Carroll and Kiffin had very similar results in that department in their first seasons as well.
All three coaches lost two games in the final 12 seconds in their first season. All three coaches lost their fifth game that season on the final play.
Since 2000, USC has had three seasons with two losses in the final minute of regulation. Those three years (2001, 2010 and 2014) were the debut seasons of Carroll, Kiffin and Sarkisian.
So why did USC have more devastatingly close losses in those years compared to other ones since 2000? You can't really argue that it's lack of coaching experience, all three coaches had prior experience as a head coach at either the NFL or NCAAF before USC.
Maybe it's because that specific roster isn't filled with players that the coach at the time recruited. It's easier to evaluate a head coach after his third or fourth year at a program since the team is filled with the players that he specifically recruited as fits for his scheme. If you don't have players that are the ideal guys for your scheme, games tend to be closer. A team can have a clear talent advantage, but if those players skills don't translate successfully into the system that the coaches implement, then it's harder to consistently win games.
It's even more difficult for players to learn a completely different scheme over one offseason. After a season under their belt with the new coach's system, it would be more likely that the players understand and play better in the second year of the scheme.
Both Pete Carroll and Lane Kiffin's USC teams improved dramatically in the second season of each regime. After Carroll's 6-6 debut season, USC exceeded expectations with an 11-2 record in 2002. After finishing 8-5 in 2010, USC jumped up to 10-2 in 2011. Both of those USC teams finished in the top-6 in the AP Poll.
Not only does a second year under a coach benefit the players, it also benefits the coach. An extra year of familiarity with a roster allows the coach to make adjustments to his scheme to better utilize those players. Additionally, having a more stable environment compared to the previous season helps with recruiting better high school prospects.
In quite a few ways, Sarkisian has performed better in his first season than Carroll or Kiffin.
Sark already has two wins over ranked opponents, which is the same amount that Carroll and Kiffin had in their debut seasons combined. Both Carroll and Kiffin lost to Stanford in their first season. Sark has not lost a game against a team with a losing record thus far, Carroll lost one and Kiffin lost two. USC in Sarkisian's first year has a higher yards per play differential (5.9 YPP on offense, 5.3 YPP allowed on defense) than in the first seasons Carroll (4.8, 4.8) and Kiffin (6.0, 5.9).
Remember though, sports fans have short memories. They tend to remember things more clearly that happen more recently. One more similarity in Carroll and Kiffin's first seasons is that those USC teams won their final regular season game, which in both cases was UCLA.
USC has lost to UCLA in two straight seasons, but USC flipping the table on its crosstown rival would change the Trojan fan base morale this season. And it would probably change the overall perception of how the team performed in Sark's first season.
But even if Sark did lose to UCLA in November, it wouldn't be the best idea to make your final judgment of him after one season. After mediocre first seasons, Carroll and Kiffin clearly both took their teams to the next level the following year. The difference between the two was Carroll showed he could keep USC at a high level from year to year, and Kiffin couldn't.
There have been growing pains this season, but there have also been glimpses of brilliance that would suggest that Sark is following a closer path to Carroll compared to Kiffin.
Reach Senior Sports Editor Max Meyer by email.