Arts+Culture
"Hollywood Costume" Exhibition Is A Cut Above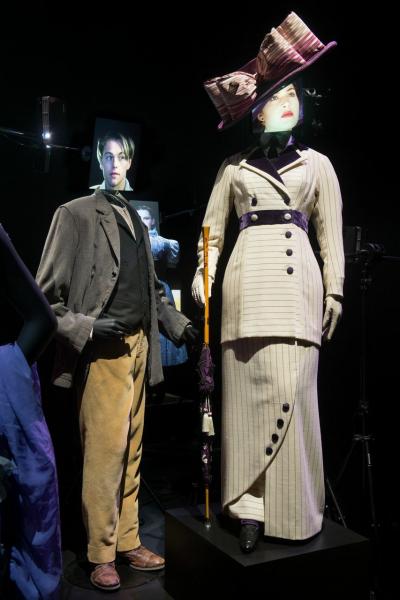 Hollywood Costume, a new exhibition now open at the Academy of Motion Picture Arts and Sciences' Wilshire May Company building, traces the history of Hollywood costume design and its crucial role in the filmmaking process. Yet, this one stands apart from other exhibits focused on fashion and dress with its groundbreaking use of multimedia.
You enter a darkly lit hallway and process past a case containing eight Oscars. These statuettes were awarded to the prolific costume designer, Edith Head, whose work and contributions to the field are prominently featured in the exhibit. Next, you pass under a series of projections that evoke a cinema marquee and are met with a full-size movie screen. On this screen plays a clip-reel showcasing some of the most memorable costumes of the last one hundred years – before you see a single article of clothing, the costumes have already been put in the context of their films. Then, we're met with a quote from curator Deborah Nadoolman Landis, which reads, "Costumes are so much more than clothes – costumes embody the psychological, social, and emotional condition of the character."
From the moment you enter the exhibit, you are asked to step into a cinematic world and to remember the visceral, emotional reaction that these films and these costumes evoke.
The exhibition showcases the costumes not as stand-alone pieces, but as integral, emotive components of filmmaking and storytelling. They are presented as vibrant representations of a larger story about the role of the designer and dress in Hollywood.
A projection of the original actor in the outfit glimmers behind the costumes. Script pages scroll across a screen, setting the scene. We see so much more than clothing hanging on a plastic model.
The use of media strengthens our understanding of the design process through the lens of the designer. In a section focusing on gowns, a clip reel features images of Elizabeth I's portraiture as they fade to show actors in dresses clearly inspired by these portraits of the Tudor era. The gowns themselves are arranged below the screen for visitors to examine in greater detail. In this way, you can see a costume in the context of its real-life inspiration, its realization on screen, and its up-close physical details.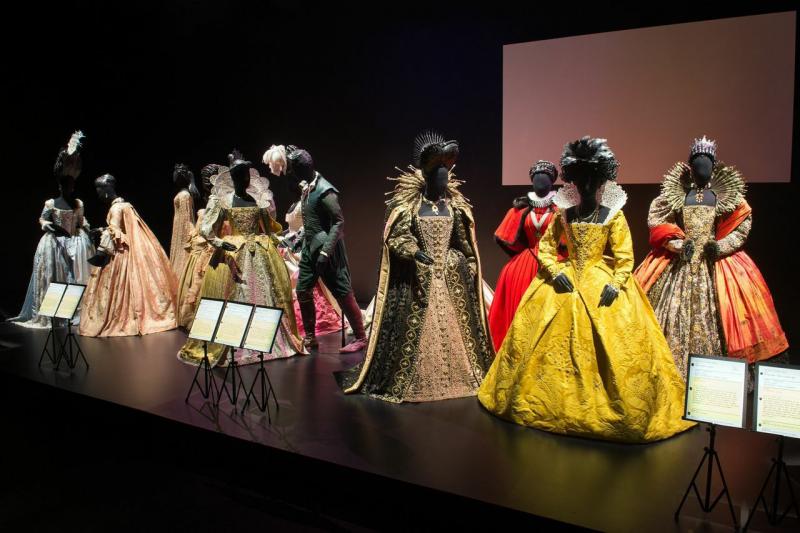 You get a sense of the costume outside of its material details through this layout - a glimpse into the thought process of the designer and their integration with the other components of filmmaking.
The exhibit focuses heavily on costume design as a creative collaboration between director, actor, and designer as they work together to create a "new person."
Click here to hear the companion audio piece to this article on Annenberg Radio News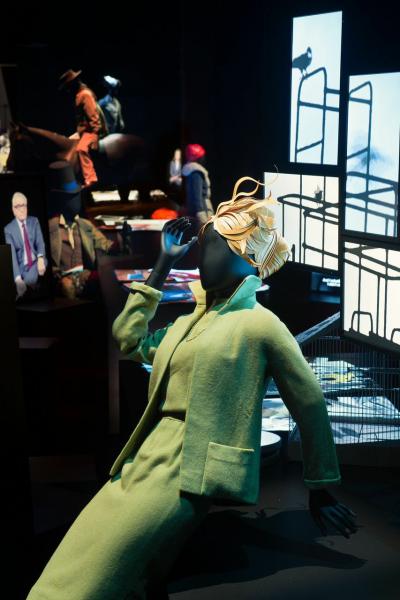 Interviews with Tippi Hedren, Edith Head, and Alfred Hitchcock play on a screen while onlookers watch costume sketches, concept drawings, and publicity stills swirl across a tabletop screen. All the while, Hedren's iconic green suit from "The Birds" looms behind for visitors to examine in person.
This format is echoed several times throughout the exhibition, as it examines the creative collaboration between Martin Scorsese, Mike Nichols, Quentin Tarantino, Tim Burton and the designers they frequently work with. We see how a director's vision is channeled through the costume designer so that their goals in storytelling can be expressed through a holistic design for the film.
In crafting a character, actors often speak of how their costumes complete the final piece of the puzzle. Clothes affect the way you walk, carry yourself, and feel, but they also carry with them a personal story, informing onlookers about a character's history, mental state, and personal style.
The exhibit presents Meryl Streep as a case study. Several of her costumes are showcased next to screens projecting interviews with the actress. She discusses her crucial relationship with costumes in her preparation as an actor and her collaboration with costume designers. Revealing that her undergraduate degree was in costume design, she explains how crucial each small detail in her clothes and accessories is to her ability to fully realize a character.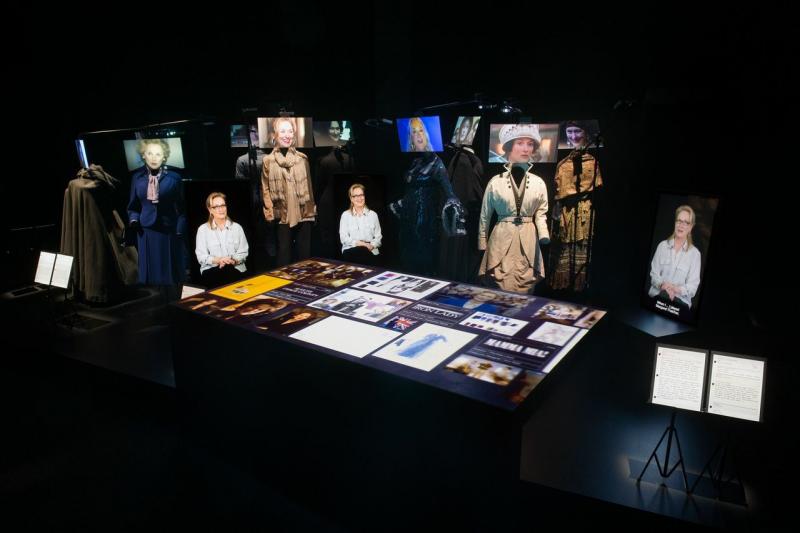 The exhibit demonstrates that the costume designer's greatest challenge is the act of designing a new person through the integration of design, directorial vision, and actor's choices.
Beyond the groundbreaking use of multimedia, the exhibit is also remarkable for its mix of old and new. You can compare real dresses of an era to our contemporary re-imagining of these styles. A flapper dress from the 1920 pre-code film "Sex" is displayed next to a suit and dress from 2013's "The Great Gatsby."
From Charlie Chaplin's bowler hat and rags that made up his iconic Little Tramp, to Amy Adams' disco gown from "American Hustle," the exhibit spans the history of movie making and bounces between art films and pop culture phenomenons.
The exhibit is inspiring in its scope and vision, both in what it presents as the instrumental and monumental task of design and the sense of magic and wonder inherent to the movies it conveys. One can easily imagine how younger guests might see the garb of their favorite superheroes and the likes of Harry Potter displayed next to costumes worn by John Wayne and Carole Lombard and be stirred to investigate older films. Indeed, being a classic film buff myself, my heart was warmed when a small child stared at one of Claudette Colbert's gowns from 1934's "Cleopatra." While the girl looked on in awe, her mother explained to her who Colbert was, saying, "we'll watch her movie 'It Happened One Night' when we get home."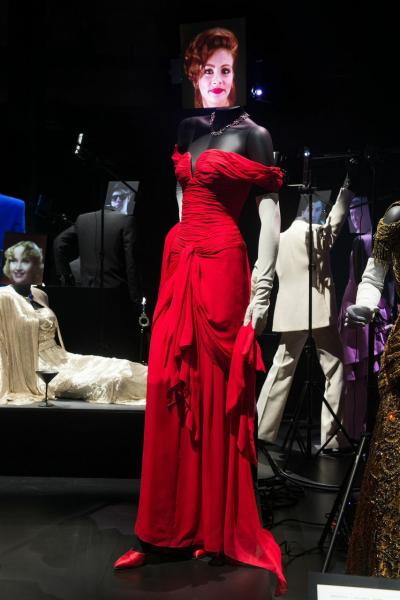 Whether you're a casual movie-goer who loves "Titanic" and "Pretty Woman" or a true film buff dying to see garb worn by Joan Crawford and Marlene Dietrich, you won't leave disappointed.
Astounding layout, use of multimedia, and rich content aside, this exhibition is worth attending for two reasons alone: it's a chance to see Marilyn Monroe's iconic wind-blown white dress from "The Seven Year Itch" and Dorothy's blue gingham pinafore and ruby slippers.
So, click your heels together three times and wish yourself to the museum before it's too late.
Hollywood Costume runs through March 2nd. Tickets are $20 and it's recommended you purchase tickets in advance. For more information, visit oscars.org/hollywoodcostume
Reach Contributor Maureen Lee Lenker here or on Twitter @maureenlee89