Arts+Culture
Hello Kitty Celebrates 40th Birthday At First Ever Hello Kitty Con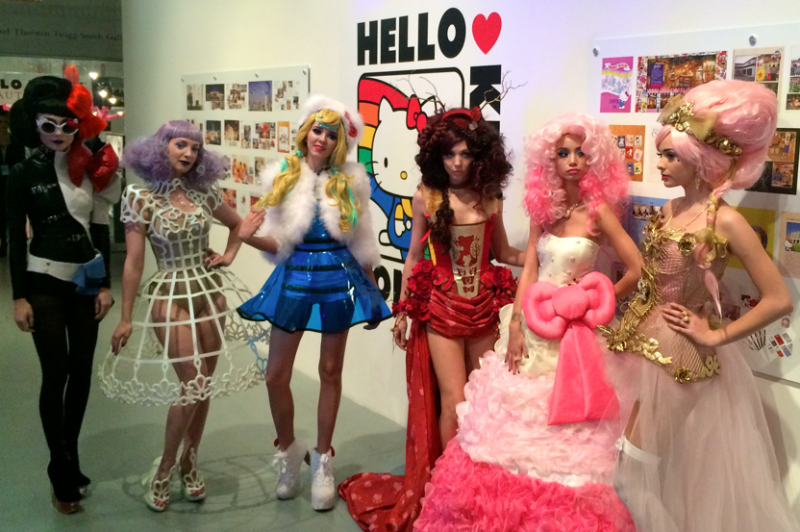 Hundreds celebrated Hello Kitty's 40th birthday at the kick-off event for the first ever
Hello Kitty Con
at the
Museum of Contemporary Art
(MOCA) in Los Angeles the evening of Wednesday, Oct. 29.
The event, in the heart of downtown's Little Tokyo district, was a festival of all things Hello Kitty.
Several major brands showcased their own Hello Kitty lines specific for this event: TY, Beats by Dre, Party City, Bedhead Pajamas, MMA Sports, Sephora, SPAM, and Dylan's Candy Bar, to name a few.
Dylan Lauren, owner of Dylan's Candy Bar, came dressed in pink from head to toe, showing off the Dylan's Candy Bar Hello Kitty exclusive tote bag. Lauren said their partnership with Hello Kitty is based on Hello Kitty's sweet side and love for candy.
"She's an iconic, colorful, fun, kid in an adult," said Lauren. "Everyone ages but she looks better than most of us do at 40."
Target, a major sponsor for the event, also paired with Sanrio to provide an exclusive product line. Many of the Target items were up for grabs as prizes for different Hello Kitty games.
"It seems to be an amazing response, from little girls all the way to adults," said Evan Miller, Target spokesperson. "There's really nothing else like Hello Kitty. Especially 40 years, I mean, there are so many other characters out there but not many have been around as long as her."
Hello Kitty Con left no detail to spare. Hello Kitty treats were passed out (cakes topped with edible red bows), and for those of age, Kitty wines and cocktails.
Cat-ear crowns and tattoos were free for all, but for the diehard fans, there was something a little more permanent. Fans could choose from four pages of designs, and if they felt courageous enough, professional tattoo artists were ready to ink them up for free.
For fans wanting a slightly less permanent drawing, Sanrio character artists, Wakako Nasu and Ihoko Jokuda, were flown in from Japan to create personalized pictures.
Many VIPs also celebrated the iconic cat at Wednesday night's media preview event. Bravo starlet Katie Maloney said she has always been a fan of Hello Kitty but cannot describe what it is about her that she loves most.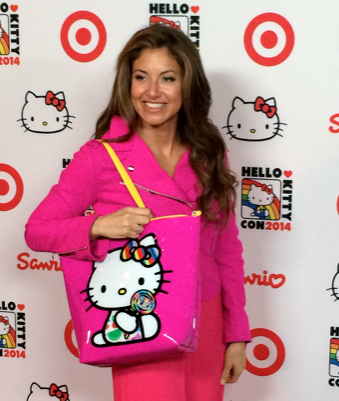 "The colors, the pinks, the brightness. I don't know, that's a really hard question," said Maloney. "She's just really cute."
Maloney's boyfriend, Tom Schwartz, admitted he knew nothing about Hello Kitty, but was excited to jump on the bandwagon for her 40th birthday.
"It's like a world I've always felt slightly drawn towards but I've never really explored," said Schwartz. "The aesthetics of [Hello Kitty], it is just so funky, it has pizazz."
Hello Kitty surprises popped out around every corner of the convention center. Life-size statues, picture stations and models decked out in Hello Kitty fashion surrounded fans.
White bracelets were passed out to visitors as they entered the event for a special performance later in the evening.
Japanese rock icon Yoshiki Hayashi walked the red carpet, snapping a selfie with Hello Kitty designer Yuko Yamaguchi, as the press scurried behind them.
The biggest surprise of the night came when Hayashi gave a special performance, which included the official Hello Kitty theme song.
The white bracelets lit up neon colors and flashed along with Hayashi's music.
Hayashi created and debuted the Hello Kitty theme song specifically for the convention. A blend of techno and piano, upbeat and mellow, the song had spectators bobbing their heads and swaying with their bracelets in the air.
Hayashi spoke kindly and softly and looked like the epitome of a Japanese pop star. Dressed in tight black leather pants, black high-top boots and a long, sparkly cheetah print jacket, he pushed back his flowing auburn hair as he looked out on screaming fans through his dramatic sunglasses.
Yamaguchi also sported a Hello Kitty-inspired look for the event. Her bright orange hair was pinned up in Miley Cyrus pigtail buns, and her dress was accentuated with a crisp, white satin collar and ruffle lining. But the outfit would not have been complete without her white leather bag embossed with Hello Kitty's face and of course, the iconic red bow.
Yamaguchi said she was pleased with Hello Kitty's female following, but looks to expand Kitty's fan base in the future.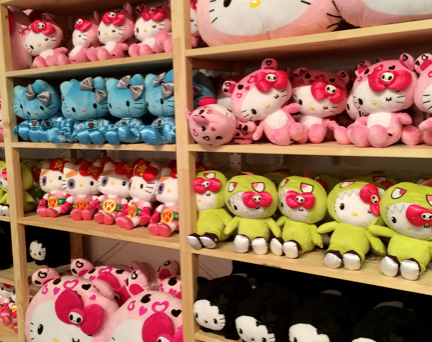 "In 40 years Hello Kitty has captured the heart of women," said Yamaguchi. "In 2015 we are launching Hello Kitty Men in Japan. In the next 40 years I want to cultivate Hello Kitty as a brand that captures the heart of men, so then it would be perfect for Hello Kitty to make men and women happy."
Most people recognize Hello Kitty's large white head and cute red bow, and Yamaguchi believes her international fame is undeniable.
"What I love about Hello Kitty is that everyone loves her," said Yamaguchi.
Hello Kitty girl, Julie Doll, hired for the Hello Kitty con to dress up in Hello Kitty gear and pass out prizes, said you do not need to be a Hello Kitty fan to enjoy Hello Kitty Con.
"You can't help but feel happy when you're surrounded by all of this cuteness," said Doll. "Open up your mind and heart to what kind of magic that could lay before you."
Event attendee, Emily McClellan, said she did not know anything about Hello Kitty before coming to the convention. McClellan said the event exceeded her expectations, and she understands why this white cat has such a strong following.
"I grew up knowing of Hello Kitty, but I didn't know it was such a big deal, but now I have total respect," said McClellan. "I'm not even a fan, and I had so much fun."
Hello Kitty Con sold out before the event even began. The convention will run through Sunday, Nov. 2.
Reach Staff Reporter Margaux Farrell here or follower her on Twitter here.