Film and TV
Film Review: 'The Good Lie'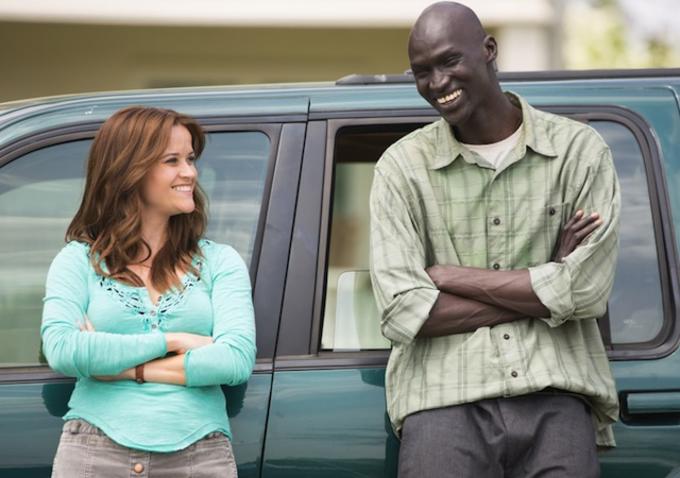 Passing the rows of film posters lining the Arclight's hallway, I glanced at the poster for "The Good Lie," where the upper half shows Reese Witherspoon smiling and the bottom half is a long shot of three young children holding hands in the African grasslands. The slogan, "Miracles are made by people who refuse to stop believing." is emblazoned in white lettering across the poster's center.
I took my seat with the poster's image fresh in my mind as I expected to spend the next couple of hours watching the "The Blind Side," except this time with Witherspoon instead of Sandra Bullock and African children instead of football players.
READ MORE: South Sudan: Ceasefire Agreed Between Government, Rebels
I am happy to report, however, that my expectations failed me. The film I saw had some of the best elements of "The Blind Side," such as its poignant story of hope and a strong performance from its female lead. However, "The Good Lie" is not Witherspoon's movie. Instead of making a film about an inspirational white woman saving poor African children, Canadian director Philippe Falardeau (Oscar nominated "Monsieur Lazhar") wisely steers clear of this trope and shlocky feel-good territory by focusing the film's narrative on the real protagonists, the South-Sudanese "lost boys" who escape civil war and inconceivable trauma to start fresh in Kansas City, MO.
The film is inspired by the true stories of the more than 20,000 children orphaned or displaced during the Second Sudanese Civil War, colloquially called "the lost boys of Sudan." Two of the film's principal actors, Emmanuel Jal (who was a child soldier) and Ger Duany, are real-life lost boys. The Sudan People's Liberation Army (SPLA) fought the Sudanese government from 1983-2005. Afraid of being drafted as child soldiers or prostitutes, many children left their villages and set out on foot for refugee camps and the hope of a life without war. Currently, about 17,000 refugees remain in camps in the region.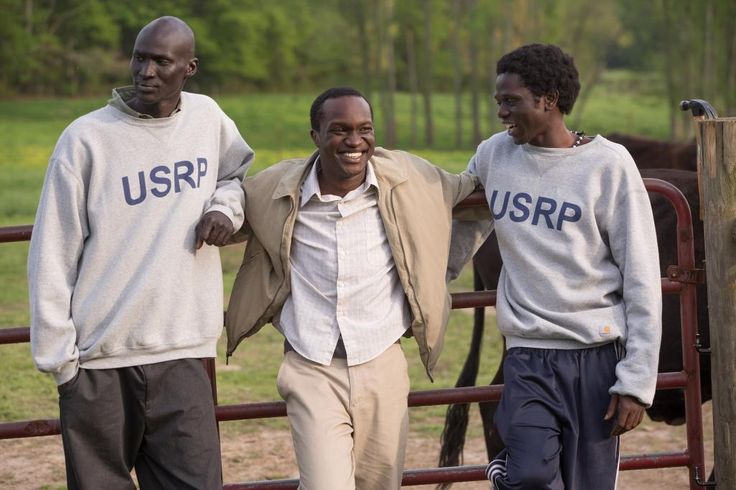 The film starts when a group of children flee across the grasslands looking for safety after their village is torched and their relatives murdered by the SPLA. Walking hundreds of miles from Southern Sudan to Ethiopia and finally Kenya, the children face unimaginable hardships. Their resilience is tested time and time again as their mantra, "I want to live, I do not want to die" helps them overcome seemingly insurmountable obstacles like fording a river teeming with corpses, stealing antelope meat from cheetahs, and burying their friends who don't survive the journey. Thirteen years later, Mamere (
Arnold Oceng
), his sister Abital (
Kuoth Wiel
), and their fellow villagers Jeremiah (Duany) and Paul (Jal) are still at the
Kakuma Refugee Camp
. Through a charity aid program dedicated to relocating refugees to give them a new lease on life, the group travels on a plane for the first time to Kansas City, MO.
The middle of the film shows the group adjusting to life in the United States. A bureaucratic decision sends Abital to Boston instead of Kansas City and Mamere, Paul, and Jeremiah are thrust into a whole new world. The film loses some of its depth here but gains a lot of humor as the three adjust to American life, visiting McDonald's and marveling at running water and telephones. Some of this sequence drags because of its length, but the drama returns as the men have trouble when memories of the past haunt them.
READ MORE: Film Review: 'The Equalizer'
Witherspoon appears about 30 minutes into the movie and gives a strong supporting performance as Carrie, the brusque job counselor appointed to Mamere, Jeremiah, and Paul. A sassy no-bullshit kind of woman, Carrie eventually softens and helps bring Abital to Missouri, even fixing up her messy house so she can be chosen as Abital's sponsor. The group reunites during one of the film's most emotionally rewarding scenes, which involves decorating a Christmas tree.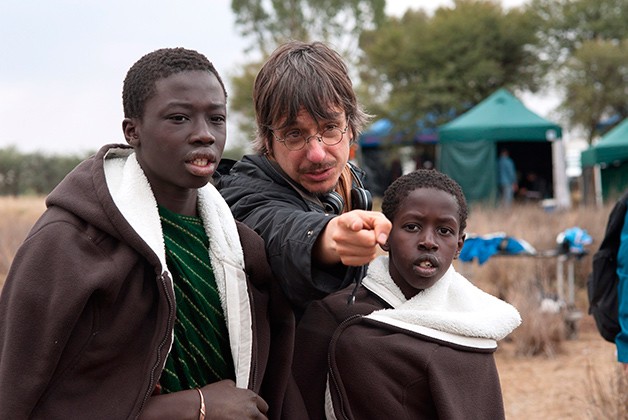 It is great to see Witherspoon flexing her acting muscles outside of the romantic comedy genre. She gives a compassionate performance that imbues the film with warmth and makes some of the tragic subject matter seem more approachable. Fans of Witherspoon should be excited for her return to dramatic form this year with this film and "
Wild
," a film about one woman's solo hike of the
Pacific Crest Trail
, which may snag her an Oscar.
Corey Stoll (House of Cards) does good work in his small role as Carrie's boss, Jack. Stoll shares a particularly good scene with Oceng, as Jack comforts Mamere after a falling out with Paul. Oceng shines as Mamere, the leader of the refugee group who aspires to be a doctor. As Mamere holds down two jobs to pay for night classes and accidentally breaks into Carrie's house to deliver a thank you bag of oranges, Oceng delicately mixes strength and humor in his admirable performance. Oceng's character tells a "good lie" and makes a huge sacrifice that tugs at the audiences' heartstrings, all because of Oceng.
Partially filmed in South Africa, the film features crisp cinematography by Ronald Plante ("Monsieur Lazhar") and stunning African landscapes. Martin Léon's score adds depth to the onscreen proceedings and the end credits feature "Find A Way," a catchy song by Nico & Vinz, featuring Emmanuel Jal.
If Witherspoon's star power is what it takes to fill the theatre, so be it. Anyone who only showed up to see Witherspoon will leave satisfied with her performance and will be glad they stayed for this rewarding and ultimately uplifting story of humans' resilience and capacity for hope.
"The Good Lie" runs 1 hr. 50 min. and is rated PG-13 for thematic elements, some violence, brief strong language and drug use.
Reach Web Producer Helen Carefoot here and follow her on Twitter here.