Theater and Dance
An Evening With Alan Cumming: His Career, His Upbringing, His Memoir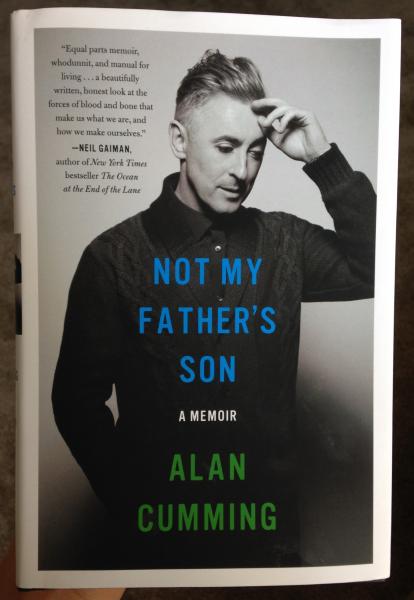 Alan Cumming — the Scottish-born actor, activist, and legend best known for his Tony Award winning role as the Emcee in
Cabaret
— was able to set aside some time between performances Monday evening to chat with
Live Talks LA
at the Aero Theatre in Santa Monica. The primary focus of Cumming's conversation with
KTLA's Sam Rubin
was Cumming's new memoir, "Not My Father's Son," which was released earlier this month.
"Not My Father's Son" is not the type of memoir one might expect from a famous actor. It does not outline Cumming's journey and successes as an actor, but rather examines his troubled upbringing at the hands of his physically abusive father. The book jumps back and fourth between Cumming's childhood and the summer of 2010 where his father revealed to a 45-year-old Cumming that he was not his biological father at all.
"Not My Father's Son" is masterfully written with details that pull the reader into the humiliation, torment and abuse that Cumming experienced as a boy. This abuse, Cumming asserts, ultimately helped shape the man he is today.
"His actual violence towards us rarely lasted beyond one or two really hard whacks, the odd kick. I actually think the prolonged period of tension before landing his blows, as we were systematically inspected, chided, and humiliated, had a far worse effect than the actual hits.
...We all learned early that the best way to cope in that time when his ire was building and his cruelty unfurling was to give nothing away, to try and become nothing, the nothing he both thought of us and wanted to remain."
Despite the book's heavy subject matter, Cumming speaks rather lightly of some of his memories. A chapter dedicated to violence, rage and pain is juxtiposed against a hilarious chapter about Mary J. Blige and Patti Smith throwing together a duet last minute at a Canne's film festival benefit concert.
Considering Alan Cumming's achievements in the world of acting — a Tony for his role in Cabaret, and multiple Emmy Award nominations for The Good Wife — Cumming spends very little time talking about his acting career in either his book or his conversation with Rubin.
As legendary as his stage career may be, Cumming is a humble, honest man who simply wishes to share his childhood story to give hope to others. "You can change you life," is the mantra Cumming wants readers taking away.
Watching Alan Cumming in person is quite fascinating. His charm and presence is immediately recognizable. Despite the fact that he is discussing horrifying abuse and the subsequent PTSD that he has had to deal with, Cumming routinely makes the audience smile as he jokes about his age, bisexuality and "reckless" personality.
When Cumming reads passages from his book, we can feel the emotional weight of each word, and get a glimpse at the brilliant actor that he is.
Below is a transcript of the questions that were asked throughout the night by both Rubin and audience members. The actual questions have been dwindled down to their bare minimum while Alan's answers are primarily in their original state. To those of you interested in reading "Not My Father's Son" — warning, there may be some spoilers.
This Isn't A 'Show Biz' Memoir.
Sam Rubin, SR: You are a man of many talents who has written a very good book. But this is not a show biz memoir as one might expect of an actor.
Alan Cumming, AC: I'm not really a fan of that. I just wanted to write about the time that all this shit happened to me. I am this boy from a country estate in Scotland, and now I get to live this great life. I think it violates trust, like tittle tattle, books on who you've slept with and so on, I'm just not really into that.
It All Started With A BBC Reality Show.
SR: So this started with "Who Do You Think You Are" asking if you wanted to participate in their reality show?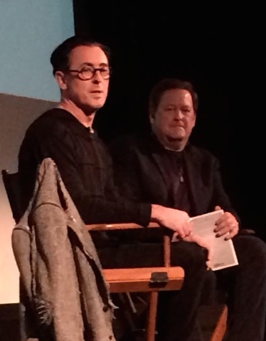 AC: They basically approached me and asked if I'd like to take part in the show. And I said "Sure!" So they go away and research you for a few months to decided if your past is interesting enough do dedicate an entire episode to. I really wanted to answer the questions about my mother's father. The best thing about being famous thus far, was being able to give this gift to my mother about her father. But two days before we were to start filming, my father who I had not seen in 16 years since [my brother] Tom and I confronted him about the abuse, my father came out of the woodwork to tell me I wasn't his son — hence the title. [laughter]
SR: So then you thought, I should commit this to paper?
AC: Yeah, I mean people in my adult life knew about it, but I don't think I would've shared it if the summer events had not happened. The man who I wrote this about, he's dead now, and I wouldn't have written it while he was still alive. He's a very powerful personality, even in death. I had a silent childhood. We became nothing to try not to be noticed by him. I really wanted to try to explain in this book what it was like, the suspense and tension is actually the worst part. He would set us tasks to do as children that were impossible for us; we knew we were going to fail, and our failure was the reason he would hit us. I actually wrote a letter before confronting him, about how I was conditioned to think nothing was good enough… [joking] I know I'm sort of being a downer.
"But we also felt it was our fault. We were lead to believe that the reason you hit us, the reason you went out nearly every night, the reason you had very obvious affairs, the reason Mum was unhappy was all our fault. Because you told us we were useless, and we believed you and took all the blame for ourselves. But we are not useless."
SR: You entertain people in a variety of ways, but growing up as you did, you would expect that you would suppress all that. But I guess a lot of artists come from that.
AC: I'm very weary of the theory that great artists come from abuse, because I feel it justifies it. But I had to study acting to understand what was going on with my father.
"I understood my father. I had learned from a very young age to interpret the tone of every word he uttered, his body language, the energy he brought into a room. It has not been pleasant as an adult to realize that dealing with my father's violence was the beginning of my studies of acting."
SR: Once you find success, once your name is in lights, this estrangement, a lot of people come out of the woodwork. Did he [your father]?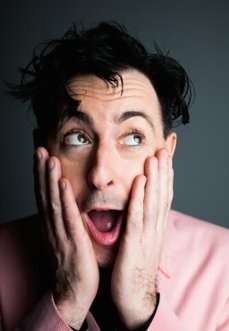 AC:
He didn't. In 1994, the floodgates opened and all of these memories that I had suppressed came back when I was 28 years old. That's when me and Tom confronted him, when I wrote that letter, and he disappeared after we confronted him. In the course of writing this, it's clear now, he was mentally ill. Some are not meant to be understood, he was completely irrational.
The letter I wrote with Tom to confront my father with, I didn't write it for this book. I found it in my notes. I wasn't as strong as I am now, so I wrote it all out in case I couldn't say it. And I wrote this book to take it away from me, and put it out there. I know it seems like a sad book, but it isn't all sad. And the message I want people to take away is: You can change your life. Ultimately, I overcame this abuse from the standpoint of 'what the fuck' not, 'I'm a victim.' And this book is really a holistic version of myself, I am a happy person and the journey to here has a lot to do with it.
On Fame.
SR: There's a passage in your book about being famous.
"It's really hard to talk about being famous. We live in a society that is obsessed with it, that ranks it as the best thing you could possibly achieve in your life… Most people, even friends who are close to you and privy to some of the more invasive aspects of fame, think the positive aspects far outweigh the negative and you shouldn't grumble but thank your lucky stars when blessed by the fame fairy.

Being famous is mostly great. I have a really amazing life. I get to do a job I really like and I get paid really well for it and I am loved... But. I am constantly self-conscious."
AC: The thing I miss so much, especially as an artist, is observing people. I can't do that anymore because now people are constantly observing me. It's a constant battle to not close myself off completely to the world. [Joking] Sometimes I'm taking dog shit to the trash and I get stopped by three people along the way, like, I really don't want a photo while I'm holding dog shit. And I do, I sometimes fear for my physical safety being famous.
SR: Do you think your TV fame has contributed to that more so?
AC: No, actually. In the theater or in film, people come out to worship you, but with television, we come into your homes. It's different.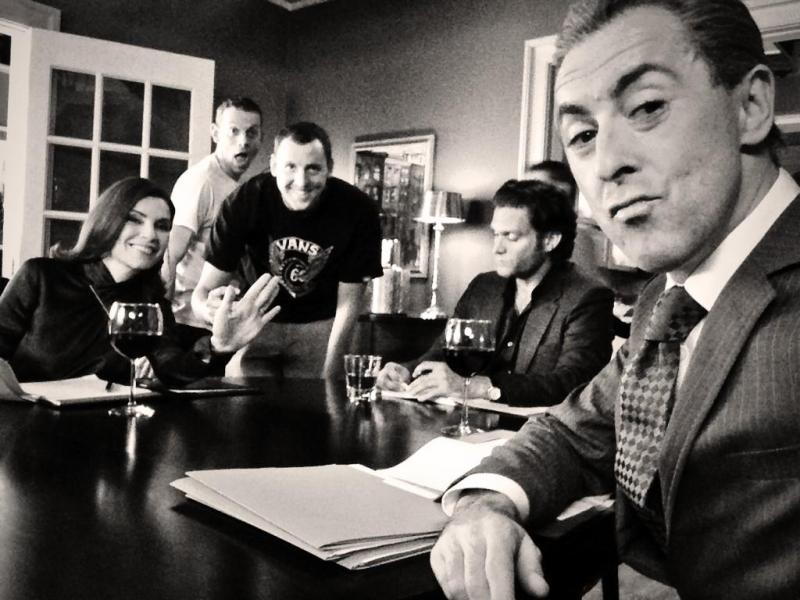 The Good Wife.
SR: You thought "The Good Wife" was going to be a one shot deal. Did you ever expect it would turn into what it has?
AC: Yeah, I honestly didn't want to do it; I just couldn't understand it. It's funny because sometimes, you have all these agents and mangers, and you think 'Why are they getting so much of my salary to sit on their ass?' But this was one time where they pointed their finger at me and said 'Do this Alan!' and they were absolutely right.
Relationships.

SR: How did you meet your partner, Grant?
AC: Long version or the short version? Well, I was shagging his best friend... [laughter] as you do, who is still our best friend by the way, and he married us in New York. There's this passage in my book about him.
"Recently I attended an interactive theatre piece in the Brooklyn Museum. Towards the end of the evening I was taken into a corner by a soft-spoken Japanese lady. She sat me down, took my hands in hers, and asked me, if the world were to end and I could choose one person to save, did I know who it would be? I told her I did. Then she asked me if I thought that in the same circumstances, the person I had chosen would choose to save me. I said I knew that they would.
She looked up at me with tears in her eyes. 'You are so lucky,' she said. 'Some people don't even know who they would save.'"
SR: You were married before him, to a woman. Do you feel you can really be labeled?
AC: I've always thought I was a bisexual. Even when I was married to a woman, I'd had a boyfriend before that. There's this perception that being bisexual means you aren't ready to be gay yet or you're a whore. But from a young age, I just decided I wouldn't feel ashamed of my sexuality and my urges.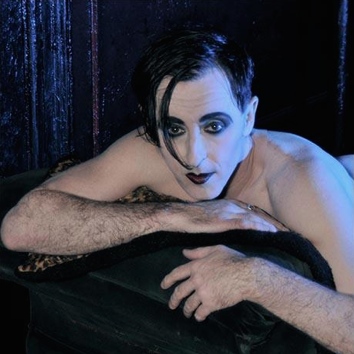 Cabaret On Broadway.
SR: What is it about the Emcee in Cabaret that keeps bringing you back to that role?
AC: Well the Emcee is not really a character. He's not like Hamlet. The Emcee is more of a symbol, not a grounded character. I don't know his name, his back story, he doesn't really interact with people except for when he's performing. I bring myself to the role, and I'm a different person every time. I look at the 1994 version on YouTube, and I see someone who is troubled and not very grounded, and I look at it now and see this older guy who is racy and confident.
Audience Questions.
Q: You mentioned earlier that you were brought up to feel that you had to be nothing, but now you are so grand, how were you able to make that change?
AC: I'm not that person anymore, I have a better understanding of myself and my past.
Q: I am a huge fan of The Anniversary Party, do you think you'd plan on doing something with that again in the future?
AC: I think we will eventually. We talked about doing an Anniversary Party 2, where everyone is older and has plastic surgery. [laughter] But Jennifer [Jason Leigh] and I have always been very close, we feel we're each other's halves, and together we make a fully formed person.
Give An Hour.
Q: I know that you are associated with the organization Give An Hour, would you mind talking about that a bit?
AC: Looking at the narrative of my grandfather, he was really mentally ill, and so was my father, but my grandfather was a military man who had a lot of terrible things happen to him. In the military, if you had any history of mental illness, they'd rip those pages out of your record because it was considered such an awful thing. And mental illness within the military is still such relevant thing, suicide is still the number one case of death in the U.S. military.
So this foundation, Give An Hour, gets mental health professionals to give an hour of counseling to veterans, and in exchange, the veterans who got that counseling does an hour of community service. So I like how it's a cycle. And it's close to home because I suffered from PTSD myself due to my father's abuse. I really am a reckless person, and I honestly believe if I didn't have the job I did or the life I've had, things may have gone the same way for me.
Q: How difficult is it for you to do an American accent?
AC: It's really not hard at all. People seem to think it's much more of a big deal than it is. But in the UK, we are bombarded with American culture, most of our TV shows and movies are American, so we grow up listening to that accent.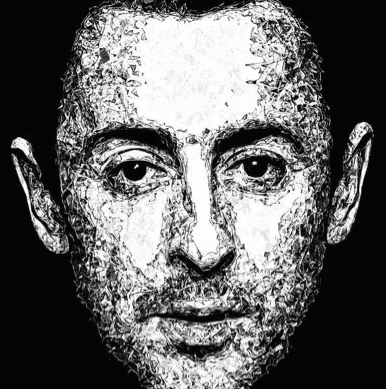 On Acting.
Q: I saw Macbeth twice in New York, and I absolutely loved your work in it, would you mind speaking on that experience?
AC: That was an avant-garde, totally nutty, disturbed production. By far the most upsetting show I've done. I actually thought I might die doing it. I was playing a person who was taken to a mental institution. I started have this horrible, recurring nightmare.
I'm very proud of it, but I'm glad to never do it again. But it is so cool doing that version of a Shakespeare play; I think that is the joy of being an actor, there are always new things to find and new people to touch.
Alan Cumming's book "Not My Father's Son" is avaiable for purchase in bookstores and online. For more information about upcoming events by Live Talks LA, visit LiveTalksLA.org
Reach Theater Editor Savannah L. Barker here.
For more Theater & Dance coverage click here.