Arts+Culture
Events To Look Out For: The Concert For Valor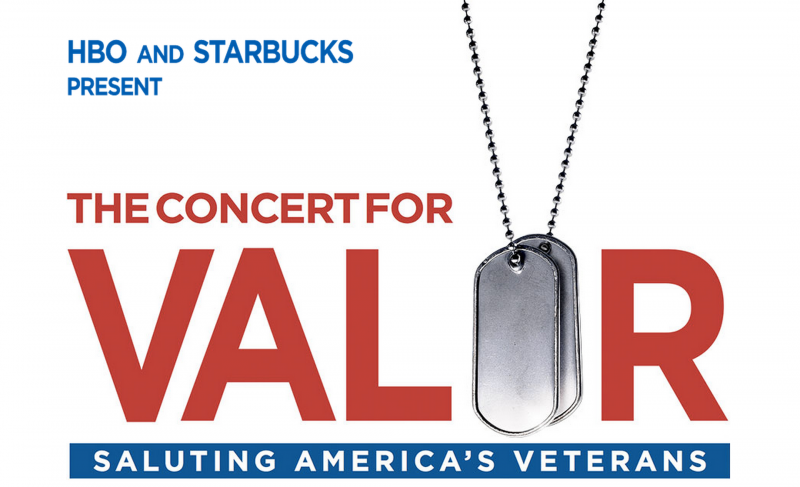 No matter where you might find yourself this Veterans Day, you can salute America's veterans and their families while watching some of your favorite artists pay their tribute.
HBO and Starbucks have put together The Concert For Valor, a completely free event that will take place on the National Mall in Washington, DC on Veterans Day, Tuesday, November 11 at 7pm (EST).
Yes, concerts have supported America's veterans in the past, and yes, there have been plenty of concerts to happen in Washington, D.C., but The Concert for Valor is slated to be one-of-a-kind.
The line up: Eminem, Jamie Foxx, Dave Grohl, Metallica, John Oliver, Rihanna, Bruce Springsteen, Carrie Underwood, Zac Brown Band, and more. Additionally, there will be special appearances by: Meryl Streep, Tom Hanks, and Steven Spielberg. The full list of celebrity appearances has yet to even be fully released, but already pales in comparison to any other single day concert, ever.
The concert will not only bring some big name celebrities to the forefront to express their own gratitude and graciousness, but also it will allow millions of people, nationwide, to show their love and support for the people who risk their lives to ensure our safety. It will go above and beyond to honor veterans and their families.
HBO, which typically only allows subscribers to receive their channel and watch their shows, is opening up their programming to all for this special event. Everyone will have the opportunity to share in their support of the troops.
The Concert for Valor will be huge; "millions of people, including veterans, active duty service members, their families and Americans from all walks of life are expected to watch the free concert in person or on television, with the goal of raising awareness for the veterans services organizations dedicated to education, wellness, reemployment and reintegration," according to the press release.
Howard Schulz, Starbucks chairman, president and CEO has dedicated a lot of time and money to helping veterans. Schultz said, "the less than one percent of Americans who volunteered to serve during [the post 9/11 years] have afforded the rest of us remarkable freedoms – but that freedom comes with a responsibility to understand their sacrifice, to honor them and to appreciate the skills and experience they offer when they return home. As many now seek reemployment, now is the time to offer them opportunities to work in our communities to do what they do best: solve problems and lead with selfless service."
HBO chairman and CEO, Richard Plepler, is honored to play a small role to help the service men and women receive the support and awareness they deserve. "This event will not only celebrate their service, but help remind Americans of the many challenges they face on and off the battlefield. We are delighted to join with Starbucks in our mutual effort to pay tribute to our veterans and those serving in the military," he said.
Starbucks has always exhibited a strong devotion to helping veterans and military families and spouses. In November 2013, Starbucks announced that over the next five years, they are committed to hiring at least 10,000 veterans and military spouses. In April, the Schultz Family Foundation, co-founded by Howard Schultz, Starbucks chairman, president and CEO and his wife, Sheri, donated $30 million to help veterans' transition into civilian life.
HBO also has a long history of supporting veterans and has aired original programming that is that is devoted to examining veterans' experiences from different perspectives. The network has presented the miniseries "Band of Brothers" and "The Pacific," along with original movies such as "Taking Chance" and "The Tuskegee Airman," and the documentaries "Alive Day Memories: Home from Iraq," and "Crisis Hotline: Veterans 1," just to name a few.
While there are more than 20 million American veterans, less than one percent of U.S. adults serve in the military. This does not exclude the 2.5-million 9/11-era veterans who are facing challenges every single day as they try to transition back into civilian life. The Concert for Valor will honor the courage and sacrifice of these 20 million brave men and women and their families.
Contact Staff Reporter Emma Shepardson here or follow her on Twitter here.